Medical Student Career Advising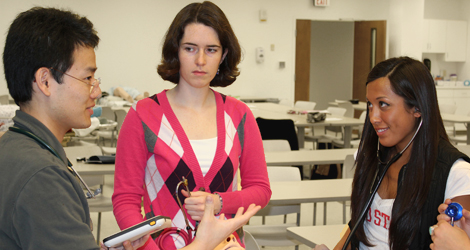 The Office of Student Affairs at The University of Toledo College of Medicine and Life Sciences (UTCOMLS) is your hub for career and residency advising!
We are responsible for small- and large-group career planning programming as well as individual, one-on-one counseling. UTCOMLS' systematic approach to career advising and residency counseling spans all four years of medical school. Programming begins with M1 orientation and lasts through graduation, tailored to critical junctures and transitions over the course of your medical school career.
Meet Your Career Advising Peer Leaders 
Blackboard (BB) link:  Office of Student Affairs:  Career Advising

OSA CAREER ADVISING RESOURCES
Specialties (coming soon)
Professional and career development sessions:
Resources
Choosing a Specialty Tool:  Created by Devon Shannon, Class of 2021
Match Results and Data
Starting in year one, medical students will attend a 1:1 career advising appointment with student affairs to review their Career Action Plan, which is a roadmap for their medical school career. Students bring in a completed plan, along with their current Curriculum Vitae (CV) and discuss possible career pathways as well as opportunities at UT that will help them reach their long-term career goals.
Throughout a student's time in medical school there will be a multitude of career advising resources and opportunities offered; all based on the needs of each class. The Office of Student Affairs is committed to designing career advising programming that helps students in building their roadmap to residency.
---
Career Exploration & Advising
M1
Career Advising and Exploration Course:  August - May
Mandatory PATH Sessions:  August - April 
M1 Mandatory CV Review appointments:  October - December 
4th-Year Student Perspective on Match (Post-Match):  March
AMA Specialty Dating
M2
PATH Sessions:  August - December
Optional CV Reviews:  October - November
Step One Orientation: October
4th-Year Student Perspective on Match (Post-Match):  March
M3
Career Advising Program/Advisor Sign-up:  May - June
Residency Application Process (RAP) - Lite/Fourth-Year Orientation:

 

November
Career Action Plan:  January - April
1:1 Optional CV Review with OSA:  January - April
1:1 Mandatory Career Advising Session:  January - April
4th-Year Student Perspective on Match (Post-Match):  March
M4
Residency Application Process (RAP) Session:  July
Interview Workshop:  August
Etiquette Dinner:  September
Mock Interviews:  September - October