Pre-Medical School Programs
Programs for Undergraduate Students
The MedStart Program
MEDStart is an early admission program designed to accept students during their junior year of their undergraduate education. The program allows students to enroll into The University of Toledo's College of Medicine program for the next academic year following completion of the four-year baccalaureate education.
Summer Undergraduate Research Fellowship (SURF)
In an effort to recruit top caliber students, the College of Medicine Admissions Office offers the Summer Undergraduate Research Fellowship for pre-medical students. The purpose of the program is to introduce undergraduate students to scientific research as a means of encouraging them to consider a career in medicine. The goal of the program is to foster relationships between individual pre-medical students and faculty members, pre-medical students and The University of Toledo, and undergraduate institutions and UT.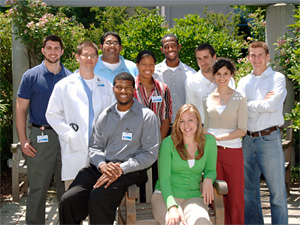 Programs for High School Students
The CampMed Program
CampMed is a two-day intensive summer educational experience for 9th grade students that stimulate interest in science and medicine.    This program allows students to gain experience firsthand what it is like to be a doctor.
The Toledo Starz Program
Toledo Starz is an after-school enrichment program for high school students, particularly those who are historically underrepresented in the sciences who have an interest in the health professions. This unique year-long program "brings health sciences alive" and is presented  from September through May via a series of interactive sessions
Research Experience and Awareness of Clinical Health (REACH) Program
REACH is an four-week summer research program that exposes high school students, particularly those who are historically underrepresented in the sciences, to research via basic and clinical tracks. The nationally recognized program offers students a meaningful experience in a variety of health-related experiences which stimulates an interest towards careers in the health sciences.