News & Announcements 
Welcome to the 2021 Biomedical Science Graduate Program Cancer Biology Students!  

It took a year of quarantine but our new class of students have finally arrived.  The annual Lab Coat Ceremony was held for all Biomedical Science students on October 7, 2021, where they were presented fresh, white lab coats and were welcomed by Dr. Christopher Cooper and Dr. Kandace Williams (COMLS Deans),  Dr. Patricia Metting (COMLS Alumni Board and Professor Emerita), fellow students, faculty and staff.  Best wishes for a successful student career here at the University of Toledo College of Medicine & Life Sciences.

Pictured left to right, Emma Kattuman, Jaya Bhandari, Mrunmayee Kandalgaonkar, Kesha Dalal)
Cancer Biology Hosts Recruitment Event
The Department of Cancer Biology recently hosted a recruitment meeting on the main UT campus with the help of Deborah Hendricks and the UToledo Pre-Health Advising Center.  The undergrad students enjoyed lunch while hearing about the exciting opportunities in Cancer Biology.  It was a big success.

Cancer Biology faculty, Dr. Ivana de la Serna and Dr. Xiaohong Li, presented and graduate students, Chris Figy, Kate Becker, Alexandria Yungblut and Mrunmayee Kandalgaonkar served on panel discussions. 

Photo of the Week: Engaging the next generation, Dean's Update - 11/8/21 edition
Dr. Furuta to Receive Ohio Cancer Research 2021 Discover Award for Research
The Ohio Cancer Research has chosen Dr. Saori Furuta to receive the 2021 Discover Award for Research. She will be presented the award at the Grand Illusions Sauté on October 13 which will be held at the Renaissance Toledo Downtown Hotel.  In 2017, Dr. Furuta  received a $60,000 seed money grant from OCR that generated nearly $2.6 million from other sources based on her success. 
 
Dr. Dreier Receives Travel Award for 2021 PASPCR Annual Meeting
Dr. Megan Dreier has received a travel award from the PanAmerican Society for Pigment Cell Research (PASPCR).  The annual meeting will be held in Lexington, KY, September 22-25.  Dr. Dreier, a postdoctoral fellow in Dr. de la Serna's lab, will present a 5 minute speed science presentation as well as a poster entitled "Inhibiting Bromodomain Protein 9 in Melanoma."
Sayani Bhattacharjee wins 2021 Scholarship from American Association of University Women (AAUW)

Congratulations to Sayani Bhattacharjee for her recent award of the Dean Katherine Easley Wemmer Scholarship by the AAUW.  Sayani is a Ph.D. candidate in the Biomedical Sciences Cancer Biology track and is mentored by Dr. Nagalakshmi Nadiminty.  Their lab focuses on targeting prostate cancer cell-metabolism to overcome drug resistance and Sayani is researching Enzalutamide, a drug used in the treatment of prostate cancer.  She is making steady progress in finding novel mechanisms that can overcome this drug's resistance.
Dr. de la Serna awarded PASPCR summer project grant

Dr. Ivana de la Serna was awarded a grant from the The Pan American Society for Pigment Cell Research (PASPCR) to fund a high school student from an underrepresented minority group (URM) for 10 weeks of summer research focused on pigment cell biology.  Ms. Jasmine Welborn, a senior at Toledo Technological Academy, was chosen as the recipient of the award.  Jasmine has been working on a research project that investigates the use of epigenetic modulators in the prevention of skin cancer. Colgate-Palmolive Company generously provided funding for fellowships to expand research opportunities for URMs at an early stage in their education so that they develop an interest in research and become the next generation of scientists.  Jasmine received $5,000 in summer stipend and travel funds to attend and present her work at the PASPCR conference in September.
Welcome to the Cancer Biology department and UTCOMLS Dr. Kuo-Hui Su

Please join us in welcoming Dr. Kuo-Hui (Jason) Su. He joins us from the Mouse Cancer Genetics Program at the National Cancer Institute where he was a Research Fellow. Dr. Su's other postdoctoral fellowships were at the Jackson Lab, Bar Harbor, ME, and the Institute of Physiology, National Yang-Ming University, Taipei, Taiwan.  His  research focuses on investigating the role of HSF1 in cholesterol trafficking, lipid metabolic reprogramming, and the autophagy process in pancreatic tumorigenesis via in vitro, in vivo, and preclinical models. The goal of his studies is to reveal novel clinical therapeutic strategies to address these fundamental processes in current cancer therapies.
Congratulations to Dr. Zhang on his 2021 Award for Grantsmanship

Recipients were honored during a ceremony in May for their continued efforts in securing external awards.  As quoted from Dr. Frank Calzonetti, Vice President for Research "In many disciplines, particularly those based on laboratory research, financial demands for personnel support such as students, equipment, supplies and travel far exceed what the University can provide, so external grant support is necessary to support a faculty member's research. Many faculty members across campus are successful in securing external awards for their research and I am pleased to be able to recognize from this group those who have secured the most external funding for their research programs over the past three years."

 
| | |
| --- | --- |
| | Congratulations Dr. Furuta on your promotion to Associate Professor with tenure! |
Dr. Kathryn Eisenmann Awarded the Robert T. Tidrick Golden Apple Award

Teaching Excellence in Basic Sciences

Congratulations to Dr. Eisenmann for received The Robert T. Tidrick Gold Apple Award for teaching excellence.  The award is named in honor of Dr. Tidrick, a surgeon and outstanding educator on the faculty of the former Medical College of Ohio from 1969 until his death in June 1983.  Both basic scientists and clinicians are selected for the honor each year by members of the graduating class of medical students.
 

Congratulations MD/PhD Student, Kathryn Becker 

Current MD/PhD student, Kate Becker, placed first in oral presentation for the Graduate Research Forum 2021 entitled  "A ROCK/mDia Signaling Axis Regulates Cytoskeletal Structure in Glioblastoma Tumor Microtubes."  Kate is studying in Dr. Kate Eisenmann's lab.
Congratulations and Farewell Dr. Smas

Dr. Cynthia Smas decided to pursue a new chapter in life and left the University of Toledo in May.  She began her career at the Medical College of Ohio (now University of of Toledo College of Medicine & Life Sciences) 21 years ago, receiving her tenure in 2011.  The two main research interests of her lab have been adipocyte function/obesity and prostate cancer. Dr. Smas was a dedicated teacher and touched many lives during her teaching and research career here, training many postdoctoral fellows, graduate students and medical students.  She will be missed.
Roshale Fernando presents at 2021 Virtual Midwest Student Biomedical Research Conference

On February 27, 2021, Roshale Fernando gave an oral presentation at the 2021 Virtual Midwest Student Biomedical Research Conference  entitled "Modulating Arginine Metabolism for an Immunogenic Reprogramming of Tumor Associate Macrophages in Breast Cancer."  This conference provides medical and biomedical graduate students the opportunity to present their research and is reviewed/critiqued by their peers and experienced scientists. The University of Nebraska Medical Center and Creighton University sponsors the program. 
Congratulations Dr. Sridharan 

Winner of the 2020 Excellence Award for Outstanding Graduate Student Achievement in Cancer Biology

"I am interested in pursuing a research career in the field of gene editing in induced pluripotent stem cells. I believe this field has tremendous untapped potential, not only in the field of cancer, but other genetic and hereditary diseases as well. In a few years from now, I envision myself well-equipped with the essential knowledge, technical skills and reinforced confidence where my work adds value to the scientific community and benefits patients."

Dr. Sridharan was mentored by Dr. Dayanidhi Raman and is currently working as a Cancer Research Scientist at Nurix Therapeutics in San Francisco.
Best of Cool Ideas Award for Dr. Kathryn Eisenmann 

Dr. Kathryn Eisenmann recently participated at the Innovations in Medical Education Online Conference 2021, February 18-19, 2021, San Gabriel, CA.  Her presentation entitled "A Novel Remote Team-Based Learning Platform for Medical Students Using Readily Available Technology" won the Best of Cool Ideas Award.
 Dr. Saori Furuta receives Dean's Award for New Investigator Research Excellence for 2020
| | |
| --- | --- |
| | Dr. Saori Furuta has been awarded  the 2020 University of Toledo College of Medicine and Life Sciences Dean's Award for New Investigator in Research Excellence.  This award is presented to investigators who have been members of the College of Medicine and Life Sciences less than six years, have an emerging record of research productivity, exemplified by high quality publications recognized in peer-reviewed journals, a record of current peer-reviewed research grant support, a competitive H index, and emerging national recognition for creativity in their specific area of expertise.  Dr. Furuta was strongly supported for this award by her peers and student representatives.  Congratulations Dr. Furuta! |
Recent Research Awards for Cancer Biology Faculty
Kathryn Eisenmann, Ph.D., Associate Professor
Beyond Spring Pharmaceutics,  "Investigation of the Effects of Plinabulin in Three-Dimension (3D) Glioblastoma Patient Derived Spheroid Viability and Invasion", $161,661, 02/02/2021-01/31/2022
Saori Furuta, Ph.D., Assistant Professor
National Cancer Institute (R01CA248304), "Normalizing Arginine Metabolism with Sepiaptein for Immunostimulatory Shift of HER2+ Breast Cancer", $1,928,750, 3/4/20-2/28/25. This proposal aims to monitor changes in arginine metabolism during breast tumor progression and determine whether normalization of arginine metabolism will improve the immunogenicity of breast tumor and inhibit tumor growth.
American Cancer Society (RSG-18-238-01-CSM), "Roles of Reduced Nitric Oxide in Formation of Early-Stage Breast Lesions", $792,000, 1/1/19-12/31/22.  This project aims to determine the mechanisms by which nitric oxide inhibits TGF beta and ERBB2 at post-translational levels and the pathological relevance of reduced basal nitric oxide to formation of precancerous breast lesions.
Shi-He Liu, Ph.D., Assistant Professor
Dean's Award for Innovative Biomedical Research, University of Toledo Health Science Campus, "Smart Exosomes Enable Active PBAC Targeting and Evading Mononuclear Phagocytotic System", $49,528, 3/15/21-6/30/22
Dayanidhi Raman, Ph.D., Assistant Professor
U.S. Department of Defense (W81XWH2110053), "Development of Novel Inducers of Non-Apoptotic Cell Death to Target TNBC", $1,422,759, 01/01/2021 - 12/31/2023, Dr. Amit Tiwari, PI, Dr. Raman Co-I
deArce-Koch Memorial Endowment Program, "Targeting of eIF4A1 in Drug-Resistant Triple-Negative Breast Cancer", $25,000, 5/3/20-6/30/21
 Yue Zou, Ph.D., Professor
National Cancer Institute (7R01CA219342), "ATR Isomerization in Cellular Responses to UV Damage of DNA", $1,022,343, 8/1/19-7/31/21. This project looks at Narrative Ataxia telangiectasia mutated and Rad3-related (ATR) plays a key role in DNA damage responses relevant to cancer, aging, and other human diseases.  A very recent finding from Zou's lab reveals that ATR functions can be modulated by prolyl isomerization. This project explores the novel role of ATR isomerization in promoting or suppressing UV- induced cell death depending on the types of ATR isomeric formation.

Sangita Sridharan receives 2020 UToledo Retirees Association Scholarship

Congratulations to Sangita Sridharan for being awarded the 2020 UTRA scholarship award.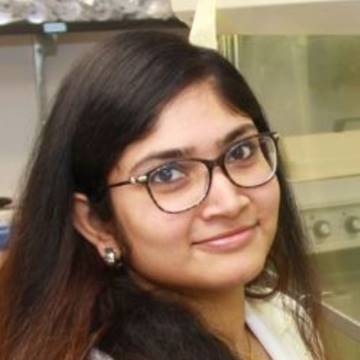 Her advisor, Dr. Dayanidhi Raman, described Sangita as industrious, focused and dedicated as she worked on a very challenging research project.  It is an honor and genuine pleasure to have her study in his lab.  The scholarship is granted annually to two students in the Biomedical Sciences PhD or MS program.  Candidates are selected based on academic excellence and valuable contributions to the campus and/or community.


Cancer Biology Student Articles Published in the Toledo Blade

The Toledo Blade is publishing a  series of articles written by Biomedical Sciences students here at the University of Toledo College of Medicine & Life Sciences.  Following is the series by our Cancer Biology students:

V. Roshale Fernando (6/7/21) - UT Research Explores How to Stop Good Immune Cells from Turning Bad

Yetunde Makinwa (1/4/21) - UT Researchers Explore How Dying Cells Ensure a Healthy Life

Justin Fortune Creeden (12/7/20) - UT Research Turns Supercomputers Toward Cancer Research

Sayani Bhattacharjee (10/5/20) - UT Research Throws a One-Two Punch at Prostate Cancer

Kathryn Becker (7/6/20) - The Crafty Nature of Glioblastoma

Joshua Letson (4/6/20) - UT Researchers Employ Nitric Oxide in the Breast Cancer Fight

Sangitha Sridharan (3/2/20) - UT Research Targets Drug-Resistant Cancer Stem Cells

Yashna Walia (12/2/19) - UT Researchers Seek the Root Cause of Breast Cancer

Cory Howard (7/1/19) - Proteins may fuel life, but some also feed cancers

Augustus Tilley (10/1/18) - Toledo researcher works to disrupt metastatic breast cancer

Kaitlyn Dvorak (7/2/18) - Microenvironment play a role in cancer progression

Kalpana Gardiyawasam (03/05/18) - Researchers aim to block breast cancer metastasis

Zehui (Lesley) Li (12/31/17) - Cancer researchers focus on how cells communicate

Shengnan Du (9/2/16) - Chemical that disrupts cell division could help to treat cancer

Kari Lavik (4/4/16) - Zebrafish help in the fight against cancer


2020-2021 Thesis Defense

 

CONGRATULATIONS to Yetunde Makinwa, Ph.D.
Dr. Makinwa successfully defended her dissertation entitled "Exploring the Roles of Anti-Apoptotic Cytoplasmic ATR in Oncogenesis and Cancer Treatments" on Friday, December 3, 2021.  Dr. Makinwa will begin a postdoc in her mentor's lab, Dr. Yue Zou, to finish up a few ongoing projects.

CONGRATULATIONS to Yashna Walia, M.S. 
Yashna successfully defended her dissertation entitled "Effect of S-Nitrosylation on HER2 Expression and Activity" on July 29, 2021.  She has been mentored by Dr. Saori Furuta. 

 

CONGRATULATIONS to Sangita Sridharan, Ph.D.
Dr. Sridharan successfully defended her dissertation entitled "The Role of Eukaryotic Translation Initiation Factor 4A1 in Breast Cancer Chemoresistance" on November 19, 2020.  She has been mentored by Dr. Dayanidhi Raman.  Dr. Sridharan has accepted a Cancer Research Scientist position at Nurix Therapeutics in San Francisco.

CONGRATULATIONS to Augustus Tilley, Ph.D.
Dr. Tilley successfully defended his dissertation entitled "Discovery of the CXCR4-dependent LASP1-Ago2 Interaction and Its Role in Triple-Negative Breast Cancer" on September 30, 2020.  He has been mentored by Dr. Dayanidhi Raman.  Dr. Tilley has accepted a position with Computercraft at the NIH as a Whole Genome Shotgun Database Biologist where he will be curating new genomic submissions to the GenBank database.

CONGRATULATIONS to Cory Howard, Ph.D.
Dr. Howard successfully defended his dissertation entitled "Characterization of the CXR4-LASP1-eIF4F Axis in Triple-Negative Breast Cancer" on June 10, 2020.  He has been mentored by Dr. Dayanidhi Raman.  Dr. Howard will begin the Doctor of Veterinary Medicine Program at Michigan State University in Fall 2020.
2006-2019 Cancer Biology graduates