Internship Programs
An internship gives you practical experience and hands-on training in the field. As an intern you may work as part of a team, providing value to the overall organization as you gain familiarity with the position. Some interns are mentored by executives and have the opportunity to present to a group of their peers or senior-level individuals on the outcomes of their special projects.
Internships are a great way to build your professional network, garner valuable experience, use feedback to refine your performance, and demonstrate competency and transferrable skills. Today's employers are savvy about seeking job applicants with prior internship experience.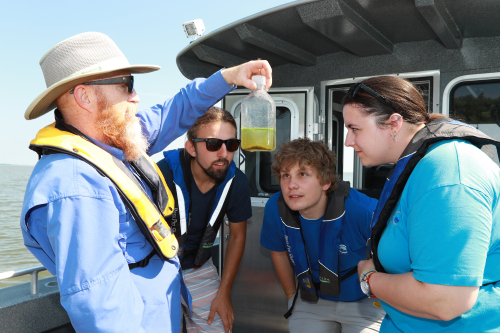 Search for additional internships on Handshake, Student Opportunity Center, GoinGlobal, or by contacting your college.
View current internship opportunities
Disney College Program
Discover a unique living and working environment with participants from all over the world. This program allows you to gain on-the-job experience with a world-renowned company, providing uniquely Disney learning experiences, all while preparing for your future, building transferable skills, including networking, problem solving, teamwork and effective communication.
Learn More about the Disney College Program and requirements here.
 The Washington Center 
The Washington Center Academic Internship Program is a holistic experiential learning experience designed to help you gain knowledge, skills, professional experience, and the network you need to launch a career you will love. You will participate in Washington DC for a full semester or summer session and will earn academic credit.
Click Here To Learn More About The Washington Center Academic Internship Program And To View The Current Program Costs.
On-Campus REsources
COLLEGE OF ENGINEERING
The College of Engineering is one of only eight engineering colleges in the nation to offer a mandatory co-op program. The Engineering Career Development Center assists engineering students with identifying co-op opportunities and graduates and alumni seeking full-time placement.  Students, graduates, and alumni also have the opportunity to connect with potential employers through Spring and Fall Engineering Career Expos.
COLLEGE OF LAW
The Office of Professional Development, Law Career Services, helps students achieve career success through a full range of developmental opportunities and experiences. In addition to formal workshops and individual career counseling sessions, the office oversees numerous opportunities outside of the law school designed to help students make contacts in the legal field and become more informed and effective professionals.
NEFF COLLEGE OF BUSINESS AND INNOVATION
The Business Career Programs office helps COBI students secure internships during their undergraduate careers and full-time placement upon graduation. Their office strives to provide the necessary resources to our students to conduct their own tailored job searches that fit their individual needs.
COLLEGE OF PHARMACY AND PHARMACEUTICAL SCIENCES
The Introductory Pharmacy Practice Experiences (IPPE) and Advanced Pharmacy Practice Experiences (APPE) are designed to provide active learning and an extension of the Pharm.D. curriculum's information. Both IPPEs and APPEs involve student participation and service in the community and institutional pharmacy settings. Students have the opportunity to use the information learned throughout coursework and experience different pharmacy settings.
UToledo Career Services
The UToledo Career Services serves students from all majors and backgrounds, particularly those enrolled in the College of Education, College of Natural Sciences and Math, College of Arts and Letters, College of Health and Human Services, and University College. 
LOCAL RESOURCES
OHIO MEANS INTERNSHIPS & CO-OPS
Search for internships and cooperative education programs using this online service provided by the State of Ohio. 

NATIONAL RESOURCES
American Bar Association - The law association's legal career central shares jobs and career resources.
The Association of Magazine Media - The association, shares jobs and internships available in the magazine industry. 
Back Door Jobs - This website shares unique, short-term opportunities for those who like an adventure. Industries and topics include conservation, environmental education, farming, wilderness therapy, hospitality, and more. 
City of New York - The City of New York offers internship opportunities for undergraduate and graduate students. 
CoolWorks - CoolWorks connects enthusiastic people to meaningful jobs in great places, such as national parks, ski resorts, dude ranches, and retreat centers.
EntertainmentCareers.Net - This website lists jobs and internships in the entertainment industry.
Environmental Protection Agency - Internships are available in Washington, DC, and at regional EPA locations nationwide. 
Feminist Majority Foundation - The nonprofit organization offers internships in Washington, DC, and Los Angeles. Appropriate applicants are undergraduate students interested in public policy and political science, particularly in areas concerning gender, human rights, and development.
The Fund for American Studies - The Fund for American Studies offers programs in public policy, journalism, government affairs, international affairs, legal studies, and leadership in Washington, DC, and around the world. 
Harvard-MIT Health Sciences and Technology - The Summer Institute offers a unique opportunity for outstanding undergraduate college students considering a career in biomedical engineering and medical science.
Idealist - Idealist connects people who want to do good with opportunities for action and collaboration. Search their site for national and international internships and jobs to make a difference. 
International Association for Exchange of Students for Technical Experiences (IAESTE) - IAESTE promotes intercultural exchange between students in STEM fields across the globe. Visit their website for internships and other resources. 
Major League Baseball (MLB) - Search for jobs available in MLB, its 30 member clubs, and related media organizations. 
Museum Employment Resource Center - The online center lists jobs related to the museum, heritage management, and cultural resource communities.
National Science Foundation (NSF) - NSF funds a large number of research opportunities for undergraduate students.
National Basketball Association (NBA) - Search for job openings with the global sports and media business.
National Basketball Association (NBA) Teams Jobs - Search for job openings with the NBA teams.
National Hockey League (NHL) - Search for job openings with the NHL and its teams. 
Penguin Random House - The global publishing house shares job opportunities, including internships, on their website.
Public Leadership Education Network - The national organization focuses on preparing college women for leadership in the public policy arena. Visit their website for internship and job opportunities.
Research Internships in Science and Engineering (RISE) - Sponsored by the German Academic Exchange Service, RISE offers paid summer research experiences in Germany working with Ph.D. student mentors in biology, chemistry, physics, earth sciences, and engineering. German language skill is not required for most positions.
Smithsonian Institution - The Smithsonian Institution shares fellowships and internships available at their 19 world-class museums, galleries, gardens, and a zoo. 
Student Conservation Association - Live and work with resource management professionals at natural and cultural sites. Internships are available throughout the year in all fields, terms from three to twelve months. Expenses paid, plus living allowance and travel grant.
SummerJobs.com - SummerJobs.com is your resource for finding summer jobs and seasonal staff positions with camps, amusement parks, resorts, national parks, hotels, environmental organizations, and more.
Washington Internships for Students of Engineering (WISE) - WISE selects outstanding engineering students to participate in a nine-week program in Washington. They discover how government officials make decisions on complex technological issues.
Washington Internship Institute - The institute offers internships in Washington, DC, in a wide range of industries and interests.
Questions?
Contact Career Services at careerservices@utoledo.edu.