prospective students
UToledo has one of the nation's top pharmacy schools for future pharmacists. Graduates in our nationally ranked Pharm.D. program consistently pass licensure and pharmacy law exams at rates higher than the national average.
We offer one of the most comprehensive undergraduate pharmaceutical science programs in the country and the nation's only undergraduate program in cosmetic science and formulation design.
Our undergraduate, professional and graduate programs prepare students for a broad spectrum of careers in pharmacy practice, research, business, healthcare and beyond.
One of the most advanced healthcare educational environments in the nation. Our renowned pharmacy practice lab allows you to gain real-time experience in a functioning pharmacy.
Faculty who are experienced teachers and researchers
Research partnerships with industry and academia
Resources of a large university combined with the personal attention of a small school
Proven results – outstanding test passage and job placement rates
Learn more about Why UToledo Pharmacy is one of the best pharmacy colleges in Ohio.
Schedule your visit or sign up for an upcoming summer camp.

Placement Test Info Pharmacy Scholarships Graduate Studies Office
Want more information?
---
Pharmacy and pharmaceutical sciences Programs
Explore our degree programs. You'll find admission requirements, highlights, career outlooks and more.
Pharmacy Summer Camp
Are you a high school student interested in a career in pharmacy? Attend our summer pharmacy camp.
Participate in hands-on activities that introduce you to the profession and practice of pharmacy and the pharmaceutical sciences.
Stay on campus in a residence hall.
Meet current pharmacy students.
Learn more about the pharmacy camp and how to apply. Scholarships are available.
---
Research
Our Office of Undergraduate Research encourages and supports research as early as freshman year.
Our faculty members are recognized authorities in their areas of specialization. Those areas include cancer, neuro, renal and cardiovascular pharmacology. Faculty study the chemistry of these areas as well as immune function and microbiology.
Our researchers are contributing to the development of new treatments and practices while partnering with pharmaceutical companies and academic institutions in the U.S., Hungary, India, Lebanon, Jordan, U.A.E., Saudi Arabia, China and other countries.
Research and Faculty Centers and Labs
Meet Donna Cherry
'22, BSPS in Cosmetic Science and Formulation Design
"My favorite part of the program has been the internship opportunity that we are granted between the summer of our junior and senior year. Through this experience I have gained so many networking opportunities as well as technical skills and I couldn't imagine myself working towards any other major."
Meet Ryan Sears
'21, Doctor of Pharmacy
"I absolutely fell in love with the UToledo campus on my first tour. Even though it was the first college I visited, I knew this is where I wanted my home for the next few years to be."
Meet Austin Horton
'20, Doctor of Philosophy in Medicinal Chemistry
"The connections that I've made with the faculty members here and the business community in Toledo really positioned me well to enter the career that I've ultimately found a job offer for."
Questions?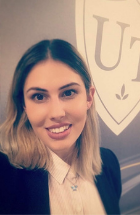 Contact Gina Gass
Enrollment Management Specialist
gina.gass@utoledo.edu
419.530.2010