prospective undergraduate students
UToledo is one of the most comprehensive universities in the U.S. The College of Engineering offers 12 engineering bachelor's degrees and 11 engineering master's and doctoral degrees in some of the most in-demand fields in engineering.
Direct admittance. No pre-engineering classes. Start engineering classes and design work your freshman year.
Three required co-ops. Our focus is on hands-on learning and entrepreneurship. Get paid while learning the skills you need to succeed. Many co-op employers hire their students for full-time jobs.
Accredited programs. All of our bachelor's degrees are accredited by ABET.
Find out Why UToledo Engineering is one of the best engineering colleges in Ohio.
Then schedule your visit. Wander our campus and meet our faculty and staff. Picture yourself as a Rocket!
Admission Requirements Placement Test Info Engineering Scholarships
Want more information?
Engineering undergraduate majors
Learn more about what you can do with an engineering major!  Join in our virtual Engineering Career Series!

What's the difference between Engineering Science and Engineering Technology?
Engineering technology is more hands-on. It's based more on applying what you learn in the classroom than on theory and research.
Math classes are more algebra-based in engineering technology.
Co-ops are optional for engineering technology students.
UToledo offers five engineering technology bachelor's degrees. All are accredited by ABET, which is unique for engineering technology programs.
As technology becomes more important, our engineering tech alumni are as sought after as our engineering science graduates.
---
Academic Options
Engineering students can choose a pre-medicine, pre-veterinary medicine or pre-dental track.
This is a special admissions pathway for bioengineering students into the University of Toledo's College of Medicine.
Students currently enrolled in a UToledo B.S. engineering program can get a head start on a master's degree by taking graduate level course work as part of their undergraduate degree program.
Benefit inside and outside the classroom (priority registration, honors housing, study abroad and more).
Discover how adding language and culture courses, or even a minor, can be valuable to your skillset and future career.
Future Engineers
Explore our programs, visit us on campus and learn about engineering.
Rocket Engineer for a Day for high school students and their parents
Engineer for a Day for high school students and their teachers
Introduce a Girl to Engineering event for Toledo-area junior high students


For information on the two programs above, email 

Bryan Bosch or call 419.530.8038

Preview Days for students still exploring their college options
Experience Days for students already admitted to UToledo
High School Engineering Design Competition
For information on the three programs above , email Jon Pawlecki or call 419.530.8045
---
Academic Support
Student services
Engineering Living Learning Community
Live and learn with other first-year engineering students in the Honors Academic Village.
Support from peers, faculty and upper-level engineering students
Engineering study lounge and computer lab save you late-night trips across campus to the engineering building
Advisory Boards
Every department has an advisory board of industry professionals. In partnership with our expert faculty, they:
Help shape curriculum
Keep us abreast of industry standards
Ensure you gain the skills and knowledge you need to find a good job
---
PERSONAL AND PROFESSIONAL GROWTH
Entrepreneurship
Learn to think like an entrepreneur. We call it entrepreneurial-minded learning. Our students aren't just problem solvers. They create value for their employers by recognizing business opportunities.
Network with industry leaders, attend conferences and learn leadership skills.
Meet Jason Gonring
Class of 2019, electrical engineering | Lambertville, Mich.
"At UToledo, I've encountered countless opportunities to explore my passion for sustainability and make a real difference. I've learned how to start a business, raise money for initiatives and organizations, conduct professional-grade research, put on a killer presentation, build a strong and influential network and manage large-scale projects."
Meet Devyani Donde
Class of 2021, information technology | Nashik, India
"I'm the Treasurer of the Association for Computing Machinery Women's Chapter. ACM-W connects me with amazing women in technology, helps me network, allows me to attend conferences and hackathons, and find trends in technology that prepare me for my career. The diversity at The University of Toledo attracted me. But the thing I liked best was the co-op program."
Questions about Undergraduate Engineering?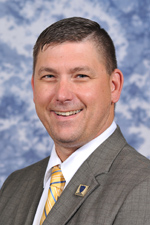 Contact Jon Pawlecki
Director of Student Services and Transfer Partnerships
jon.pawlecki@utoledo.edu
419.530.8045