Collectors and Collecting
JOSEPH BISTAYI HUNGARIAN SOUND RECORDINGS COLLECTION, n.d. [PDF] 
Recordings collected by Joseph Bistayi, Hungarian-American resident of Birmingham, the Hungarian community in East Toledo
The collection consists of twenty-two (78 rpm) recordings of Hungarian dances and Gypsy melodies. MSS-086, .25 linear feet.
See also: entries under Ethnic Culture and Music, Art, Drama, And Theatre
NANCY BURNARD COLLECTION ON AUTHORS, 1970-1990. [PDF] 
Files related to authors from the rare books collections and include newspaper clippings and photographs of the authors as well as book catalogs featuring their works. Materials were collected by Nancy Burnard while employed at the Canaday Center from 1982 to 2003 as the Rare Book Assistant. MSS-300, 6.5 linear feet.
See also: entry under Literature
NANCY BURNARD COLLECTION ON RARE BOOKS PRESSES, 1970-1990. [PDF] 
Files related to rare books presses; a few relate to rare book libraries and librarianship in general. Materials were collected by Nancy Burnard while employed at the Canaday Center from 1982 to 2003 as the Rare Book Assistant. MSS-301, 2.5 linear feet.
See also: entry under Literature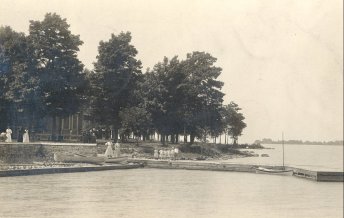 OLIVE A. COLTON COLLECTION, 1867-1961. [PDF]
→ View Digital Collection
Suffragist, pamphleteer, philanthropist, and world traveler from Toledo, Ohio (1873-1972)
The bulk of the collection consists of postcards and scrapbooks. Colton traveled extensively throughout the United States, Europe, and the world. There is also considerable information on her activities as a woman suffragist. Colton was a founder of Toledo's League of Women Voters in 1921, a member of the National Woman's Party in the 1930s, and served as a delegate to Carrie Chapman Catt's Woman's Centennial Congress in 1940. Materials in the collection include pamphlets, correspondence (1909 -1961), clippings, and autographs. MSS-008, 4 linear feet.
See also: entries under Social Life and Customs, Travel, and Women
DONALD D. DUHAIME COLLECTION, 1776-1979
Collector of Civil War and nineteenth century materials
This eclectic collection includes items that were acquired independently of one another. Types of materials include: subject files (1776-1975); minutes and reports (1868-1869, 1967); correspondence (1843-1945); speeches (1845-1946); almanacs (1829-1918); dime novels (1889-1909); newspapers; legal documents (1781-1962); financial documents (1850-1938); Civil War military documents (1861-1915); certificates (1855-1933); postcards, valentines and school keepsakes (1927-1930); sheet music (1849-1975); scrapbooks, advertisements and political memorabilia, photographic material, booklets, pamphlets, photo albums, philatelic materials, material culture, posters, broadsides, and prints. MSS-077, 23 linear feet.
See also: entry under Social Life and Customs
DONALD D. DUHAIME 19TH AND 20TH CENTURY PHOTOGRAPH COLLECTION, 1860s-1940s. [PDF]
Collector of Civil War and nineteenth century materials
This collection covers the Civil War, nineteenth century and the first half of the twentieth century.  The photographs show identified and unidentified people and buildings, nature and landscapes, industry, and transportation, along with some historical information that might provide context for the images.  MSS-152, 7 linear feet.
DONALD D. DUHAIME ALASKA PHOTOGRAPH COLLECTION, 1943-1944. [PDF]
An album containing personal photographs and professional postcards
The images in this collection primarily document the time Duhaime spent in Alaska between 1943 and 1944, although the dates on the postcards range from 1887 to 1919.  It is an eclectic collection of landscapes, wildlife, sled dogs, natives, soldiers, celebrities, architecture, and culture (religion, fishing, village life). MSS-019, 3 inches (396 items).
See also: entry under War, Soldiers, and Veterans
DONALD D. DUHAIME LINCOLN-CIVIL WAR AND NINETEENTH CENTURY COLLECTION, 1837-2001 . [PDF]
Collector of Civil War and nineteenth century materials
This collection contains materials primarily pertaining to the Civil War, Abraham Lincoln, and the nineteenth century. Other materials include a presidents collection; books, articles, and pictures relating to Toledo, Ohio, and Lucas County; journals and magazines; World's Fair/Exposition materials; and pamphlets, articles, and books relating to George Custer. MSS-077a, 21 linear feet.
See also: entry under War, Soldiers, and Veterans
NOTE: This collection is housed off-campus. Therefore, Canaday Center staff will require a 48-hour advanced notice for its retrieval.   
DONALD DUHAIME TOLEDO LOCAL HISTORY COLLECTION, 1900-1969. [PDF]
Collection contains selections form a larger collection of donated material with relevance to Toledo local history. It features booklets on Toledo's industrial, transportation, and social history, including Toledo songs, sports, buildings, people, and events. MSS-155, .3 linear feet.
HARRY J. DURHOLT PAPERS, 1935-1978. [PDF]
Vice president, Owens-Illinois (b.1894)
Papers document Durholt's career with the Libbey division of the Owens-Illinois Glass Company through correspondence; reports (1935-1958); scrapbook materials (1949-1971); maps, charts, and graphs (1910-1959); printed material (including some glassware catalogs) (1933-1957); and photographs of the Libbey plant (1949-1951). The collection also documents Libbey plants in Europe. MSS-063, 1 linear foot.
See also: entry under Business and Commerce and Glass Industry
MARY M. EINHART AUTOGRAPH COLLECTION, 1968-1999.  [PDF]
Autograph Collector
This is a collection of signatures and autographs of individuals involved in the Watergate scandal (1972-74), as well as news clippings related to Watergate. MSS-146, 1.5 linear feet.
LUCILLE EMCH PAPERS, 1929-1990s. [PDF] 
University of Toledo Librarian, rare book consultant (1909-2006)
This collection contains biographical information on Lucille Emch, the Emch family genealogy, research notes and slides related to the history of books and printing, and records related to Emch's business as rare book consultant and her involvement with the Maumee Valley Historical Society Landmarks Committee. This collection contains many slides and photographs related to the illuminated manuscripts of Medieval and Renaissance Europe as well as archaeological sites in Greece, Italy, and the Mediterranean as well as European cathedrals. MSS-267, 4.25 lin. ft.
See also: entry under Education and Schools
CARL U. FAUSTER COLLECTION, 1893-1986. [PDF]
Assistant Advertising Manager, Libbey Glass Company. Also an avid glass collector (d.1992)
Consists primarily of manuscripts of Fauster's book, Libbey Glass Since 1818: Pictorial History & Collector's Guide (1979), as well as papers, publications, and photographic material pertaining to the research and publication of that work. MSS-068, 1 linear foot.
See also: entry under Glass Industry
VERA FOLEY COLLECTION, 1898-1934. [PDF]
Collection of sound recordings (phono records) donated by Vera Foley. MSS-098, .5 linear feet.
WARREN D. HANSCOM CHAUTAUQUA COLLECTION, 1927-1984. [PDF] 
Actor, impersonator, director, and producer on the Chautauqua and Lyceum circuits in the U.S. and Canada. Chautauqua was the first form of adult education and consists of traveling entertainment that includes lectures, music, plays, and other performances.
Collection consists of materials collected during Hanscom's career, including clippings, newsletters, programs, a typescript, photographs, and two books. MSS-104, 7 inches.
See also: entry under Music, Art, Drama, and Theatre
JOSEPH M. JACKSON PHOTOGRAPH COLLECTION, ca. 1940s-1950s. [PDF]
Plant Photographer, Owens-Illinois (1917-1957)
Collection consists of photographs taken during World War II at Owens-Illinois, Toledo Express Airport, and around Downtown Toledo, including the waterfront. MSS-182, .5 linear feet.
See also: entry under Glass Industry
TED LIGIBEL HISTORICAL GLASS COLLECTION, 1910s-1988. [PDF]
Historic preservationist and faculty (b. 1950)
Collection consists of historical and commemorative glasses and bottles collected by Ted Ligibel because of his interest in local history. MSS-207, 1 linear foot.
BOB AND ROB LITTIN HISTORICAL NEWSPAPER COLLECTION, 1875 - 2008. [PDF]
The Bob and Rob Littin Historical Newspaper Collection consists of newspapers from both U.S. and foreign cities documenting important events in our nation's history.  Newspaper dates range from 1875 to 2008. MSS-232, 2 linear feet.
MAHER FAMILY COLLECTION, 1757-1938. [PDF]
→ View Digital Collection
Prominent Toledo family
Collection consists primarily of letters to William H. Maher (1846-1913), a businessman, writer, and political reformist, but also includes letters written to his wife Anne (Kelsey) Maher, as well as a few written to their daughter Amy Grace Maher, feminist and social activist. William also purchased a number of signatures and autographed letters from the Revolutionary, Early National, and Civil War eras. MSS-005, .75 linear feet.
See also: entries under Politics and Government, War, Soldiers, and Veterans, and Women
SUKIE NOPPER LOCAL HISTORY COLLECTION, 1878-1962. [PDF]
Small collection of artifacts, ephemera, and records from Toledo businesses, entertainment venues, and city departments. MSS-324, 0.25 linear foot.
See also: entry under Business and Commerce
JOHN POAG COLLECTION, 1867-1886 and 1890-1899. [PDF]
Lawyer of Toledo, Ohio (ca. 1860-1899)
This collection contains personal, business, and political correspondence; legal and financial documents; and 5 albums of European photographs. MSS-020, .5 linear feet.
See also: entries under Business and Commerce and Travel
RUBY T. SCOTT PAPERS, 1690-1966. [PDF]
→ View Digital Collection
Professor of English, University of Toledo (1891-1966)
The primary focus of this collection is a group of autographed letters and other documents of British origin (1690-1905). Other materials include correspondence, genealogical material, poetry, photographs, and a scrapbook that documents Scott's professional and personal life. MSS-006, 1.8 linear feet.
See also: entry under Women
DENNIS SOLDNER COLLECTION, 1900.  [PDF]
Toledo resident and collector
A collection of photographs taken by an unknown traveler on a trip around the eastern United States in 1900. Some of the areas represented are Toledo, Cleveland, Archbold, and Canton, Ohio; Brooklyn, New York; and Johnstown, Pennsylvania. MSS-116, 3 linear inches.
See also: entries under Music, Art, Drama, and Theatre and Travel
NOEL STOCK PAPERS, 1886-2011. [PDF]
Author and translator, professor of English, University of Toledo (b.1929)
Much of this collection relates to Stock's publications A Call To Order, The Life of Ezra Pound, and Ezra Pound's Pennsylvania, and includes typescripts; publishers' galleys; page proofs; news clippings; and reviews. Stock also corresponded with Pound's wife, Dorothy; daughter Mary de Rachewiltz; and mistress Olga Rudge. Materials associated directly with Pound include correspondence (including letters to Pound from Wyndham Lewis), reviews, news clippings, photographs, school and church memorabilia, and an FBI transcript of Pound's interrogation in Genoa. MSS-009, 4.25 linear feet.
See also: entry under Literature
JAMES VAN ORDEN COLLECTION, ca. 1879-2012. [PDF]
Local history collector
Collection consists of ephemera and publications pertaining to various aspects of Toledo and surrounding communities, including Toledo's Centennial celebration, advertisements and reports of industry leaders and smaller businesses, and local sports programs. MSS-290, 23.5 linear feet.
See also: entries under Business and Commerce and Social Life and Customs