Early Manuscripts
This page lists our collections of early manuscripts, dating from the Medieval Period to the Early Modern Period. 
AMERICAN COLONIAL CURRENCY, 1776. [PDF]
An original and facsimile of  Colonial currency. MSS-117s.
ANTIPHONARY, 14TH CENTURY. [PDF]
A leaf from a 14th century antiphonary on vellum. MSS-004s. 
CASE OF JOHN HAMOND VS. WILLIAM STACHEY, 1640. [PDF]  
Case of John Hamond vs. William Strachey, MSS-045s.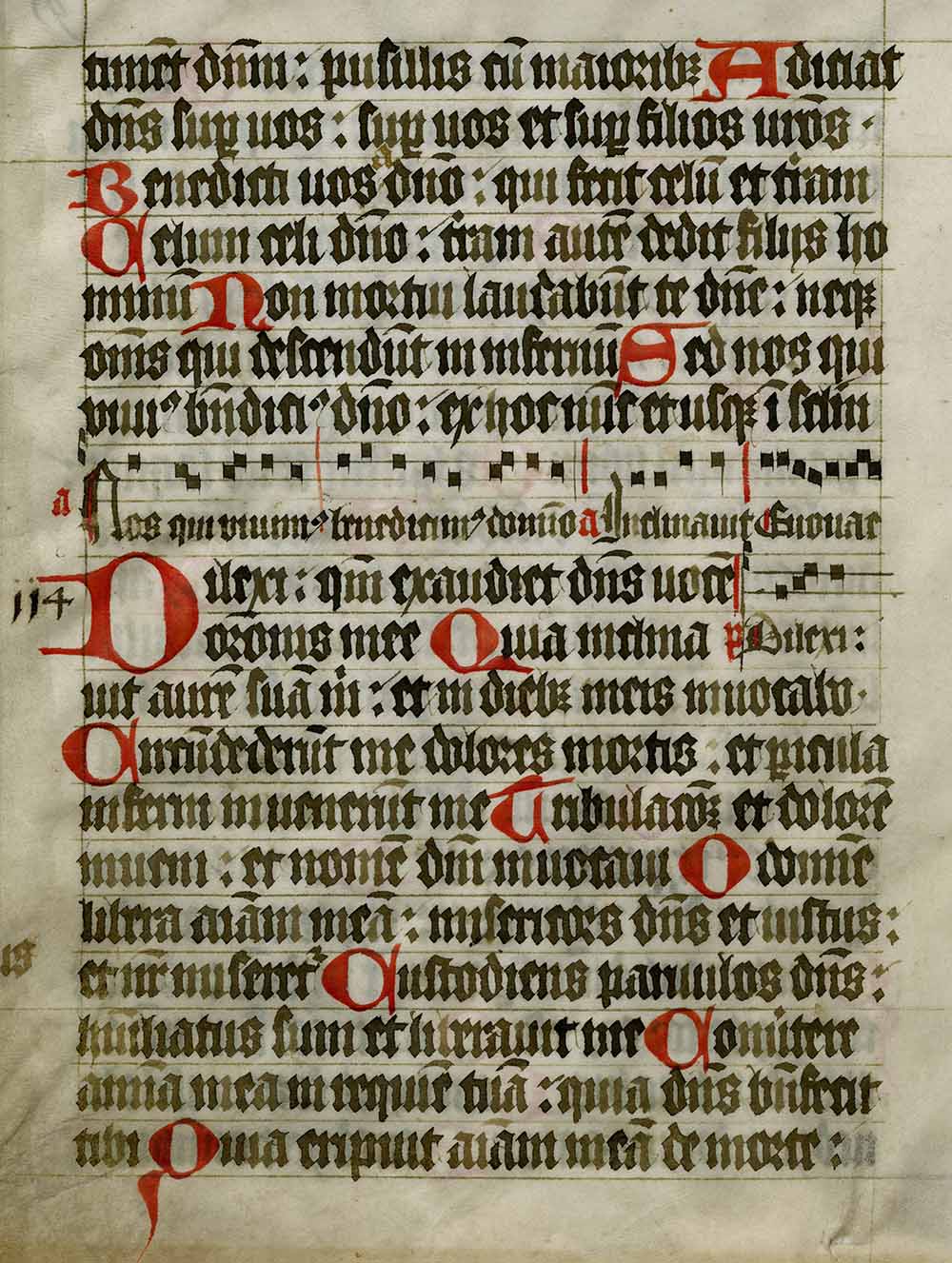 CHRONICLES OF ENGLAND, 1480. [PDF]
A leaf from Chronicles of England, 1480, in a 1933 presentation folder. MSS-018s.
DUTCH SERMON AND BIBLE, 1577. [PDF]
Dutch sermon. Bible, MSS-003s. 
DAVID GUISE PATENT, 1796. [PDF]  
Patent of Confirmation to heirs of, (signature- Arthur St. Clair, Governor of  the territory North-West of the Ohio), MSS-042s.
KING HENRY VII AUTOGRAPH, 1496. [PDF]  
Autograph of King Henry VII of England.  A warrant to deliver a pair of satin shoes, dated Tower of London, 1496. MSS-134s.
LATIN TREATISE, 15TH CENTURY. [PDF] 
Leaf from an unidentified treatise in Latin, MSS-057s.
LECTIONARY, 15TH CENTURY. [PDF]
A Catholic lectionary from the 15th century. MSS-017s.
C. B. LINCOLN LETTER, 1800. [PDF]  
Personal letter to Thomas Willing, Esquire, MSS-113s.
JOHAN JACOB MEISNER LETTER, 1768. [PDF] 
Letter to pastor (Amsterdam), MSS-067s.
RALPH NODEN LEASE, 1719. [PDF]
Surrender of lease of Ralph Noden, 1719. MSS-072s. 
STEPHEN V. RENSSELAER LETTER, 1797. [PDF] 
Printed letter to "Dear Sir" regarding the election of Senators at hand and the "serious division likely to take place among mutual friends on that subject." MSS-084s.
PETER SCHOEFFER ANTIPHONARY, 1472. [PDF] 
Medieval Antiphonary leaf on vellum, MSS-066s. 
PSALTER, 1400. [PDF]  
Manuscript written in a large Gothic script with music on a 4-line stave, rubricated throughout, all capital letters supplied in red. MSS-141s.
GEORGE WASHINGTON INVITATION, 1794. [PDF]  
Dinner invitation to Mr. Van Allen from U.S. President George Washington, MSS-104s.
VIRGINIA WRITS OF ARREST, 1762, 1790. [PDF] 
Virginia Writs of Arrest (John Vandivear vs. Jacob Lander.  Also, Gabriel Jones vs. Harvey Philips). MSS-102s.