Labor
AMERICAN FLINT GLASS WORKERS UNION COMMEMORATIVE PLATE, 1966. [PDF]
Commemorative plate from the dedication of the American Flint Glass Workers Union world headquarters, 1966. MSS-163s. 

WILLIAM G. BORDEN PAPERS, 1946-2007. [PDF]
UAW International Representative and Local 12 Organizer. (1922-2007)
This collection contains correspondence, publications, photographs, newspaper clippings and memorabilia created and collected by William Borden during and following his career as a United Automobile Workers Local 12 Chairman and later International Representative from the late 1940s to 1982. MSS-271, 1.5 linear feet.
CENTRAL LABOR UNION OF TOLEDO AND VICINITY RECORDS, 1915-1971. [PDF]
Labor organization from Toledo and vicinity. (1879-1955)
Collection of Toledo CLU yearbooks and annual rental statements documenting the finances of Old Central, Inc., which managed the Labor Temple in Downtown Toledo and housed the Central Labor Union and subsidiary trade union offices. MSS-090, 1 linear foot.
LINDA FURNEY PAPERS, 1985-1998. [PDF]
State of Ohio Senator from Toledo (11th District, 1987-2002)
Collection includes personal papers generated during Furney's service as State Senator, including House and Senate bills; legislative files; campaign and fund raising files; and correspondence. These materials reflect her interest in and support of labor, women's, and environmental issues. MSS-134, 40 linear feet.
See also: entries under Politics and Government and  Women
NOTE: This collection is housed off-campus. Therefore, Canaday Center staff will require a 48-hour advanced notice for its retrieval.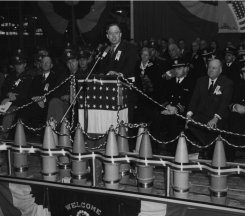 RICHARD T. GOSSER PAPERS, 1943-1974
→ View Digital Collection
Local 12 (Toledo) president, regional director and international vice president of the United Automobile, Aircraft, Agricultural Implement Workers of America (UAW-CIO, UAW-AFL-CIO) (1900 - 1969) 
Collection includes Local 12 (Toledo) scrapbooks, with clippings from Toledo and Detroit general and labor newspapers, runs of United Auto Worker and Solidarity (1947-1963), interviews with long-time members of Local 12 (1963), and correspondence from the 1960s (primarily relating to a federal case against Gosser). Gosser's official UAW correspondence files and related items are housed in the Walter P. Reuther Library, Wayne State University, Detroit MI. MSS-025, 15 linear feet.
See also: entry under Medicine and Health
INTERNATIONAL CHEMICAL WORKERS LOCAL 901 RECORDS, 1935-1986.  [PDF]
→ View Digital Collection
Union of DuPont chemical workers (1935-Present)
Collection of meeting minutes (1941-1986), publications, contract documents, constitutions, and other materials. Subjects include: National Labor Relations Board, Toledo Works Councils (1935-1938), wages, pensions, seniority, grievances, strikes, and international unionization. MSS-085, 14 linear feet.
TIMOTHY J. McCORMICK PAPERS, 1940-1964. [PDF] 
Toledo, Ohio locomotive engineer and labor organizer (b.1907)
Materials document the consolidation of labor unions after World War II, especially in the realm of railroads. The bulk of the collection consists of correspondence among railroad labor organizers and publications of labor organizations (e.g. the Consolidation Committee of Enginemen's Consolidator and the United Railroad Operating Crafts' UROC Facts) with which McCormick was involved. MSS-010, 2 linear feet.
RICHARD F. McKEY LETTERBOOK, 1906-1908. [PDF]
Toledo Police Department Detective (1874? - 1941)
This collection contains a single letter-impression volume with copies of letters pertaining to routine Brotherhood of Railroad Trainmen business. Typical letters, all of them outgoing, concern membership dues and grievance cases. A few others involve political activity, such as the Feb. 14, 1908, letter to a state legislator regarding the Ohio Safety Appliance Law. The collection is a comprehensive record of B. R. T., Joppa Lodge No. 397, business for the years covered.  Some letters are on police business and were written to police departments in other cities asking for information about a particular criminal. MSS-054, 1 volume.
See also: entry under Crime and Criminals
NATIONAL ORGANIZATION FOR WOMEN: TOLEDO, OHIO CHAPTER RECORDS, 1972-2004. [PDF]
→ View Digital Collection
Largest women's rights organization in the United States (1966-Present)
This collection contains records of the local, state, and national chapters and includes meeting minutes; newsletters and other publications; bylaws; and annual conference programs. Subjects include job discrimination; affirmative action; ratification of the Equal Rights Amendment; Title IX compliance; and the Toledo group's association with the American Federation of State, County, and Municipal Employees, Local 544. MSS-035, 3.5 linear feet.
See also: entries under Politics and Government and Women
BERTHA POTTER COLLECTION, 1941-1980s. [PDF]
Long time employee of Jeep
Collection consists largely of news articles collected by Ms. Potter during and after her years working for Jeep. MSS-213, .5 linear feet.
See also: entry under Women
MORTON AND NANCY STAUB, 1926-1940. [PDF] 
Business sales and research development executive from Toledo, Ohio.
This collection contains a series of letters written between an Owens Corning employee and his wife, primarily during his work-related travels throughout the Midwest in 1940. Researchers interested in the personal point of a view of a corporate executive as he navigates office politics, handles salary issues, and tries to maintain an affectionate relationship with his spouse while he travels during the period just before World War II may find this collection useful.  MSS-263.  .25 linear feet.
See also: entries under Business and Commerce, Glass Industry.
TOLEDO COMMISSION ON PUBLICITY AND EFFICIENCY COLLECTION, 1916-1963. [PDF]
Commission established to research municipal operations, to make recommendations to the City Council, and to provide information to the public about the city of Toledo Collection includes meeting minutes from 1916 to 1963 and reports on such topics as public utilities, construction, streets, the police department, and unionization of city employees. Also contains a compilation of city statutes regulating street railways and public utilities. MSS-030, 1 linear foot.
See also: entry under Municipal Government
TOLEDO EDISON COLLECTION, 1894-1972.  [PDF only]
Electric transportation and utility company (1853-Present)
Chronologically-arranged scrapbooks document the company's history through newspaper clippings and advertisements.  Subjects include electric street railways, early electric utility services, recreation and entertainment, and hydroelectric power. A strike in 1916 highlights labor-related information. MSS-082, 90 linear feet.
See also: entry under Business and Commerce
UNITED FOOD AND COMMERCIAL WORKERS LOCAL 954 COLLECTION, 1930-1993.  [PDF]
Union representing approximately 1.3 million retail and food workers (1979-present)
This collection consists primarily of correspondence, but also includes union publications; newspaper clippings; legal documents; films; and audio tapes documenting the UFCW and one of its predecessors, the Retail Clerks International Association, District Council no. 6. MSS-093, 3 linear feet.
WORKING CLASS ORAL HISTORY PROJECT COLLECTION, ca. 1930s-1980s. [PDF]
Collection consists of audio cassettes and transcripts of interviews with 13 former Jeep employees. MSS-214, 0.5 linear feet.