Philosophy and Religion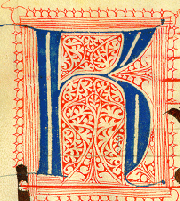 WILLIAM M. BOOKER SCRAPBOOKS, 1907-1952. [PDF]
→ View Digital Collection
Civic leader, regional manager of Mutual Benefit Life Insurance Company (1874-1945)
Three volumes document Booker's civic and business endeavors from 1907 to 1945, including his involvement with the Catholic Church, especially Toledo's Queen of the Holy Rosary Cathedral and Sister Farley of St. Vincent Hospital. MSS-070, 1 linear foot.
See also: entries under Civic Interests, Philanthropy, and Social Welfare
WILLIAM C. AND MILDRED M. BURNS PAPERS, 1912-1966. [PDF] 
William: Presbyterian and Congregational minister (1854-1955); Mildred: Teacher, Morrison R. Waite High School, Toledo (1889-1983)
Collection consists of minutes and reports of the Toledo Presbytery (1927-1931) and the First Presbyterian Church of Monroe, Michigan.  Included are reports from individual churches in northwest Ohio as well as financial and organizational reports. Some materials in the collection were generated and collected by William, including correspondence, essays, poems, ephemera, photographs, and clippings, especially those related to his one-hundredth birthday. MSS-033, 1 linear foot.
KAREN CSENGERI PAPERS, 1808-1997. 
UT alumna and former UT professor
Collection consists of research compiled for her PhD dissertation on Thomas Ernest Hulme. Includes correspondence, notes, and research material. Also contains files on T.S. Eliot's readings on mysticism and notes regarding Ezra Pound's The Cantos. MSS-187, 8 linear feet.
See also: entries under Literature, Politics and Government, and War, Soldiers, and Veterans
DIOCESE OF TOLEDO ARCHITECTURAL PLANS, 1912-1949. [PDF]
Catholic Church
Collection consists of plans, drawings, and other materials relating to the construction of several diocesan buildings, most notably Our Lady, Queen of the Most Holy Rosary Cathedral in Toledo, Ohio. MSS-069, 1.5 linear feet.
See also: entry under Architecture
LANDMARKS COMMITTEE. [PDF]
A committee of the Maumee Valley Historical Society charged to preserve historic structures
The collection consists of black and white photographs of the interiors and exteriors of St. Ann's Catholic Church and St. Patrick's Catholic Church.  The collection also contains slides of St. Ann's. MSS-154, .25 lin. ft.
See also: entry under Architecture
LISLE FELLOWSHIP INC. RECORDS, 1936-2014. [PDF]
Multicultural Educational Organization (founded 1936)
The records of this organization include descriptions of various programs organized by the Lisle Fellowship as well as administrative files which include information on Units-six week sessions-both domestic and foreign. These six week sessions were the focus of the Fellowship, encouraging interaction and exchange between individuals of diverse backgrounds. MSS-138, 96 linear feet.
See also: entry under Education and Schools
MONROE STREET UNITED METHODIST CHURCH RECORDS, 1906-2002. [PDF]
Contains records documenting the history of one of the oldest and most prominent church groups in Toledo.  Includes administrative files, auxiliary group files, media and ministry files, photographic/visual materials, events and publications, pastors' files, building files, legal documents, historical records and artifacts, and ephemera.  MSS-167, 36.25 linear feet.
NOTE: This collection is housed off-campus. Therefore, Canaday Center staff will require a 48-hour advanced notice for its retrieval.
J. WILLIAM MYERS PAPERS, 1936-1997. [PDF]
Minister, poet, editor, publisher (b. 1919)
Legal documents, printed materials, and ephemera related to his work as a poet. MSS-127, .2 linear feet.
See also: entry under Literature
RALPH SIU PAPERS, 1942-2006. [PDF]
Author, research scientist, military and civil servant, philosopher, and founder of the International Society for Panetics (1917-1998)
The materials which comprise the Ralph Siu papers highlight his public and professional life as author, scientist, and military and civil servant. The collection contains correspondence; biographical and personal files; book, article, and lecture series; newspaper clippings and newsletters; photographs; and various media material. There are also brochures, articles, and papers related to panetics. MSS-237, 8 linear feet.
JAN WAGGONER SUTER PAPERS, 1954-1985. [PDF]
→ View Digital Collection
Radical libertarian, mathematics instructor, University of Toledo (1938-1986).
Collection consists primarily of newsletters, memoranda, circulars, and flyers issued by the many pacifist, anti-war, anti-draft, and personal rights organizations with which Suter was involved. These groups include the War Resisters League, the Fellowship of Reconciliation, the American Friends Service Committee, and the Central Committee for Conscientious Objectors. Minutes of the Draft Information and Counseling Service of the Toledo Area Council of Churches date from 1969 to 1972. MSS-059, 6 linear feet.
See also: entries under Gender and Sexuality and War, Soldiers, and Veterans