/library/
Quick Links
Featured LibGuides:

/library/canaday/

Ward M. Canaday Center for Special Collections
/library/canaday/
Canaday Center Manuscript Collection
Architecture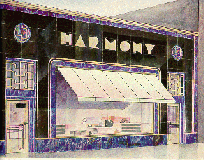 DIOCESE OF TOLEDO ARCHITECTURAL PLANS, 1912-1949. [PDF]
Catholic Church
Collection consists of plans, drawings, and other materials relating to the construction of several diocesan buildings, most notably Our Lady, Queen of the Most Holy Rosary Cathedral in Toledo, Ohio. MSS-069, 1.5 linear feet.
See also: entry under Religion.
LANDMARKS COMMITTEE. [PDF]
A committee of the Maumee Valley Historical Society charged to preserve historic structures
The collection consists of black and white photographs of the interiors and exteriors of St. Ann's Catholic Church and St. Patrick's Catholic Church.  The collection also contains slides of St. Ann's. MSS-154, .25 lin. ft.
See also: entry under Religion.
LIBBEY-OWENS-FORD GLASS COMPANY RECORDS, 1851-1991.  [PDF]
→ View Digital Collection
Glass manufacturer (1818-Present)
This large collection of corporate records includes materials ranging from formal board of directors' minutes to personal photos of individuals involved with the company's history. Administrative records include corporate record books from LOF and its predecessors: Edward Ford Plate Glass Company (1899-1930), Toledo Glass Company (1895-1931), Libbey-Owens Glass Company (1916-1933), and subsidiaries. Annual reports from LOF Glass Company (1930-1982) and the Pilkington Group (1988-) provide summaries of corporate activities. Corporate file records (1895-1958) deal primarily with contracts, subsidiaries, and notably a government anti-trust investigation of LOF (1930-1948). Publications, speeches, and reports created by LOF employees and others include manuscripts and research notes from two company-sponsored corporate histories, corporate newsletters (1939-1980), and general glass industry materials. The single largest series in the collection focuses on sales and promotion. There are files on 50 distributors and dealers of LOF products across the U.S. (1930s-1970s), press releases (1946-1984), and advertising yearbooks and scrapbooks (1851-1977). "Glass at Work" files serve as a valuable source of information on the actual uses of LOF products, as well as the advertising department's use of "real life" applications for promotional purposes. They include files on glazing in everything from airports to homes (1945-1986). MSS-066, 88 linear feet.
See also: entries under Business and Commerce; Education and Schools; and Glass Industry
TED LIGIBEL PAPERS, 1906-1994. [PDF]
Historic Preservationist and teacher (b. 1950)
Papers include course materials on various classes taught by Ligibel, including Architectural Regionalism; Historic Preservation Planning; Historic Resources Survey; and Urban Visual History Planning. Also included are materials related to various committes on which he served, newspaper clippings, student papers, and subject files devoted to issues of particular interest to Ligibel. MSS-087, 6 linear feet.
See also: entries under Civic Interests and Education & Schools.
TOLEDO STATE HOSPITAL, LUCAS COUNTY INFIRMARY, & MAUMEE VALLEY HOSPITAL ARCHITECTURAL AND SURVEY DRAWINGS. [PDF]
Insane Asylum (1888-1973)
Collection includes schematic maps from the Toledo Insane Asylum, which was designed by Edward O. Fallis and operated by Dr. Henry A. Tobey.  The schematic drawings are from the original plans for the asylum. MSS-221, 50 linear feet.
See also: entries under Disability History, Medicine and Health, and Social Welfare.