Toledo Glass Industry
AMERICAN FLINT GLASS WORKERS UNION COMMEMORATIVE PLATE, 1966. [PDF]
Commemorative plate from the dedication of the American Flint Glass Workers Union world headquarters, 1966. MSS-163s. 
JAMES BROWER PAPERS, 1949-1989 AND UNDATED. [PDF] 
Graphic Artist, Owens-Illinois (b. 1934)
This collection consists of catalogs and other images created by Mr. Brower over parts of his long career as a graphic designer.  It includes catalogs created for Owens-Illinois and the Libbey Glass Company. MSS-220, .5 linear feet.
See also: entry under Music, Art, Drama, and Theatre
HARRY J. DURHOLT PAPERS, 1935-1978. [PDF]
Vice president, Owens-Illinois (b.1894)
Papers document Durholt's career with the Libbey division of the Owens-Illinois Glass Company through correspondence; reports (1935-1958); scrapbook materials (1949-1971); maps, charts, and graphs (1910-1959); printed material (including some glassware catalogs) (1933-1957); and photographs of the Libbey plant (1949-1951). The collection also documents Libbey plants in Europe. MSS-063, 1 linear foot.
See also: entry under Collectors & Collecting
CARL U. FAUSTER COLLECTION, 1893-1986. [PDF]
Assistant Advertising Manager, Libbey Glass Company. Also an avid glass collector (d.1992)
Consists primarily of manuscripts of Fauster's book, Libbey Glass Since 1818: Pictorial History & Collector's Guide (1979), as well as papers, publications, and photographic material pertaining to the research and publication of that work. MSS-068, 1 linear foot.
See also: entry under Collectors and Collecting
FRANKLYN HAWKINS ADVERTISING PORTFOLIOS, 1955-1972. [PDF]
Manager, Advertising Dept., Libbey-Owens-Ford (b. 1909?)
Collection consists of packets containing Libbey-Owens-Ford print advertisements called "Ad-vantages," which were used as informational and promotional material for the company's sales departments. MSS-067, 2 linear feet (139 items).
See also: entry under Business and Commerce
SIEGFRIED HERLICZEK COLLECTION ON LIBBEY-OWENS-FORD, 1930-1990. [PDF]
Collection of reports and publications from the Libbey-Owens-Ford Technical Center, primarily focusing on the development and testing of laminate safety glass. MSS-309, 5.5 linear feet.
HUEY G. HUHN PAPERS, 1951-1974. [PDF] 
General traffic manager, Libbey-Owens-Ford (b. 1889)
Huhn's papers were generated during his retirement in Rogers, Arkansas and consist primarily of letters, articles, and short stories written on a variety of subjects in the areas of business and politics.  Huhn also wrote a book, Great Oaks, which provides short histories of large U.S. corporations. In addition, the collection contains poetry, a typescript for Great Oaks, clippings, photographs, publications, and a copy of a speech that President Kennedy was to make in Dallas the day he was assassinated. MSS-011, 2 linear feet.
See also: entries under Business and Commerce and Politics & Government
JOSEPH M. JACKSON PHOTOGRAPH COLLECTION, ca. 1940s-1950s. [PDF]
Plant Photographer, Owens-Illinois (1917-1957)
Collection consists of photographs taken during World War II at Owens-Illinois, Toledo Express Airport, and around Downtown Toledo, including the waterfront. MSS-182, .5 linear feet.
See also: entry under Collectors and Collecting
DOMINICK LABINO, 1896-1993. [PDF]
Inventor and Glass Technologist (1910-1987)
This collection mainly consists of Dominick Labino's technical library but also contains papers, photographs, and artifacts. The Johns Manville papers include documents from Labino's career as director of research and development, including research and correspondence concerning his work for the Atomic Energy Commission. MSS-223, 12.5 linear feet.
EDWARD LAWTON OWENS-ILLINOIS AND LIBBEY GLASS COMPANY COLLECTION, 1896-2006 [PDF]
Technical Illustrator with Owens-Illinois (1933-2009)
The collection represents multiple glass items collected by Edward Lawton, long-time employee of Owens-Illinois, as well as examples of his work he completed as a Technical Illustrator in the O-I Patent department.  MSS-347, 8 linear feet. 
See also: entry under Collectors and Collecting.
EDWARD LEVIS FAMILY COLLECTION, n.d. [PDF]
Glass manufacturing family
This collection contains four oversize photographs of members of the Levis family, founders of Illinois Glass Company in Alton, Illinois.  MSS-218, .1 linear foot.
See also: entry under Business and Commerce
GLADYS LEVIS-PILZ COLLECTION, 1883-1973. [PDF] 
Glass manufacturing family
This small collection includes letters and newspaper clippings related to Illinois Glass and the Levis family, primarily Robert H. Levis I.  MSS-313, .25 linear feet.
See also: entry under Business and Commerce
JOHN L. LEWIS PAPERS, 1899-2004. [PDF]
Engineer, Libbey-Owens-Ford Glass Company
Collection contains material that Mr. Lewis collected over the course of his career.  It contains company, printed, and audiovisual material in addition to blueprints and drawings, patents, subject files, and artifacts.  MSS-201, 4 linear feet.
See also: entry under Business and Commerce
LIBBEY-OWENS-FORD GLASS COMPANY RECORDS, 1851-1991.  [PDF only]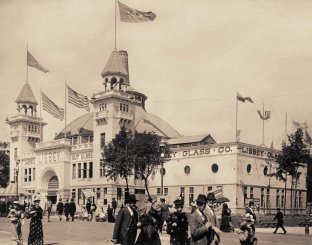 → View Digital Collection
Glass manufacturer (1818-Present)
This large collection of corporate records includes materials ranging from formal board of directors' minutes to personal photos of individuals involved with the company's history. Administrative records include corporate record books from LOF and its predecessors: Edward Ford Plate Glass Company (1899-1930), Toledo Glass Company (1895-1931), Libbey-Owens Glass Company (1916-1933), and subsidiaries. Annual reports from LOF Glass Company (1930-1982) and the Pilkington Group (1988-) provide summaries of corporate activities. Corporate file records (1895-1958) deal primarily with contracts, subsidiaries, and notably a government anti-trust investigation of LOF (1930-1948). Publications, speeches, and reports created by LOF employees and others include manuscripts and research notes from two company-sponsored corporate histories, corporate newsletters (1939-1980), and general glass industry materials. The single largest series in the collection focuses on sales and promotion. There are files on 50 distributors and dealers of LOF products across the U.S. (1930s-1970s), press releases (1946-1984), and advertising yearbooks and scrapbooks (1851-1977). "Glass at Work" files serve as a valuable source of information on the actual uses of LOF products, as well as the advertising department's use of "real life" applications for promotional purposes. They include files on glazing in everything from airports to homes (1945-1986). MSS-066, 88 linear feet.
See also: entries under Architecture, Business and Commerce, and Education and Schools
L. E. MACDOWELL GLASS COLLECTION, ca. 1940's. [PDF] 
Glass collector and owner of Fremont Glass, Inc., Fremont, Ohio
This collection of Libbey-Owens-Ford glass materials contains 6 samples of Vitrolite, a full set of Vitrolux samples (18 pieces), 3 12" x 16" Ashlars of Vitrolite, and a "Glass" Catalog of LOF Materials. MSS-076, 1 linear foot.
See also: entry under Business and Commerce
OWENS CORNING RECORDS, 1938-PRESENT. [PDF only]
Fiberglass manufacturer, est. 1938
The records of Owens Corning range from the patent for the method and apparatus for spinning glass in 1925 to the Owens Corning "Winning by design" calendar of 2010. The records offer an array of research possibilities and provide history and insight into the intricacies of a complex company from its inception to it most recent achievements. Major figures in the collection include Harold Boeschenstein, William Boeschenstein, Amory Haughton, General Lauris Norstad, and Games Slayter, among others. There are technical files that offer a glimpse into the minds of inventors, correspondence files signed by U.S. presidents, artifacts from the 1939 New York World's Fair exhibit, and much more.  MSS-222, 202 linear feet.
See also: entry under Business and Commerce
OWENS-ILLINOIS, INC. COMPANY RECORDS (PDF only)
→ View Digital Collection
Glass Manufacturer, 1818
This large collection of records encompasses the entire history of Owens-Illinois, Inc.  Included is a large historical bottle collection, as well as photos, annual reports, sales, and marketing catalogs for the various brands owned by Owens-Illinois, Inc.; the personal papers of various Owens-Illinois, Inc. executives; illustrations of various Owens-Illinois, Inc. plants; and audio-visual materials.  The collection also includes information pertaining to the numerous companies that have either been incorporated into or created from Owens-Illinois, Inc., including the Owens Bottle Company, Owens Bottle Machine Company, National Container, Libbey-Owens-Ford, and Illinois-Pacific Glass.  MSS-200.  406 linear feet & 77 bound oversize volumes.
See also: entries under Business and Commerce and Philanthropy
JACK PAQUETTE COLLECTION ON NORTHWEST OHIO'S GLASS INDUSTRY, 1885-2003. [PDF]
→ View Digital Collection
Former vice-president of Owens-Illinois, Inc., author, and historian
This collection contains material that Paquette accumulated over the course of his career, as well as material he collected while researching and writing three books--two on the history of Owens-Illinois and one on the glass-making industry in Northwest Ohio.  MSS-169, 11 linear feet.
See also: entry under Business and Commerce
MORTON AND NANCY STAUB, 1926-1940. [PDF] 
Business sales and research development executive from Toledo, Ohio.
This collection contains a series of letters written between an Owens Corning employee and his wife, primarily during his work-related travels throughout the Midwest in 1940. Researchers interested in the personal point of a view of a corporate executive as he navigates office politics, handles salary issues, and tries to maintain an affectionate relationship with his spouse while he travels during the period just before World War II may find this collection useful.  MSS-265.  .25 linear feet.
See also: entries under Business and Commerce, Labor.
ROBERT G. WINGERTER PAPERS AND PHOTOGRAPHS, 1967-1978. [PDF]
Business Executive at Libbey-Owens-Ford (1916-2011)
This collection primarily documents Wingerter's career as an executive with Libbey-Owens-Ford, Inc. MSS-243, 3 linear feet.
See also: entry under Business and Commerce