War, Soldiers, and Veterans
BARLOW LETTERS, 1944-1951. [PDF]
The letters written by Leo Barlow to his mother while serving in Korea from 1950-51, and the letters of his brother, William Barlow, written to his mother while in the Philippines and South Pacific during World War II, 1944-46.  MSS-219, .5 linear foot.
WILLIAM AND PRISCILLA BROWN LETTERS, 1830-1876. [PDF]
Civil War-era family from Bremen (late 19th c.)
Consists of letters between William and Priscilla Brown and members of their family of Bremen, state unknown. Many letters discuss the Civil War from the perspective of Northerner sympathizers. Also included are miscellaneous letters with unknown connections to the Browns. MSS-256, 50 letters.
See also: entry under Social Life and Customs
BUCHANAN AND MacGAHAN MILITARY PENSION APPLICATIONS, 1875-1889. [PDF]
Toledo law firm (in partnership 1875-1880).
Single volume record book of affidavits of military service made by applicants for federal military pensions. Notarized and kept by Francis Buchanan and Patrick A. MacGahan from 1875 and maintained by successors as late as 1889. MSS-046, 1 volume.
JOSEPH BURKET CIVIL WAR COLLECTION, 1864-1880. [PDF]
Collection contains document relating to Burket's service in the Ohio National Guard, 144th Regiment, during the Civil War. Items include honorable discharge documents, a Muster-Out Roll, and a certificate for the Andersonville Survivors Association . MSS-013s.
FRANK H. CANADAY PAPERS, 1911-1976.  [PDF]
Advertising and corporate executive (1893-1976).
Collection pertains primarily to Canaday's personal interests and activities, including travel; writing; music; and art. Programs and scrapbooks document Frank and his wife Molly's support of the Friends of Music, a Toledo organization which led to the creation of the Toledo Symphony Orchestra in the 1940s. MSS-031, 18 linear feet and 2 volumes.
See also: entries under Music, Art, Drama, and Theatre and Travel
KENNETH COLTHORPE PAPERS, 1915-2014. [PDF]
World War II veteran and Champion Spark Plug employee (1922-2015).
Collection consists primarily of materials from Colthorpe's service during World War II as a pilot flying over the "Hump" in Asia, as well as items from his 30-year career with Champion Spark Plug. Materials in this collection include correspondence, photographs, books, artifacts, and technical drawings from his wartime service and years with Champion. The collection also contains a smaller amount of material from Colthorpe's childhood, and Toledo-based companies such as DeVilbiss and Libbey-Owens-Ford. MSS-299, 26 linear feet.
See also: entries under Business and Commerce and Education and Schools
KAREN CSENGERI PAPERS, 1808-1997. 
UT alumna and former professor
Collection consists of research compiled for her PhD dissertation on Thomas Ernest Hulme. Includes correspondence, notes, and research material. Also contains files on T.S. Eliot's readings on mysticism and notes regarding Ezra Pound's The Cantos. MSS-187, 8 linear feet.
See also: entries under Literature, Philosophy and Religion, and Politics and Government
GORDON M. DEYE LETTERS, 1943-46. [PDF] 
Letters of the Sylvania native who served in the U.S. Navy during World War II. MSS-229.
DONALD D. DUHAIME ALASKA PHOTOGRAPH COLLECTION, 1943-1944. [PDF]
An album containing personal photographs and professional postcards.  The images primarily document the time Duhaime spent in Alaska between 1943 and 1944, although the dates on the postcards range from 1887 to 1919.  It is an eclectic collection of landscapes, wildlife, sled dogs, natives, soldiers, celebrities, architecture, and culture (religion, fishing, village life). MSS-019, 3 inches (396 items).
See also: entry under Collectors and Collecting
DONALD D. DUHAIME LINCOLN-CIVIL WAR AND NINETEENTH CENTURY COLLECTION, 1837-2001 . [PDF]
Collector of Civil War and nineteenth century materials.
This collection contains materials primarily pertaining to the Civil War, Abraham Lincoln, and the nineteenth century. Other materials include a presidents collection; books, articles, and pictures relating to Toledo, Ohio, and Lucas County; journals and magazines; World's Fair/Exposition materials; and pamphlets, articles, and books relating to George Custer. MSS-077a, 21 linear feet.
See also: entry under Collectors and Collecting
NOTE: This collection is housed off-campus. Therefore, Canaday Center staff will require a 48-hour advanced notice for its retrieval.
MARIAN G. ELFRING SCRAPBOOK, 1944-45. [PDF]
Toledo native who served in the U.S. Navy W.A.V.E.S during World War II. MSS-231, 1 volume.
See also: entry under Women.
JAMIE FARR SCRIPTS, 1954-1984. [PDF]
Actor from Toledo, Ohio (b.1934).
Scripts of television and motion-picture productions in which Farr acted. Includes most of the "M*A*S*H" (1972-1983) scripts from all but the first season, all of the scripts from the spin-off series "After M*A*S*H" (1983-1984), and scripts of several motion pictures, most notably, The Blackboard Jungle. MSS-024, 8.3 linear feet.
See also: entries under: Ethnic Culture; Music, Art, Drama, and Theatre
FELIX C. HARMAN PAPERS, 1898-1919. [PDF] 
Physician and soldier (1880-1925).
Collection consists of four photographs of Dr. Harman; his Teacher's Common School certificate and certification of appointment to the rank of First Lieutenant in the Officers' Reserve Corps of the U.S. Army, and ten medical school notebooks which cover areas of study such as genito-urinary diseases, neurology, bacteriology, chemistry, pathology, and dermatology. MSS-110, 5 inches.
See also: entry under Medicine and Health
THOMAS HUBER WWI SCRAPBOOK. [PDF]
Soldier's scrapbook from WWI . MSS-132s.
WILLIAM EMERSON HOOPES SCRAPBOOK, 1940-1946, 1975-1978. [PDF]
Soldier who served during World War II (1908-1993)
Consists of a scrapbook of items related to William Emerson Hoopes's service in the military during WWII, as well as loose items also related to his service that include photographs, postcards, correspondence, newsletters, and diaries. MSS-287, .25 linear feet.
ALICE E. HUEBNER COLLECTION, 1861-1976. [PDF]
→ View Digital Collection
English Professor at The University of Toledo (1942-1972), Civil War Veteran's Descendant
This collection contains items related to the Huebner Brewery of Toledo Ohio which was owned by Alice's family, as well as artifacts (including pieces of a soldier's uniform) related to her ancestor who fought in the Civil War. MSS-133, .25 linear feet.
See also: entry under Social Life and Customs
CYRUS HUSSEY DIARIES, 1862-1864. [PDF] [Digital Collection]
→ View Digital Collection
Officer, 48th Regiment, Ohio Volunteer Infantry (1838 - 1926).
Three diaries with daily entries document the period in which Hussey's regiment was stationed primarily in Tennessee, Mississippi, and at the siege of Vicksburg during the American Civil War. Typed transcription of the diaries is included with the collection. MSS-017, 4 items.
MAHER FAMILY COLLECTION, 1757-1938. [PDF]
→ View Digital Collection
Prominent Toledo family.
Collection consists primarily of letters to William H. Maher (1846-1913), a businessman, writer, and political reformist, but also includes letters written to his wife Anne (Kelsey) Maher, as well as a few written to their daughter Amy Grace Maher, feminist and social activist. William also purchased a number of autographed letters and signatures from the Revolutionary, Early National, and Civil War eras. MSS-005, 6 inches.
See also: entries under Collectors and Collecting, Politics and Government, and Women
NAVARRE-WILLIAMS FAMILY PAPERS, 1815-1980s. [PDF] 
Early settlers of Oregon Township.
Collection includes deeds, other land and property documents, marriage and religious records, tax receipts, school memorabilia, a few Civil War and Grand Army of the Republic (GAR) documents and letters, newspaper clippings, and photographs. MSS-042, 1.5 linear feet.
BRANDON NEAL LETTERS, 1907, 1930s-1944, 1957, 1985, 2011. [PDF]
Resident of Toledo, Ohio; Fort Worth, Texas; and California (1922-2013)
Collection consists of letters written to Brandon Neal's family members while he was in the armed forces in the 1940s, as well as miscellaneous photographs and memorabilia from his childhood and adult life. MSS-280, .25 linear feet.
See also: entry under Social Life and Customs
HENRY WALDEMAR NORDMEYER PAPERS, 1905-1962. [PDF]
Professor of German language and literature, University of Michigan (1891-1981)
Collection consists primarily of extensive correspondence with colleagues and relatives. Principal familial correspondents include Nordmeyer's wife, Friedel; his parents, Ernst and Mary; his sisters; and his brothers. Correspondence with friends and lovers is also comprehensive; it documents the reaction in the 1920s to Victorian social mores. Slightly more than half of the correspondence is in German -- scanty outgoing letters are often in shorthand. The Canaday Center also houses Nordmeyer's massive (largely German language) library. MSS-012, 8 linear feet.
See also: entries under Education and Schools and Literature
NORTHWEST OHIO PEACE COALITION COLLECTION, 1972-2013. [PDF]
Organization dedicated to building a nonviolent movement for peace, social justice, and environmental responsibility (est. 2001)
Collection consists of flyers, photographs, newspaper clippings, and other items that document the activities of the Northwest Ohio Peace Coalition (NWOPC). The NWOPC staged multiple protests on the war in Iraq and Afghanistan that included picketing, marches, and demonstrations.  MSS-285, 0.5 linear feet.
See also: entries under Politics and Government and Social Welfare
STEVEN PECSENYE COLLECTION, 1944-1983. [PDF]
Artist, World War II Veteran (d. 1995).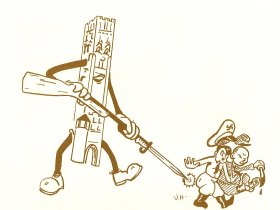 This collection contains 300 original ink, pencil, pastel, and chalk drawings depicting people, customs, wildlife, and buildings of Hungary, many of which were made into postcards, included in Pecsenye's "Hungarian Coloring Book", or intended for other projects that never went to publication. Additional works represent other European countries as well as Toledo, Ohio ca. early 1900's. In addition to these drawings a large amount of correspondence in the form of V-Mail, newsclippings and other memorabilia dating from Pecsenye's service in Europe during World War is included in the collection. These materials chronicle in both words and pictures the events of the war from Pecsenye's perspective. MSS-084, 2.2 linear feet.
See also: entries under Ethnic Culture and Music, Art, Drama, and Theatre
MAX T. SCHNITKER PAPERS, 1936-1983. [PDF]
→ View Digital Collection
Local Neurosurgeon, World War II Veteran (1905-1983).
Collection contains scrapbooks and memoirs kept by Dr. Schnitker when he worked in England from 1936-1938 as a Harvey Cushing Travelling Fellow, as well as diaries documenting his experiences in the Army. He served first in Utah from 1942-1945, then in India from 1945-1946. Also included are photographs of Dr. Schnitker and plaques that he received for his medical practice in Toledo, Ohio. MSS-142, 1.5 linear feet.
See also: entry under Medicine and Health 
SHEET MUSIC COLLECTION, 1847-1952 (bulk 1860-1910). [PDF] 
Collection consists of 51 pieces of sheet music, many of which are Toledo imprints.  It includes songs of war (the Civil War and both World Wars), love songs, children's songs, and dance music, among others.  There are instrumental pieces as well as pieces with lyrics. MSS-078, .5 linear feet.
See also: entry under Music, Art, Drama, and Theatre
JAN WAGGONER SUTER PAPERS, 1954-1985. [PDF]
→ View Digital Collection
Radical libertarian, mathematics instructor, University of Toledo (1938-1986).
Collection consists primarily of newsletters, memoranda, circulars, and flyers issued by the many pacifist, anti-war, anti-draft, and personal rights organizations with which Suter was involved. These groups include the War Resisters League, the Fellowship of Reconciliation, the American Friends Service Committee, and the Central Committee for Conscientious Objectors. Minutes of the Draft Information and Counseling Service of the Toledo Area Council of Churches date from 1969 to 1972. MSS-059, 6 linear feet.
See also: entries under Gender and Sexuality and Philosophy and Religion
TOLEDO CHINA-BURMA-INDIA VETERANS ASSOCIATION RECORDS. [PDF]
This collection includes publications of this organization on the local, state, and international levels.  The publications include newsletters, annual reports, magazines, and contact lists.  The materials represent the present post-World War II era starting in 1945 and ending in 2005. MSS-209, 3.5 linear feet.
UNITED SPANISH WAR VETERANS EGBERT CAMP NO. 10 RECORDS, 1901-1972. [PDF]
Collection spans the entire history of this Spanish-American War veterans' organization. Includes minutes, membership lists, correspondence, and memorabilia. MSS-028, 2 linear feet.
VETERANS ORAL HISTORY PROJECT COLLECTION, 2000-Present. [PDF]
Oral history project documentation.
Collection documents the University of Toledo's involvement in the national project overseen by the Library of Congress and the American Folklife Center, including background files, biographies, oral histories, and manuscript materials. The recordings are transferred to the Library of Congress, but can be searched on the Veterans Oral History Website. MSS-181, 13 linear feet.
WEBER FAMILY PAPERS, 1860-1878. [PDF]
Collection of Weber Family correspondence (in German), a diary, an account of a Civil War battle, and genealogical material. MSS-126, 7 items/ .2 lin. feet.
HERBERT WHITE PAPERS, 1916-1974.  [PDF]
→ View Digital Collection
Engineer and soldier from Youngstown and Toledo Ohio (1897-1974).
Collection consists of personal diaries, photographs, hand-drawn maps, and correspondence between White and his family during World War I. The collection provides an excellent account of the life of an American soldier serving on the Western Front during the first world war. MSS-096, 5 linear inches.
ALVIN MANSFIELD WOOLSON SCRAPBOOK, 1916-1918.  [PDF]
Soldier, railroad employee, and business owner (1841-1925).
This small scrapbook contains circulars from the state and national headquarters of the Grand Army of the Republic, programs of state and national "encampments," correspondence concerning these events, and newspaper clippings of stories about the encampments and Civil War veterans. MSS-038, 2.5 linear inches.
WORLD WAR II SHORT FILMS COLLECTION, 1941-1947.  [PDF]
Collection contains film reels (on 8mm and 16mm) of World War II propaganda, including a segment from Frank Capra's Academy Award-winning documentary series, Why We Fight, training films, newsreels, and entertainment pieces by performers Jack Benny and Pete Smith.  MSS-303, 24 reels.
See also: entry under Music, Art, Drama and Theatre