Professor Joseph Slater Named UT Distinguished University Professor
February 19, 2018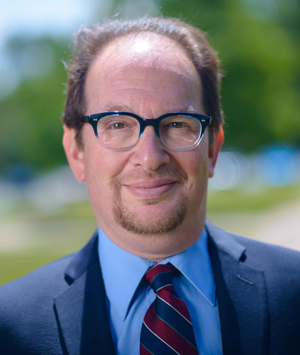 The University of Toledo Board of Trustees confirmed Toledo Law Professor Joseph Slater as a new Distinguished University Professor in February 2018. The rank of Distinguished University Professor is the highest permanent honor that can be granted to a faculty member at The University of Toledo.
Professors appointed to the rank of Distinguished University Professor have received international or national recognition for scholarship that has transformed their field, have made a difference in the lives and careers of their students, and produced a track record of professional service on both the national and international levels.
The nominating committee cited Slater's work as an extraordinary teacher and mentor. Professor Slater has previously won both the University-wide Outstanding Teacher award (2008) and the University-wide Outstanding Faculty Researcher Award (2016). The Eugene N. Balk Professor of Law and Values since 2007, Slater has also been voted Professor of the Year by the Graduating Class of 2006 and by the Black Law Students Association in 2000-2001. 
Slater is a nationally recognized scholar in public-sector labor law with significant contributions to legal history. Select publications include Mastering Labor Law (Carolina Academic Press, 2014) (with Paul Secunda, Anne Lofaso, and Jeffrey Hirsch) and Public Sector Employment: Cases and Materials (2nd ed) (with Martin Malin and Ann Hodges) (West Publishing, 2010), and Public Workers: Government Employee Unions, the Law, and the State, 1900-62 (Cornell University Press, 2004). He also co-authored, Labor Law in the Private and Public Sectors: Cases and Materials (with Seth Harris, David Gregory, and Anne Lofaso) (LexisNexis, 2013), which was the first casebook designed for a course that covers both private- and public-sector labor law.
"Ever since I started working at the University of Toledo in 1999, I have been proud that this school values both good scholarship and good teaching, and I have been amazed at the many faculty here who excel at both," said Slater. "I am grateful for the support I have received from the College of Law and the University. I am also grateful to members of the practicing bar in my field who have welcomed me into their organizations, and to the many students with whom I've had wonderful conversations over the years. The Toledo community has also been a great fit for me teaching and writing in the area labor and employment law. I truly appreciate all those who supported my application for this appointment, and I am deeply honored to join the ranks of law school colleagues past and present (Howard Friedman, Susan Martyn, Bill Richman, and Llew Gibbons), as well as the outstanding Distinguished University Professors from other colleges."
Slater teaches in the areas of employment law, labor law, and public-sector labor law. He holds degrees from Georgetown University (PhD), the University of Michigan (JD), and Oberlin College (BA). His membership includes the Labor Law Group, Employment Policy Research Network, and the College of Labor and Employment Lawyers.
"Professor Joe Slater is an incredibly gifted scholar and teacher," said Dean D. Benjamin Barros. "He is one of the nation's leading experts in public sector labor law. His accomplishments in the classroom are equally impressive, and I hear frequently from his present and former students about the impact he has had on their careers. This is a well-deserved honor."