PRIOR LEARNING ASSESSMENT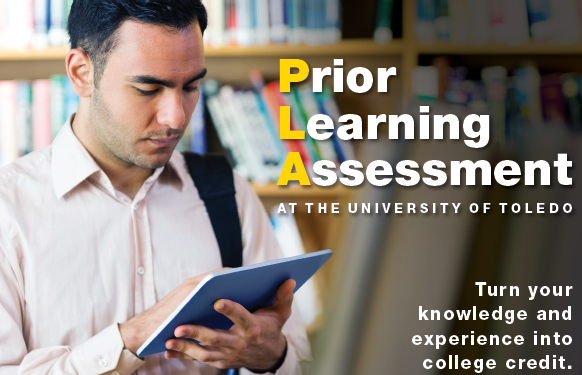 The University of Toledo allows you to receive college credit for knowledge and relevant work, volunteer, and life experiences through Prior Learning Assessment (PLA). Explore how you may earn college credit for learning outside the traditional classroom and earn up to 30 credit hours through PLA.
Prior Learning Assessment Benefits:
Validates learning gained through work and life experience
Earn credit for your accomplishments
Eliminates duplication of learning
May reduce the cost of education
May shorten the time to complete a college program
Helps with career development and planning of educational goals
Enhances your critical thinking as you articulate your knowledge and achievements
How Can You Earn PLA Credit?
There are multiple methods to translate prior learning into credit at UT:S
Standardized Tests

You may earn 3-6 credit hours for less than the cost of one credit hour through CLEP testing
Choose from multiple exam subjects through the College-Level Examination Program testing (CLEP) or the DANTES Subject Standardized Tests (DSST)
Students may also petition for credit by examination through The University of Toledo and the instructor for the course that credit through Prior Learning Assessment is desired

ACE Credit

UT accepts credit evaluated by the American Council on Education, including military credit

Portfolio or Exam

Match your experience and knowledge to UT courses to earn credit by portfolio or departmental challenge exams
A Prior Learning Assessment Adviser provides individual coaching to assist the student in determining the potential for portfolio development to apply toward requirements for a given student's program of study
Students pay $100.00 per course for the assessment process and there are no additional fees if credit is awarded and transcribed
How to Get Started:
Students desiring credit through the Prior Learning Assessment process should make an appointment with a PLA Advisor:

Marcia King-Blandford
419.530.3242
mkingbl@utoledo.edu
Further Information and Helpful Resources:
Student Forms and Quick Links:
Faculty Forms:
The PLA Program adheres and maintains best practices in assessing prior learning as recommended by the Higher Learning Commission (HLC) and the Council for Adult and Experiential Learning (CAEL).