Saori Furuta, Ph.D.
RESEARCH INTERESTS: 

Over 200,000 new cases of breast cancer are diagnosed in the U.S. each year, affecting 1 in 8 women in their life time. Despite the recent advances in diagnostic tools, breast cancer mortality rate has only declined slowly, justifying the urgent need for a better diagnostic marker for a treatment success.

Our lab has been working to understand what is the primary cue that drives pre-neoplatic progression of normal breast cells. We are especially interested in biological events that trigger stiffening of the breast tissue, the hallmark of the formation of preneoplastic lesions. It has been reported that a denser and stiffer breast has a 4-6 old higher risk of breast cancer. In addition, a higher breast cancer risk of patients with obesity, diabetes or aging is all attributed to stiffening of the breast tissue.

We are currently focusing on the role of nitric oxide (NO), a gaseous signaling molecule ubiquitously produced, in this aspect. We have previously shown that normal mammary epithelial cells (MECs) produce a significant amount of NO when they encounter certain types of the extracellular matrix (ECM) proteins, whereas breast cancer cells do not.  We have also shown that different NO levels account for different phenotypes of normal vs. cancerous MECs in 3D ECM cultures.

We have been studying the mechanisms by which NO regulates the breast structure. One way is to induce mammary morphogenesis through its regulation of membrane potential, actin cytoskeleton and E-cadherin-mediated cell-cell junction. The second way is to upregulate p53 activity, which in turn elevates the expression of the basement membrane protein laminin, involved in the formation of hemidesmosome. As an additional mechanims, we are testing our hypothesis that NO biochemically modulates ECM proteins, in particular collagens to exert homeostatic regulation in the normal breast tissues. Once this protective shield is broken, due to a reduction of NO level, collagen biogenesis and cross-linking will be deregulated and stromal fibroblasts will be "activated" (differentiate into myofibroblast), leading to the aberrant accumulation of collagen fibers and stiffening the ECM.

We have been testing these novel hypotheses by using high-resolution imaging techniques, including second harmonies generation on multiphoton microscope, time-lapse confocal microscopy and atomic force microscopy, as well as animal studies, 3D cultures (mono and co-cultures), histological studies of clinical samples and other molecular/cell biology/biochemistry techniques. Completion of this innovative study will identify the loss of NO and the resultant alteration in the ECM as the predictive marker of breast cancer, allowing for an earlier detection.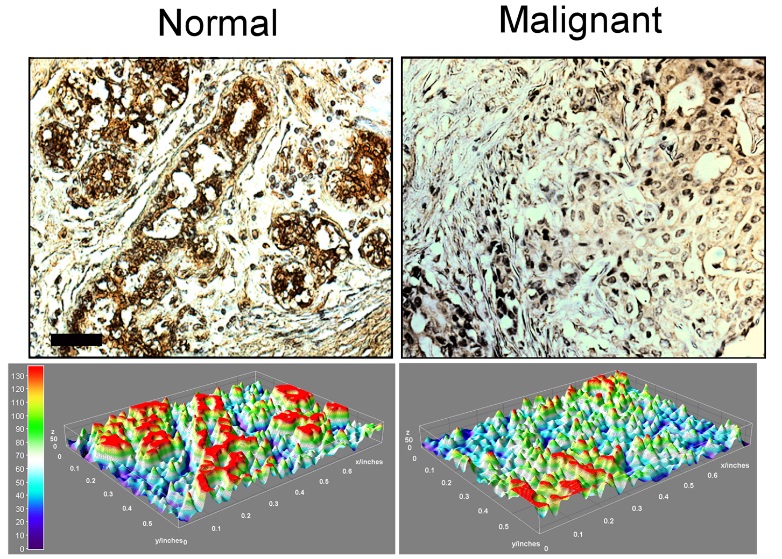 EDUCATION:

Ph.D. 2007, University of California, Irvine
M.S. 2001, California State University, Los Angeles
B.S. 1999, University of California, Riverside
ACADEMIC APPOINTMENTS:

2015-present Assistant Professor, Dept. Biochemistry & Cancer Biology, University of Toledo College of Medicine
                     & Life Sciences, Toledo, OH
2014-2015     Project Scientist, Life Sciences Division, Lawrence Berkeley National Laboratory, Berkeley, CA
2007-2014     Postdoctoral Fellow, Life Sciences Division, Lawrence Berkeley National Laboratory, Berkeley, CA

REPRESENTATIVE PUBLICATIONS:

Makmura, L., Hamann, M., Areopagita, A., Furuta, S., Munoz, A., Momand, J. Development of sensitive assay to detect reversibly oxidized protein cysteine sulfhydryl groups. Antioxid. Redox Signal 2001; 3(6):1105-18.  PMID:  11813984
Furuta, S., Ortiz, F., Zhu, Sun X., Wu, HH., Mason, A., Momand, J. Copper uptake is required for pyrrolidine dithiocarbamate-mediated oxidation and protein level increase of p53 in cells. Biochem. J. 2002; 365(Pt 3):639-48.  PMC1222712

Utomo, A., Jiang, X., Furuta, S., (first three contributed equally) Yun, J., Levin, D.S., Wang,Y.C., Desai, K.V., Green, J.E., Chen, P.L., Lee, W.H. Identification of a novel putative non-selenocysteine containing phospholipid hydroperoxide glutathione peroxidase (NPGPx) essential for alleviating oxidative stress generated from polyunsaturated fatty acids in breast cancer cells. J Biol Chem. 2004; 279(42):43522-9.  PMID: 15294905

Furuta, S., Jiang, X., Gu, B, Cheng, E., Chen, P.L., Lee, W.H. Depletion of BRCA1 impairs differentiation but enhances proliferation of mammary epithelial cells. Proc Natl Acad Sci U S A. 2005; 102(26):9176-81.  PMC1166629

Momand, J., Aspuria, P.J., Furuta, S. "MDM2 and MDMX-regulators of p53 activity", a chapter in Protein Reviews Vol 2: The p53 Tumor Suppressor Pathway and Cancer 2005; pp155-186. Kluwer Academic/Plenum Publishers (New York, NY).

Furuta, S., Wang, J., Shuanzeng, W., Jeng, Y.M., Jiang, X., Gu, B., Chen, P.L., Lee, E.Y.H.P., Lee, W.H. Removal of BRCA1/CtIP/ZBRK1 repressor complex on ANG1 promoter leads to accelerated breast tumor growth contributed by prominent vasculature. Cancer Cell 2006; 10(11):13-24.  PMID: 16843262

Jeng, Y.M., Cai, S., Li, A., Furuta, S., Chen, P.L., Lee, E.Y.H.P., Lee, W.H.  Brca1 heterozygous mice have shortened life span and are prone to ovarian tumorigenesis with haploinsufficiency upon ionizing irradiation. Oncogene 2007; 24(42):6160-6.  PMID: 17420720

Furuta, S., Jeng, Y.M., Zhou, L., Huang, L., Kuhn, I., Bissell, M.J., Lee, W.H.  IL-25 causes apoptosis of IL-25R-expressing breast cancer cells without toxicity to nonmalignant cells. Sci Transl Med. 2011; 3(78):78ra31.  PMC3199022

Furuta, S., Ghajar, C.M., Bissell, M.J. Caveolin-1: Would-be Achilles' heel of tumor microenvironment? Cell Cycle 2011; 10:1794-1809.  PMID: 22030625

Ordinario, E., Han, H.J., Furuta, S., Heiser, L., Jakkula, L., Rodier, F., Spellman, P., Campisi, J., Gray, J., Bissell, M.J., Kohwi, Y., Kohwi-Shigematsu, T.  ATM suppresses SATB1-induced malignant progression in breast epithelial cells. PLOS One 2012;7(12):e51786.  PMC3519734

Lee, S-Y., Meier, R., Furuta, S. (first three contributed equally; SF serves as a co-corresponding author with MJB), Lenburg, M.E., Kenny, P.A.,  Xu, R.,  Bissell, M.J.  FAM83A confers EGFR-TKI resistance in breast cancer cells and in mice. J. Clin. Invest. 2012; 122(9):3211-3220.  PMC3428077

Becker-Weimann, S., Xiong, G., Furuta, S., Han, J., Kuhn, I., Akavia, U.D., Pe'er, D., Bissell, M.J., Xu, R. NF-kappaB integrates microenvironmental signals that disrupt tissue polarity and induce cell invasion in breast cancer cells. Oncotarget 2013; 4(11):2010-2010.  PMC3875766

Furuta, S., Bissell, M.J. (2016) Pathways Involved in Formation of Mammary Organoid Architecture Have Keys to Understanding Drug Resistance and to Discovery of Druggable Targets. Cold Spring Harb Symp Quant Biol., 2016; 81:207-217.  PMID: 28416576