CD3 - A Message From the Director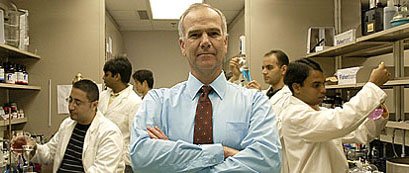 "As both the academy and the private sector find themselves treading to stay afloat during the flood of changes rushing across the entire pharmaceutical research and health care enterprise, the CD3, by constructing a solid network and facilitating mechanisms whereby various investigators within the university and its immediate medical community can merge their individual expertise into a powerful, technical resource, affords a wide array of interdisciplinary talent poised to address a broad spectrum of scientific and technology development problems in a synergistic manner.

Thus, the CD3 can be thought of in practical fashion like a platform readied for orchestration of a wide range of mutually beneficial collaborations between the academy and the private sector, and finally, as seeking to enhance the possibilities for complimentarity between these two sectors as they might both begin to so harmonize their efforts toward the common goal of improving the overall health and well-being of humankind."

* Excerpted from presentations delivered to the UT MC faculty and administration, UT HSC's basic and clinical research staff, and the St. Vincent Mercy Medical Center's Grand-Rounds program during the CD3's inception in 1995.