Advanced Leadership Academy enriches diverse range of UT students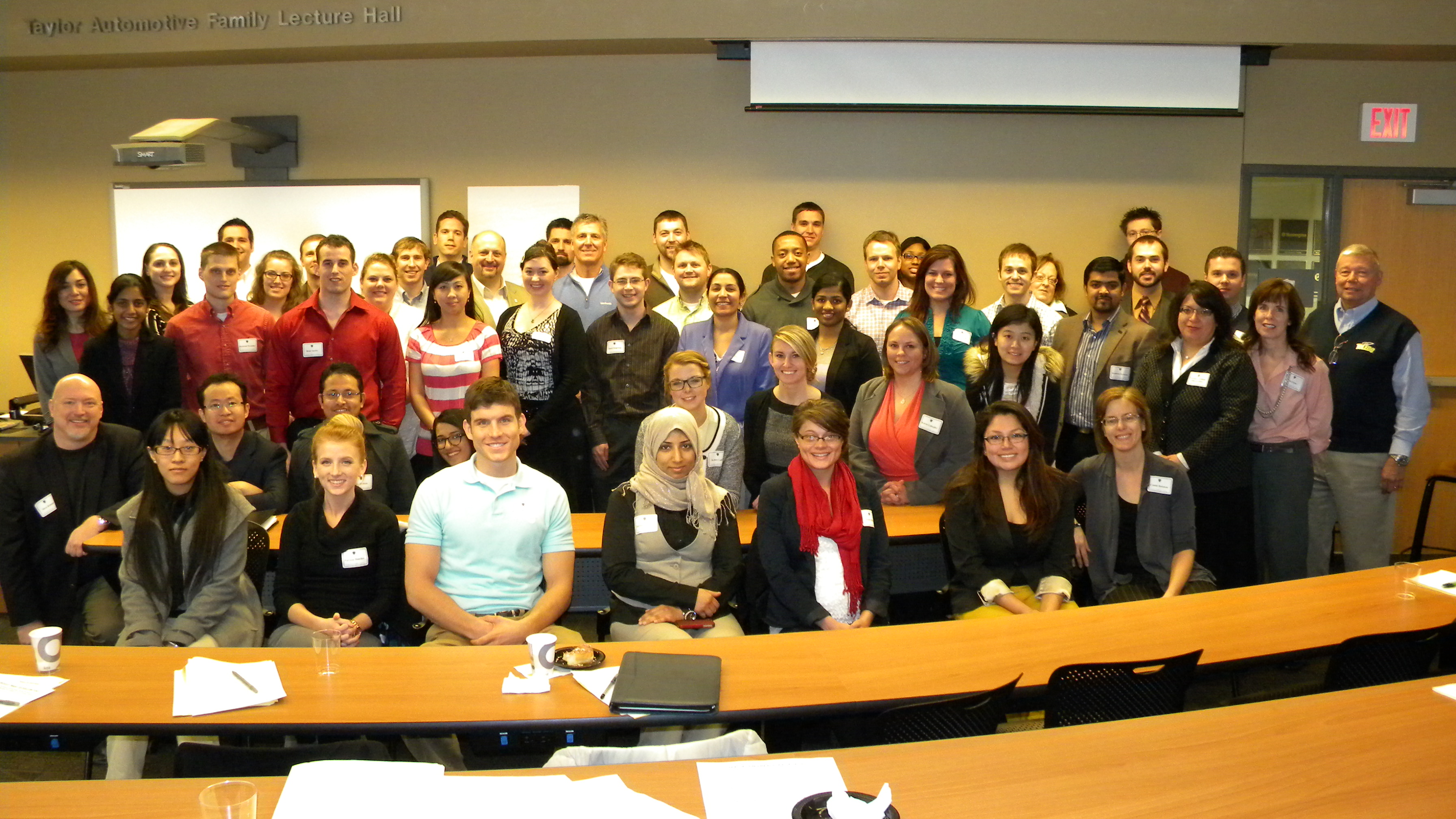 University of Toledo students from across campus and various colleges took a major step to enhance their personal and professional lives recently as they participated in the annual Advanced Leadership Academy (ALA), presented by the College of Business and Innovation.
Students were invited to participate based on their academic and professional records of success and the recommendation of graduate faculty.  Academy members included masters and Ph.D. students from the UT colleges of business, engineering, nursing, pharmacy, education and the Department of Political Science and Public Administration.
"It is very exciting to bring together some of our very best graduate students from across our campus to link up with outstanding leaders from a wide variety of professions and disciplines," said Dr. Clint Longenecker, Stranahan Professor of Management and ALA Program Coordinator.  "The connections and learning between our students and leaders in this program is something very special."
Students had the opportunity to learn success and leadership principles from an eclectic group of speakers that included UT Head Football Coach Matt Campbell;  Chad Bringman, Executive Director of the Ronald McDonald House Charities Northwest Ohio; Drs. Margaret Hopkins and Robert Yonker,  COBI Associate Professors of Management; Michael Miller, Chairman and CEO of Waterford Bank; and Dr. Tom Brady, Founder, Chairman and CEO of Plastic Technologies, Inc., among others.
"It was a privilege to attend The University of Toledo's Advanced Leadership Academy," noted Lisa Foote, 2013 MBA student.  "I received valuable insight from speakers in the business environment as to what it means to be an effective leader.  The importance of emotional intelligence, conflict resolution, and good communication skills are necessary to be a great leader in the workplace."
"ALA was a perfect window for my personal and professional growth," said international MBA student  Emtithal Alhumood.  "Sharing valuable stories and knowledge from different professional people in different areas helped me observe what I need to improve for my career life. It was an awesome opportunity to enhance my communication skills, too."
Amanda Jemmott,  Masters of Public Administration & Nonprofit Management graduate, said  "I personally enjoyed hearing the background and experience of so many different leaders in our community.  I especially liked that the people brought in to speak to us were not all business leaders.  I think the biggest thing I got out of the ALA was learning how critically important 'soft skills' are in order for leaders to be successful.  While technical knowledge and intelligence are also important, they don't amount to much if the leader does not have the ability to get positive results working with people.  I think the quote I heard from guest speaker Chris Anderson is what strikes me the most: "People don't care how much you know until they know how much you care." 
"The ALA was a great professional development experience," noted Matt Rubin, MBA student and former President of UT Student Government, "and it has really helped me in my new career."