COBI professor and doctoral student win Excellence in Lean Accounting awards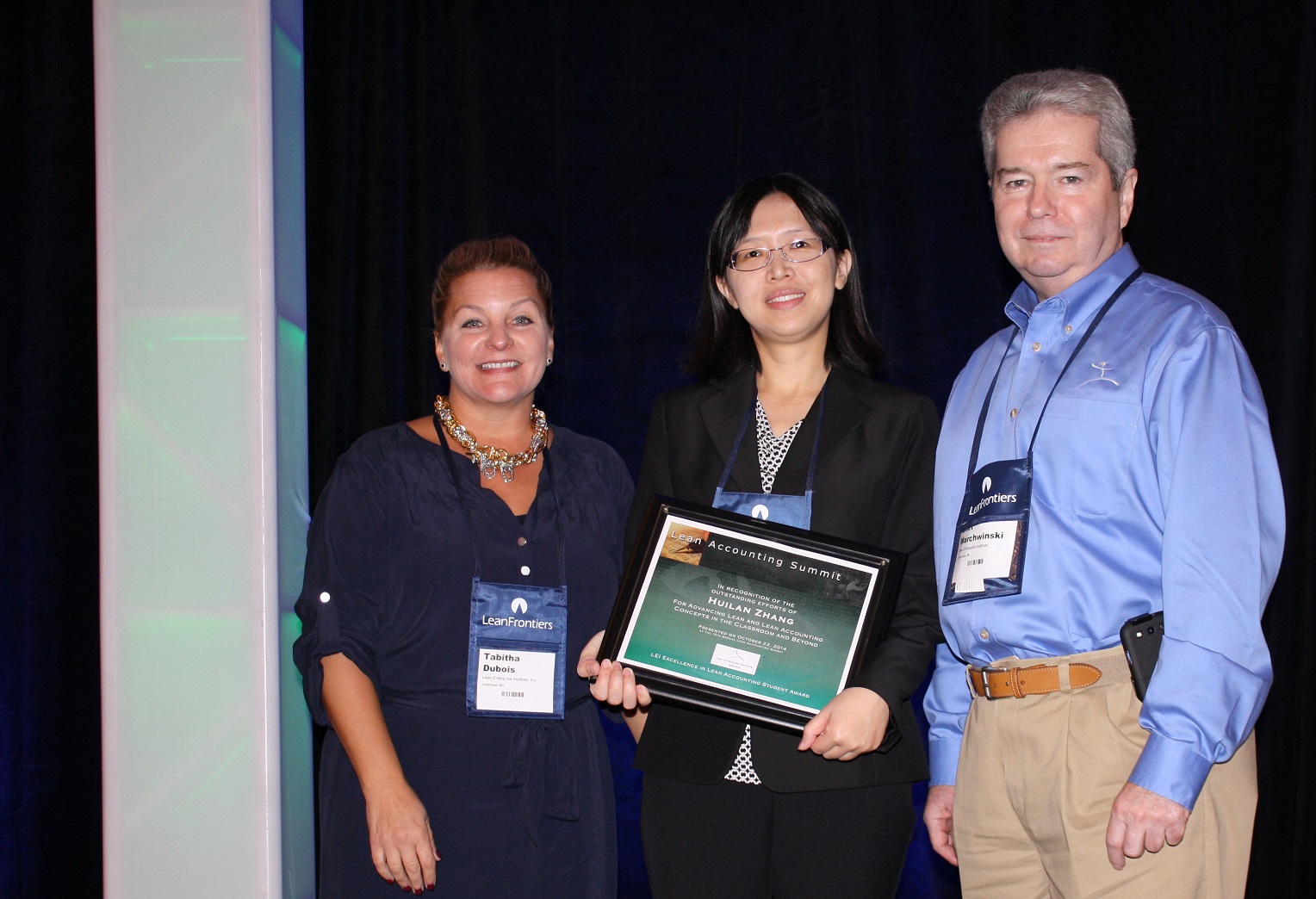 A professor and a doctoral student from The University of Toledo College of Business and Innovation are the winners of 2014 Excellence in Lean Accounting Awards from the nonprofit Lean Enterprise Institute (LEI).
 Student Huilan Zhang, who holds two master's degrees, is conducting research into lean management in healthcare and manufacturing for her PhD dissertation. She is investigating why companies begin transformations, what obstacles they encounter, and what results they obtain.
She also teaches the undergraduate course "Accounting in Decision Making" that emphasizes lean concepts and uses case studies about lean management initiatives.
UT COBI Associate Professor of Accounting Amal Said, PhD, won the award for mentoring and encouraging undergraduate and graduate students, including Zhang, to study lean principles as they learn about accounting and management.
She teaches "Accounting in Decision Making" to undergraduates and "Advanced Managerial Accounting" at the graduate level. She has conducted research into lean accounting, earnings management, CEO compensation, and performance evaluations among other areas.
The awards were presented by Tabitha Dubois, LEI director of finance and administration, and Chet Marchwinski, LEI's communications director, at the 10th annual Lean Accounting Summit, October 22, 2014, in Savannah, GA. About 225 finance and operations managers and executives from manufacturing and service companies attended the conference, which is organized by Lean Frontiers.
 The awards, sponsored annually by LEI, recognize teachers and students who attended a previous summit then applied what they learned to class work. The goal of the award program is to bring the principles and practices of lean accounting into higher education and business.
Conference organizers said the lean accounting movement seeks a shift from traditional cost accounting practices to methods that accurately measure and motivate companies implementing lean management principles.
The terms lean manufacturing, lean production, or lean management refer to a complete business system for organizing and managing product development, operations, suppliers, customer relations, and the overall enterprise. It requires less capital, material, space, time, or human effort to produce products and services with fewer defects to precise customer desires, compared with traditional modern management.
Lean Enterprise Institute Inc., a 501(c)(3) nonprofit based in Cambridge, MA, makes things better through lean research, education, publishing, and conferences. Founded in 1997 by management expert James P. Womack, PhD, LEI supports other lean initiatives such as the Lean Global Network, the Lean Education Academic Network, and the Healthcare Value Network.