UT business students finish first in national supply chain management case competition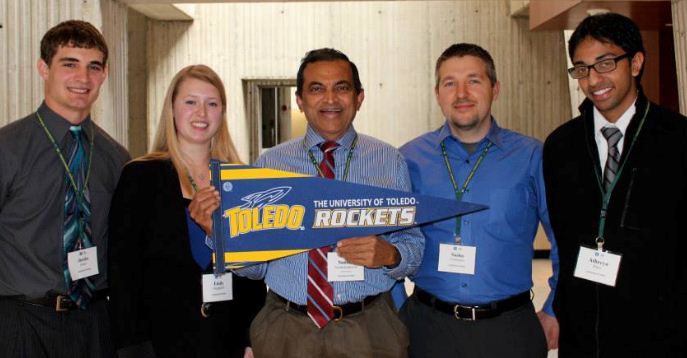 Pictured above (from left to right) are: Justin Blake, Emily Burghardt, Dr. P. S. Sundararaghavan, Sasha VonSacken and Athreya Rajan
Supply chain management students in The University of Toledo College of Business and Innovation claimed first place in the 2013 Supply Chain Case Competition in Detroit, sponsored by General Motors and Wayne State University and held from September 19-21.
In so doing, they bested teams from 19 other universities, including BGSU, Ohio State, Michigan State, Pennsylvania State, Rutgers and the University of Maryland.
"All credit goes to the team," observed Dr. P. S. Sundararaghavan  of the COBI Information Operations and Technology Management department and faculty advisor to the team. "The case analysis is entirely the responsibility of students with zero input from faculty. Faculty responsibility ends with team selection. The students performed magnificently, and our UT team won big…very big, beating out teams from 19 other high caliber business schools from around the country.  I want to thank COBI for their generous support and Senior Associate Dean Terribeth Gordon-Moore for all the encouragement."
Team members were Justin Michael Blake, Emily Burghardt,  Athreya Rajan and Sasha VonSacken.
"Congratulations to the team for their outstanding performance in this national competition, and thanks to Dr. Sundararaghavan for motivating the team" Dr. Gordon-Moore said. "This success shines a wonderful light on our college and is additional evidence as to why UT COBI is increasingly nationally ranked and recognized."
"My favorite part of the competition was competing with people from all over the nation," Blake said. "I also enjoyed talking to people that are high up in GM.  Getting first place was just icing on the cake to a great weekend.  I learned so much about supply chain management within the automotive industry; it was already a great experience, winning just made it that much better."
During the competition, students also had the opportunity to participate in two employment-oriented panel discussions, several sessions on the state of automotive industry supply chain by leading experts in the field, a factory visit to the DHAM plant of GM which makes the Volt, several interviews for full-time employment and internships, and attend a Detroit Tigers game.