COBI Accounting students obtain recognition, scholarships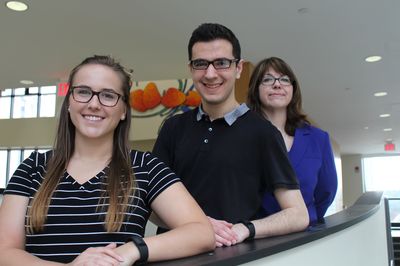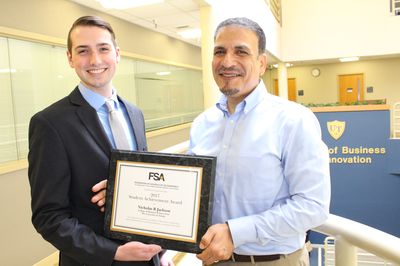 Several University of Toledo College of Business and Innovation Accounting Department students received great news at the end of the Spring 2017 semester in the form of distinctive scholarships and awards.
Nicholas Jackson received the 2016 Federation of Schools of Accountancy (FSA) Student Award. The FSA Student Award is awarded annually to the outstanding Master of Accountancy student. 
 "The FSA is the organization of accredited graduate programs in accounting, and its mission is to promote and support high-quality accredited graduate accounting programs in the United States and abroad," noted Dr. Hassan HassabElnaby, Chair of the COBI Accounting Department.  "Currently, there are only 116 full-member schools in the FSA.  Additionally, several of the largest public accounting firms in the United States, several state societies of CPAs, and the American Institute of CPAs are associate members."
Further recognition of COBI Accounting students came from the Institute of Management Accountants (IMA) for members of the Student Chapter at UT COBI.  Dr. Karen Green, COBI Assistant Professor of Accounting and IMA Faculty Advisor, said, "In November, 17 members received funding from the Ohio Regional Council IMA and The University of Toledo, and attended the annual IMA Student Leadership Conference. In addition, four members of the IMA Student Chapter of The University of Toledo were awarded scholarships from the Ohio Regional Council IMA. The recipients are Jessica Knepper, Gianfranco "Frank" Rolando, Lifei Chen, and Evan Barclay."
 "This scholarship is such an honor and I am lucky to receive it," Knepper said. "With this blessing, I will be able to focus more on my schoolwork and research. This scholarship will greatly help my financial position during my final year at the University of Toledo.  In the fall, I will continue my education at the University of Toledo in the pursuit of a Master's of Accountancy degree. After graduate school, I will work for Gilmore Jasion Mahler as a tax associate in their Maumee office."
"I have been a member of UT's Institute of Management Accountants Chapter (IMA) since August of 2014," Rolando said. "I am both honored and blessed by the opportunities that this organization has given me throughout my academic career. Being a first generation college student, this scholarship demonstrates that IMA is committed to fostering the success of all individuals. IMA has taught me that success is attainable for everyone.  Upon graduation in December, 2017, I intend to enroll in the University of Toledo's Master of Science in Accountancy Program. After receiving my Master's degree, I would like to sit for the Certified Public Accountant Exam (CPA) and the Certified Management Accountant Exam (CMA). Upon completion of these exams, I intend to start at PricewaterhouseCoopers (PwC) in their audit department."
"If someone is thinking about studying accounting at COBI," Knepper said, "I would tell them to get involved! Professors stress the importance of networking. I recommend  joining organizations on campus because they help you network with peers, professors, and local professionals. You will meet wonderful people and create opportunities for your future."
Rolando said, ""The University of Toledo's accounting program is excellent and has received a distinguished accreditation. To succeed in UT's accounting program, you need to take advantage of every opportunity. I would encourage all accounting students to get involved in the Institute of Management Accountants (IMA) and Beta Alpha Psi. These organizations will assist you in locating and procuring an accounting internship or full-time position."
The Accounting Department in The University of Toledo College of Business and Innovation (COBI) recently received a voluntary departmental accreditation from the Association to Advance Collegiate Schools of Business (AACSB) which has been obtained by only 1.3% (182 institutions) of accounting programs in the 13,670 business schools around the world.
"The COBI Accounting Department is providing a top-quality education," Dr. HassabElnaby said.  "Additionally, it ensures employers across the country that UT COBI Accounting graduates are ready to perform on day one."