COBI students join international honor society Beta Gamma Sigma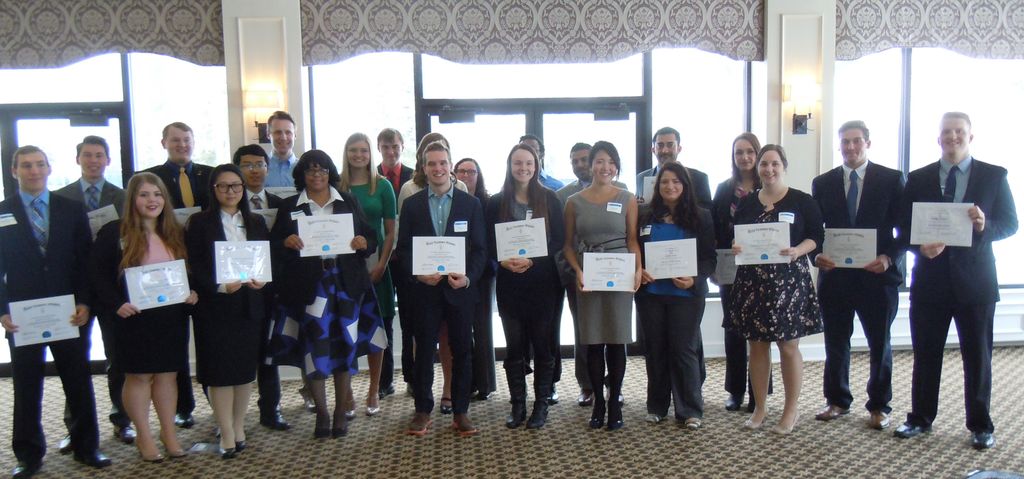 Forty students in The University of Toledo College of Business and Innovation were inducted into the Beta Gamma Sigma (BGS) international business honor society at the Inverness Club in Toledo on April 10, 2016.

"A lifetime membership in Beta Gamma Sigma is truly an international honor," noted Janet Mosebach, Ph.D., associate professor in accounting and BGS faculty advisor.   "With the expansion of accreditation by the Association to Advance Collegiate Schools of Business, membership is no longer limited to those who have studied in the U.S. or Canada, resulting in Beta Gamma Sigma installing collegiate chapters and inducted students on six continents. The most outstanding University of Toledo College of Business and Innovation (COBI) students are eligible for the highest recognition a business student anywhere in the world can receive in an undergraduate or master's program at a school accredited by AACSB International."  

Beta Gamma Sigma was founded as a national organization in 1913. Students ranking in the top 10 percent of the baccalaureate and top 20 percent of graduate programs at schools accredited by AACSB International are eligible for this invitation.  The mission of BGS is to encourage and honor academic achievement in the study of business, cultivate and celebrate leadership and professional excellence, advance the values of BGS, and serve its lifelong members.

This year's UT COBI inductees were recognized and celebrated by their family, friends, and faculty. They join an expanding worldwide network of more than 775,000 outstanding business professionals who have earned recognition through lifetime membership in Beta Gamma Sigma.

This year's UT COBI inductees are:

Master's Students
Ali Al Fardan
Lara Al-Taji
Omar Hazimah
Monica McKnight
Tabbatha Nieman
Jennifer Solanics
Yun Tu
Daniel Zenn
Allen Ziemkiewicz
Seniors
Sandra Boyd
Wayne Brakel
Rachel Crouch
Anthony DiModica
Joanne Hosny
Scott Johnson
Karee Kunkel
Jennifer Leis
Angela Lepkowski
Xiang Li
Bethann Lumbrezer
Andrew Machovina
Ahmad Mustafa
Rodrick Perkins
Adam Poulson
Juniors
Abdulmonem Alfadhel
Ethan Ames
Joshua Buckland
Guohao Chen
Katherine Hill
Nick Johnston
Mio Kato
Martha Krause
Jordan Spellis
Bradley Spelman
Breanna Straka
Douglas Van Wormer
Danielle Woodfint
Eric Wright
Ahmad Yousef
Samir Yousef