120 companies to recruit UT business students at fall job fair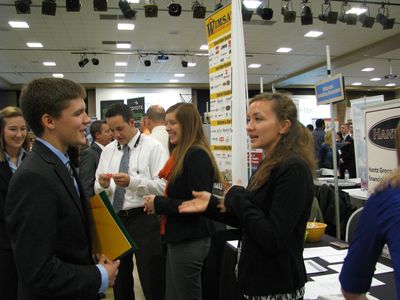 While United States presidential candidates regularly speak future job growth, the current job outlook for students in the University of Toledo College of Business and Innovation (COBI) is bright, as evidenced by 120 companies coming on campus to participate in the college's fall job fair on Friday, September 30. 
Approximately 500 UT COBI students will participate in the college's annual autumn job fair from 1 to 4 p.m. in the UT Student Union. 120 companies - - such as the Cleveland Browns, Coca-Cola, Cooper Tire & Rubber, Dana Holding Corporation, Owens-Illinois, and Ernst and Young - - will participate.
"The issue of jobs is at the top of the minds of many Americans during this election year," noted Dr. Terribeth Gordon-Moore, COBI Senior Associate Dean. "That only reminds us of how excited and happy we are for our students that so many well-known companies are coming to UT COBI to find the talent they need. This reflects very positively on the quality of both our programs and our students. It also demonstrates the extremely dynamic and mutually beneficial relationship enjoyed by COBI and recruiters for major national companies such as La-Z-Boy, the Detroit Pistons, Pricewaterhouse Coopers, Quicken Loans and Thyssenkrupp Materials."
"Employers are looking for undergraduate students to participate in business internships and their leadership development programs, as well as for seniors and graduates seeking full-time employment," she added. "Furthermore, we strongly encourage our freshmen students to attend the job fair, engage these company representatives and begin a relationship with these employers now." 
"This semi-annual job fair is part of what we do to prepare our students for their futures," Gordon-Moore explained, adding that the college's Business Career Programs office works year-round to assist students in acquiring internships and jobs upon graduation.  "We strive to provide the necessary resources so our students can conduct their own tailored job searches."
More than 85% of COBI students participate in internships, and the job placement rate for Spring, 2015 COBI graduates was a record 93%.