Huntington Bank provides $6,500 in scholarships to four UT business students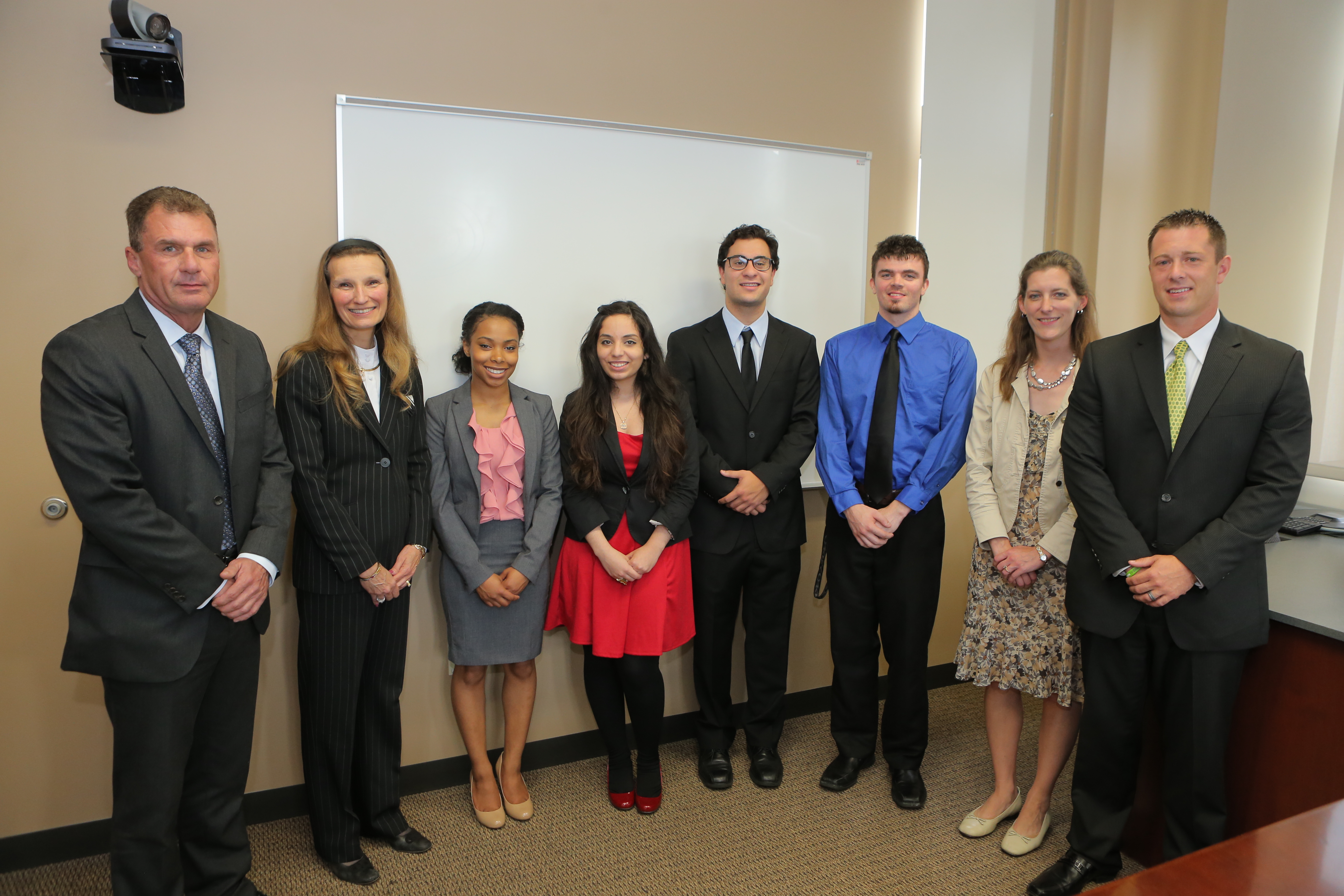 Huntington Bank presented scholarships totaling $6,500 to four University of Toledo College of Business and Innovation (COBI) students on June 30. 
The recipients and their majors are Dana Thomas, marketing; Hala Abou-Dahech, human resource management; Richard Ference, finance; and Victor Pereira, supply chain management and international business, who each received $1,625.
"We were extremely impressed with the recipients, their academic records at UT, and their personal achievements in life," noted Joel Jerger, Senior Vice President, Huntington Bank, Toledo. "These students clearly reflect the capable and talented individuals that the University is developing, while the scholarships reflect Huntington's commitment to recognize and support such amazing people in Northwest Ohio. We look forward to continuing to work with the University as it educates the next generation of leaders."
Through an expanding banking program between Huntington Bank and UT, Huntington is providing $150,000 in academic programming and scholarships for students and additional convenient banking options on campus.
"Both The University of Toledo and the College of Business and Innovation are extremely grateful to Huntington Bank for their outstanding support of our tremendous students," noted Dr. Gary Insch, UT COBI Dean. "Huntington is serious about its role as UT's banking partner, and these scholarships reflect their commitment to provide meaningful financial support to some of our extraordinary business students."
"Graduating from college has always been a dream and a high-priority goal in my life," Abou-Dahech said. "I know for a fact that this dream would be extremely difficult, if not impossible to attain if it wasn't for the generous donors who offer these scholarships to help fund our education as students. I want to thank Huntington for granting me one of these scholarships."
"I am honored to be a recipient of the Huntington Bank Scholarship," Thomas said. "It may sound cliché, but this scholarship means the world to me. I'm leaving in August to study abroad in Spain and this scholarship plays a major role in my ability to have the ultimate global experience. Words cannot express how grateful I am for the support of Huntington and its associates."
"I am honored and grateful for being selected as a recipient of the Huntington scholarship," Ference said. "I hope the committee knows how much this money will help me better achieve my career goals."
Pereira said, "In pursing my path as a young professional, this scholarship will be of aid in achieving my career goals. This opportunity will not only continue to better my education but will allow me to devote more time toward service and my community."
The presentations will be made in the Huntington Sales Lab, located on the fourth floor of the college's Savage & Associates Business Complex.