Major national companies to recruit UT business students at fall job fair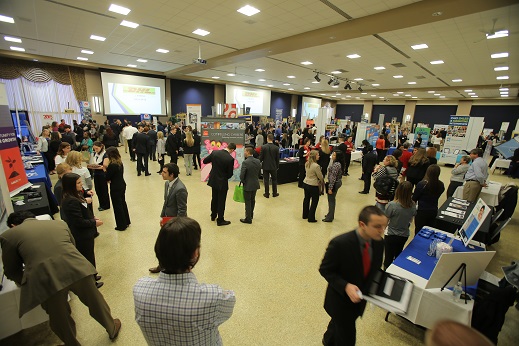 Nearly 100 employers - - including major national companies such as Coca-Cola, Reynolds and Reynolds, Quicken Loans, Dana Holding Corporation, Owens-Illinois, and Owens-Corning - - are coming to the University of Toledo campus to participate in the College of Business and Innovation fall job fair on Friday, September 29.
"One of the four key components of the COBI Brand is Transform, and that is exactly what happens at each of our two yearly job fairs," noted Dr. Terribeth Gordon-Moore, COBI Senior Associate Dean. "Seniors are already securing job offers, underclassmen are polishing their job skills by acquiring internships, and freshmen are encouraged to participate to immediately begin developing their valuable connections and job-seeking skills."
Approximately 500 UT COBI students will participate in the college's annual autumn job fair from 1 to 4 p.m. in the UT Student Union. Among the companies recruiting COBI students will be the Cleveland Indians, 3M, Chick-fil-A, Dish Network, Eaton Corporation, Fifth Third Bank, Hilti, Marathon Petroleum, Therma-Tru Doors, UPS and the United States Department of Defense.
"We are always excited for our students that so many well-known companies come to us to find the talent they need," Dr. Gordon-Moore said.  "This reflects very positively on the quality of both our programs and our students. It also demonstrates the extremely dynamic and mutually beneficial relationship enjoyed by COBI and recruiters for major national companies."
 "This semi-annual job fair is a very important part of what we do to prepare our students for their futures," Dr. Gordon-Moore explained, adding that the college's Business Career Programs office works year-round to assist students in acquiring internships and jobs upon graduation.  "We strive to provide the necessary resources so our students can conduct their own tailored job searches."
The job placement rate for Spring COBI graduates has been at least 93% for several years.