Brian Anse Patrick, Professor of Communication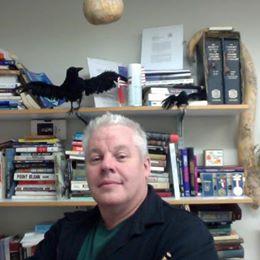 Dr. Brian Anse Patrick is a professor of communication. He joined the Department in 2000 and holds a Ph.D. in Communication Research from The University of Michigan. He teaches undergraduate and graduate courses in research methods, group communication, propaganda and persuasion. His honors seminars on "Propaganda and Social Science" and "American Gun Policy" have ranked as the most popular courses in the University's Honors Program. He is a nationally recognized expert on American Gun Culture, frequently speaking at events and symposia. He believes in respectfully engaging students. He says, "My educational model is the conversation—let's talk." His publications include five books and a number of scholarly articles:
Aristotle on Business Communication (Peter Lang Publishing, in press, 2013).
Zombology: Zombies and the Decline of the West (and Guns), (Arktos Media, 2013).  
The Ten Commandments of Propaganda, (Arktos Media, 2012).
Rise of the Anti-Media: In-Forming the American Concealed Weapon Carry Movement (Lexington Books, 2009). 
The National Rifle Association and the Media: The Motivating Force of Negative Coverage (Peter Lang Publishing, 2003). 
Viking and Rappers: The Icelandic Sagas Hip-Hop Across 8 Mile. Journal of Popular Culture, Vol. 41, 2, 2008. 
Beyond Hegemony: Classical Propaganda Theory and Presidential Communication Strategy after the Invasion of Iraq. Mass Communication & Society, 10, (1) 2007. With A.T. Thrall.           
Group Ethos and the Communication of Social Action. Small Group Research, 37, No. 3, 2006. 
Oppression as a By-Product of Administrative Hermeneutics and Group Processes: A Case Study.  Quarterly Journal of Ideology, Vol. 22, 3-4, pp. 33-62, 1999. 
What Automatic Guns Can Do for Motion Pictures: Disambiguation and the Deus-Ex-Machina Finale. In M. Pomerance & J. Sakeris (Eds.), Bang Bang! Shoot Shoot! Essays on Guns in Popular Culture. New York: Random House. 1999. WithK.R. Hart
Ph: 419.530.4670 | Office: SH 2100
Email: brian.patrick@utoledo.edu