Unique Meeting Spaces
John F. Savage Arena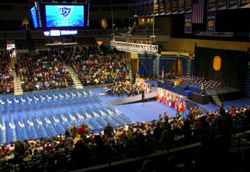 A multipurpose complex, Savage Arena not only serves the needs of intercollegiate athletics, but it also serves the needs of health and physical education and recreation programs, as well as playing host to concerts, theater presentations, convocations and graduation exercises. To date, more than three million people have visited the Arena for various forms of entertainment.
The building has a seating capacity of 9,000 and is designed to accommodate five basketball courts, five tennis courts, six racquetball courts, eight volleyball courts, 22 badminton courts, a 300-yard indoor track and an exercise room.
Additionally, the building housings the Joe Grogan Room, a glass enclosed structure containing a lounge area, seating for up to 200 dinner guests and a bar. The Grogan Room can be rented for the best view of a college basketball game.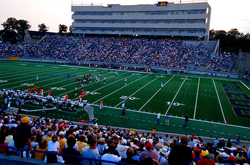 Glass Bowl
Built as a WPA project in the 1930s, the Glass Bowl has undergone several renovations in the last 60 years. The most extensive of these came in 1990, when seating was expanded from 18,500 to 26, 248. A three-story press tower was constructed and houses 40 executive loges, a 400-seat stadium club, and the sports information offices.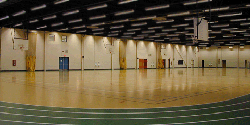 Health Education Center
The gym in the Health Education Center can be configured to house four basketball courts, four tennis courts, four volleyball courts, or any combination of the three. The facility also features a 200-yard indoor track, swimming pool, exercise rooms, weight room, and dance studio.