Faculty Resources
Contact Us
Main Campus
Memorial Field House
Mail Stop 129
Phone: 419.530.8835
Fax: 419.530.8836
utlv@utoledo.edu
Consultations
Learning Ventures staff provides individual and small group consultation sessions to faculty and teaching assistants regarding instructional design, multimedia production, and educational technology.
Course Design Consultations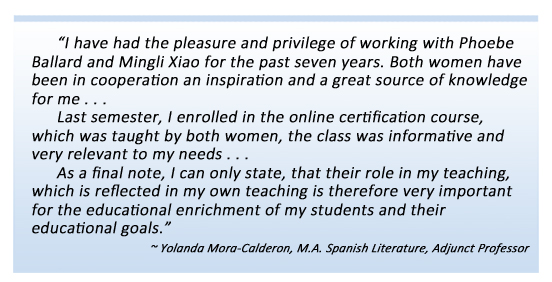 Instructional designers work collaboratively with faculty in the design and development of online and blended learning courses.  They also work with Creative Services staff and educational technologists in the development and delivery of courses to ensure Best Practices are seamlessly incorporated.
Instructional designers can meet with you to:
Craft a course development plan
Discuss learning objectives for online and blended learning courses
Recommend design choices - such as course structure, learning activities, assessment strategies, and orientation guidelines - which align with learning objectives
Recommend appropriate technologies that can enhance student learning
Provide guidance regarding copyright and accessibility issues
Discuss strategies for building and facilitating online community in your courses
Discuss strategies for promoting academic integrity online
Provide guidance regarding management of the online workload
Collaborate with multimedia designers in the creation of multimedia learning objects for optimal usability
Collaborate with educational technologists regarding the effective use of technology
Discuss course design evaluation results and Quality Matters standards for course revision
 
Request a Consultation
Instructional designers hold office hours Monday through Thursday each semester. Faculty and teaching assistants for online and blended courses are welcome to stop by for an instructional design consultation, or to schedule an appointment with them to discuss Quality Matters and Best Practices for online learning.
Phoebe Ballard, M.Ed.   
Sr. Instructional Designer and Coor. for Special Projects
419-530-4379
Phoebe.Ballard@utoledo.edu
Memorial Field House 3040C
Designer for:
Communication and the Arts
Honors College
Languages, Literature and Social Science: AFST, DST, ENGL, GEPL, HUM, LST, MLS, PSC, WGST
Law
YouCollege
Office Hours:
Wednesday: 1 PM – 3 PM
Thursday: 10 AM – 12 PM
---
Jonee Lee, M.Ed.   
Instructional Designer/Assistive Technology Specialist
419-530-2149
Jonee.Lee@utoledo.edu
Memorial Field House 3035B
Designer for:
Business and Innovation: HURM, PSLS, MGMT, MKTG
Social Justice and Human Service: COUN, CRIM, HED, LGL, SOCW, SPSY
Office Hours:
Thursday: 1 PM – 3 PM
Friday: 10AM – 12PM
---
Christopher L. Prevette, MS
Instructional Designer
419-530-4116
Christopher.Prevette@utoledo.edu 
Main Campus - Memorial Field House (FH 3040-D)
419-530-5816
Health Science Campus – Collier (COB 4204)
Designer for:
Engineering
Health Sciences: HHS, HIM, HCAR, HSHS, KINE
Medicine and Life Sciences
Natural Sciences and Mathematics
Nursing
Pharmacy and Pharmaceutical Sciences
Office Hours:
Monday: 1 PM – 3 PM (HSC)
Tuesday: 10AM – 12PM (Main)
---
Mingli Xiao, Ph.D.
Sr. Instructional Designer 
419-530-4390   
Mingli.Xiao@utoledo.edu
Memorial Field House 3040B
Designer for:
Adult and Lifelong Learning
Education
Health Sciences: SLP
Languages, Literature and Social Science: CHIN, ECON, HIST, JPAN, PHIL, PSY, REL, SOC, SPAN
Office Hours:
Monday: 10 AM – 12 PM
Tuesday: 1 PM – 3 PM
---
Peter You, Ph.D.
Director of Instructional Design and Development
419-530-4016
Peter.You@utoledo.edu
Memorial Field House 3040A
Designer for:
Business and Innovation


---
Multimedia Design Consultations
Learning Ventures provides high-quality and effective e-learning solutions, including audio, video, animation, and interactivity, simulations and assessment tools. The multimedia designer works collaboratively with instructional designers and faculty subject matter experts to conceptualize and produce interactive instructional content for online courses. Multimedia designers also build and deploy interfaces that enhance and integrate with our academic courses.
Robert Nix, MFA
Multimedia Designer
419-530-4378
Robert.Nix@utoledo.edu
Todd Rains, B.A.
Multimedia Designer
419-530-4384 
Todd.Rains@utoledo.edu
We develop and execute multimedia solutions to meet your Web-based teaching/learning objectives by:
Recording, editing and processing digital audio and video (green screen)
Translating training needs into interactive, Web-based models
Developing and creating high quality 2D and 3D graphical elements
Developing high quality 3D graphic and animated objects
Participating in the designing, coding, programming and interface development for mobile devices (HTML5, PHP, JavaScript, etc.)
Supporting the development of storyboarding, scripts, prototypes, alpha and beta testing
Suggesting techniques for creating collaborative and active learning activities, including developing simulation-based learning models
Guiding faculty in evaluating current course design to encourage improvements with visual instructional materials
Conceptualizing special-purpose media projects
Providing multimedia support to faculty and stakeholders