History
The first University of Toledo Homecoming game was played on October 27, 1923 against Bowling Green Normal College. In a historical milestone, Toledo defeated B.G. 27-0. UT alumni originally sponsored Homecoming as a means of stirring support and funds for their "good old Alma Mater."
Over the years, Homecoming has become an annual event that encompasses a whole week of fun-filled events aimed at showing our school spirit. The week includes such traditions as a pep rally, parade, bonfire, concerts, king and queen contest, and the football game.  National acts such as Blessed Union of Souls in 2005 and Simon and Garfunkel in 1968 have played on campus during Homecoming week.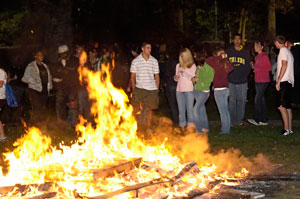 Homecoming Week is a unique time of year that unites current students, University alumni, faculty and staff, and the Toledo community to celebrate pride in The University of Toledo.

Homecoming is The University of Toledo's longest standing tradition and is cherished by Rockets of the past, present, and future.  Student Government was the organization in charge of planning the Homecoming events until the Homecoming Commission became a separate organization for Homecoming 2001.
Past Homecoming Themes, Grand Marshals, and Kings/Queens
YEAR

THEME

GRAND MARSHAL

KING & QUEEN

2017

Aloha Rockets (Hawaiian)

Bruce Gradkowski
Former UT and Pro Football QB

Daniel Napoli (Pi Kappa Phi)
Mekayla Pullins (Black Student Union)


2016

Celebrating 50 Years of Rocky

Rocky the Rocket
UT mascot's 50th birthday
Lance Price Jr. (National Pan-Hellenic Council)
Kylie Koesters (Presidential Ambassadors)


2015

Rocket Road Trip - All Roads Lead Back to UT!

Dr. Sharon Gaber
UT President - 1st year in office
Alex Wisniewski (Sigma Phi Epsilon)
Sumeya Abdullahi (African Peoples Association)

2014

A Blast From the Past

 

Jacob Torres (Latino Student Union)
Kendra Stabler (NPHC/BSU)

2013

Rocket to the Moon, Stars and Beyond - 90 Years and Still Shining

John-David "JD" Smith

 

2012

ROCK-et Under the Big Top - The Greatest School on Earth

Becki Bair

 

2011

Wild, Wild, Midwest - Sweet Home Toledo

Tricia Cullop
UT Women's Basketball Coach

 

2010

Press Play

Dr. Lancelot C.A. Thompson
Former VP for Student Affairs

 

2009

Homecoming of Heroes

William Koester
UT Alum

 

2008

Rock-et Back to UT

Chuck Sullivan
UT Alum

 

2007

There's No Place Like Home

Steve Mix
Former UT and Pro Basketball Player

 

2006

Building the New UT

 

 

2005

Let the Games Begin

Chuck Ealey
Former UT and Pro Football Player

 

2004

UT Goes Old School: Tradition

 

 

2003

Bancroft Street Masquerade: Mardi Gras Toledo Style

 

 

2002

Rockets Across America: Celebrating 130 Years

Jamie Farr
Actor and Toledo Native

 

2001

Anchored in Rocket Country

 

 

2000

Rocket Pride Worldwide

 

 

 

 

 

 

1969

 Sign of the Times

 

 

1968

Rockets Go Western

 

 
Alex Wisniewski.
 (Sigma Phi Epsilon)
Sumeya Abdullahi (African Peoples Association)