Student Research
In UT's Honors College, cutting-edge research opportunities with faculty members are available year-round.  From writing an autobiography to conducting community surveys, looking at earthquake-induced motion reduction or researching zebra mussel control, UT Honors students are involved in a wide array of research and creative projects.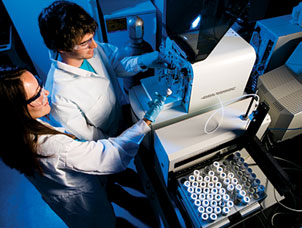 Honors students have the opportunity to present their research informally to the campus community through the Honors College Brown Bag Series and, if selected, nationally at the National Conference on Undergraduate Research (NCUR), where UT students have traditionally been well represented.
Undergraduate research has traditionally received strong support at The University of Toledo. External funding has come from such sources as the National Science Foundation and the Lancy Foundation. Internal funding has come from the Office of Research as well as endowments, such as the Sullivan Awards.
Study in state-of-the art-facilities.

The University of Toledo boasts state-of-the-art facilities that include Wolfe Hall, home to the College of Pharmacy and the Departments of Chemistry, EEES, and Biological Sciences, and the College of Engineering Complex. In addition, UT's Center for the Visual Arts is attached to the world- renowned Toledo Museum of Art; and on the shores of Lake Erie is the Lake Erie Research and Education Center.
Honors students also have access to Sullivan Hall, the Honors Center, which houses program offices, small seminar rooms, a reading room, and a computer lab.