The David S. Stone Law Lecture
Monday, November 5, 2018
Mcquade Law Auditorium
"The Crime of Complicity: The Bystander from the Holocaust to Today"
Two Sessions: Noon-1 pm (Lunch & Learn) or 7-8:15 pm (Evening Lecture & CLE)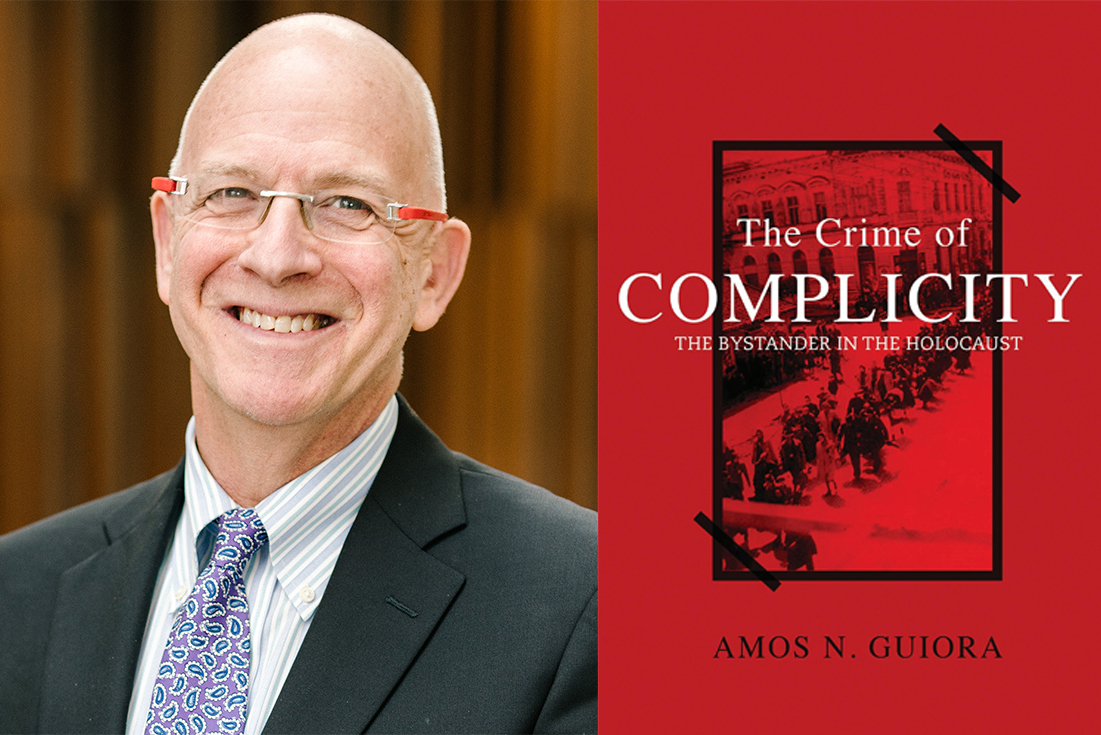 If you are a bystander and witness a crime, should intervention to prevent that crime be a legal obligation? Or is moral responsibility enough? In his book, The Crime of Complicity: The Bystander in the Holocaust (Ankerwycke 2017), Professor Amos Guiora addresses these profoundly important questions and the bystander-victim relationship from a deeply personal and legal perspective, focusing on the Holocaust and then exploring cases in contemporary society.
Sharing the experiences of his parents, who were Holocaust survivors, and his grandparents, who did not survive, and drawing on a wide range of historical material and interviews, Guiora examines the bystander during three distinct events: death marches, the German occupation of Holland, and the German occupation of Hungary. He explains that while the Third Reich created policy, its implementation was dependent on bystander non-intervention.
Bringing the issue of intervention into current perspective, he examines sexual assault cases at Vanderbilt and Stanford universities, as well as other crimes when bystanders chose whether or not to intervene, and the resulting consequences.
The David S. Stone Law Lecture is presented by The University of Toledo College of Law and the Toledo Jewish Community Foundation of the Jewish Federation of Greater Toledo.
Events are free and open to the public.
Book sales and signing to follow evening lecture.
To purchase the book prior to the lecture, visit The Crime of Complicity order page for more information.
---
About the Speaker
Amos N. Guiora is a professor at the University of Utah's S.J. Quinney College of Law. Professor Guiora is a nationally recognized scholar on national security and terrorism. He teaches criminal procedure, international law, global perspectives on counterterrorism, and religion and terrorism — incorporating innovative scenario-based instruction to address national and international security issues and dilemmas. Guiora earned his AB in history from Kenyon College, his JD from Case Western Reserve University School of Law, and his PhD from Leiden University. He was recently featured in the Toledo City Paper on the criminality of inaction.
---
Tribute to Judge David Katz
The evening lecture will include a special tribute to Judge David Katz by U.S. District Judge Dan Aaron Polster. Known to all as an esteemed federal judge, the late, Honorable David Katz was integral in the establishment and development of the David S. Stone Law Lecture through his role as Trustee of the David S. Stone Foundation. With his nurturance and guidance, the David S. Stone Law Series was able to fulfill its mission of offering programs with a unique focus on both Jewish law and American law.
---
Continuing Legal Education (CLE)
The noon Lunch & Learn lecture is not eligible for CLE credit. Only the evening course has been approved by the Supreme Court of Ohio Commission on Continuing Legal Education for 1.0 total general CLE credit hours. The cost for the CLE is free, but participants are required to register below prior to the lecture.
---
Parking
The Law Center is located at 1825 West Rocket Drive (immediately inside The University of Toledo West Entrance—off Secor Road and south of Bancroft Street). Free parking is available in Parking Area 25 for the noon lecture and Parking Area 12 for the evening lecture only—with no ticketing except for metered, reserved or handicap spaces.
---
Register today
Please register online below or call 419.530.2851 if you plan to attend either of the lectures. Registration is only required if you plan to request CLE credit. For questions, please contact lawcommunications@utoledo.edu.