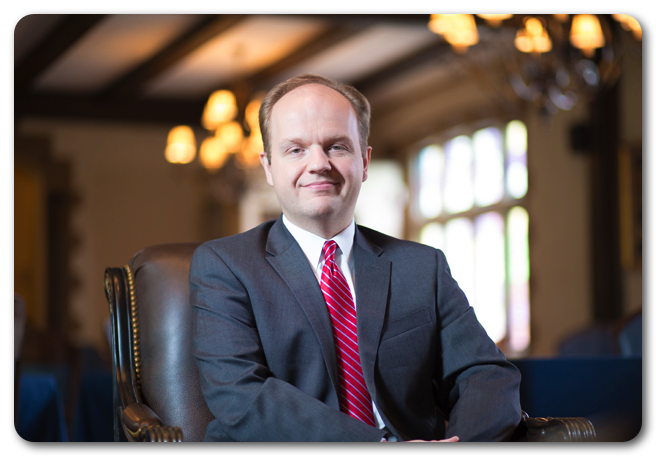 Eric Chaffee teaches courses relating to business law, contract law, commercial law, and tax law.  He has won a variety of awards for his teaching.
Professor Chaffee's scholarship focuses on business and tax law with an emphasis on tax-exempt organizations, securities regulation and business ethics. He is an author of a leading textbook on international securities regulation, and his work has been published in numerous law reviews, including the Ohio State Law Journal, Maryland Law Review, and Washington and Lee Law Review. He has also published articles in specialty journals at various institutions, including Stanford Law School, New York University School of Law, University of Pennsylvania Law School, and University of Michigan Law School. In addition, he is the editor the Securities Law Prof Blog, which provides a stream of information about securities regulation and the issues surrounding it.
Professor Chaffee is regularly invited to speak at symposia, conferences, workshops, and other events across the United States and abroad. He has spoken at a variety of prestigious institutions, including Harvard Law School, Georgetown University Law Center, and Brown University. His speaking engagements include such locations as Athens, Greece; Leipzig, Germany; Prague, Czech Republic; Ottawa, Canada; and Szeged, Hungary.
Professor Chaffee is actively involved in various legal academic professional organizations. He has served or is serving on executive committees of various sections of the American Association of Law Schools, and he is currently the president of the Central States Law School Association. He is also a co-founder of the National Business Law Scholars Conference (an annual event that draws dozens of business law scholars from across the country and abroad to present their work), and he currently sits on the executive committee of that organization.
Before becoming a law professor, Chaffee was an attorney with Jones Day, where he handled civil and criminal matters and gained practical experience in many different areas of law. As a law student, Professor Chaffee also spent time working at Legal Aid in both Philadelphia and Ohio. Throughout his career, Professor Chaffee has worked with numerous tax-exempt nonprofit organizations, including serving on several boards and advising various institutions on legal issues.
Professor Chaffee earned his law degree from the University of Pennsylvania Law School and his undergraduate degree from The Ohio State University.
Selected Publications
Books
Global Issues in Securities Law (with Frank Gevurtz & Marc Steinberg) (2013).
Articles
An Interdisciplinary Analysis of the Use of Ethical Intuition in Legal Compliance Decision Making for Business Entities, 74 Maryland L. Rev. 497 (2015).
The Death and Rebirth of Codes of Legal Ethics:  The Role of Neuroscientific Evidence of Irrational Ethical Decision-Making in Regulating the Practice of Law, 28 Georgetown J. Legal Ethics 323 (2015).
An Oak is an Oak Is an Oak Is an Oak:  The Disappointing Entrenchment in Halliburton Co. v. Erica P. John Fund, Inc. of the Implied Private Right of Action Under Section 10(b) and Rule 10b-5, 9 N.Y.U.  J.L. & Liberty 92 (2015).
Answering the Call to Reinvent Legal Education: The Need to Incorporate Practical Business and Transactional Skills Training into the Curricula of America's Law Schools, 20 Stanford J.L. Bus. & Fin. 121 (2015).
The Role of the Foreign Corrupt Practices Act and Other Transnational Anti-Corruption Laws in Preventing or Lessening Future Financial Crises, 73 Ohio St. L.J. 1283 (2013).
Regulating On-line Peer-to-Peer Lending in the Aftermath of Dodd-Frank: In Search of an Evolving Regulatory Regime for an Evolving Industry, 69 Wash. & Lee L. Rev. 485 (2012) (with Geoffrey C. Rapp).
The Dodd-Frank Wall Street Reform and Consumer Protection Act: A Failed Vision for Increasing Consumer Protection and Heightening Corporate Responsibility in International Financial Transactions, 60 American U. L. Rev. 1431 (2011).
Contemplating the Endgame: An Evolutionary Model for the Harmonization and Centralization of International Securities Regulation, 79 U. Cincinnati L. Rev. 587 (2010).
Finishing the Race to the Bottom: An Argument for the Harmonization and Centralization of International Securities Law, 40 Seton Hall L. Rev. 1581 (2010).
Standing Under Section 10(b) and Rule 10b-5: The Continued Validity of the Forced Seller Exception to the Purchaser-Seller Requirement, 11 U. Penn. J. Bus. L. 843 (2009).
Business Organizations and Tribal Self-Determination: A Critical Reexamination of the Alaska Native Claims Settlement Act, 25 Duke-Alaska L. Rev. 107 (2008).
Beyond Blue Chip: Issuer Standing to Seek Injunctive Relief Under Section 10(b) and Rule 10b-5 Without the Purchase or Sale of Security, 36 Seton Hall L. Rev. 1135 (2006).
Sailing Toward Safe Harbor Hours: The Constitutionality of Regulating Television Violence, 39 U. Mich. J.L. Reform 1 (2005).