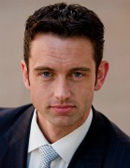 David Mills
Lecturer in Law
E-mail: dm@MillsFederalAppeals.com
David Mills was named as one of five "Lawyers of the Year 2011" in the United States by the publication Lawyers USA. He is a federal appellate attorney and adjunct professor of law who has argued at the Supreme Court of the United States, recently obtaining a 9-0 decision in Ortiz v. Jordan. His practice has been featured in numerous publications, including a cover story for the ABA Journal and recognition by SuperLawyers magazine.
Mills is a graduate of Colgate University (B.A., Mathematics; Phi Beta Kappa) and the University of Michigan Law School (Honors). In 2002, Mills joined the international law firm of Jones Day as a litigation attorney in what the American Lawyer Magazine later named the "Litigation Department of the Year."
After nearly four years at Jones Day, Mills served as a judicial law clerk at the U.S. Court of Appeals for the Sixth Circuit for Judge R. Guy Cole, Jr., who was appointed by President Clinton.
Mills then served as a judicial law clerk at the U.S. District Court for the District of Columbia for Senior District Judge Louis F. Oberdorfer, who was appointed by President Carter. Mills advised Judge Oberdorfer on appeals pending in the U.S. Courts of Appeals for the First, Second, Sixth, and Ninth Circuits, where he presided by designation.
In 2008, Mills established The Mills Law Office LLC, a practice devoted to federal appeals. Mills has extensive experience with both civil and criminal appeals, including approximately ten oral arguments in the U.S. Court of Appeals for the Sixth Circuit. In the month before his argument in the U.S. Supreme Court, he had three criminal appeals heard in the Sixth Circuit, including two oral arguments. The Sixth Circuit's reversal rate is approximately 8-10%. Mills obtained reversals in all three cases, and he won the Supreme Court case in a unanimous decision. In his practice, Mills also advises other attorneys on filing petitions for certiorari and other briefs in the U.S. Supreme Court.
Additionally, Mills has taught Appellate Practice at the law schools of Case Western Reserve University and the University of Toledo. He is a frequent speaker on appellate practice and his experience at the U.S. Supreme Court..