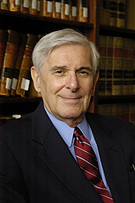 Rabbi Alan Mayor Sokobin
Lecturer in Law
E-mail: alan.sokobin@utoledo.edu
Rabbi Alan Mayor Sokobin Th.D., D.D., J.D. served as a congregational rabbi for forty years. Following his retirement from The Temple, Congregation Shomer Emunim of Sylvania he enrolled at the College of Law and received his degree in 1996.
Rabbi Sokobin was Jewish Chautauqua Society Associate Professor of History at the University of Toledo. He has authored articles in The Jewish Spectator, C.C.A.R. Journal, The Journal of Reform Judaism, International Social Science Review, International Journal on World Peace, Guru Nanak Journal of Sociology, Amritsar, India as well as the Law Review of the University of ToledoCollege   Rabbi Sokobin has been appointed to many national boards and commissions. He has served on the Commission of Social Action of American Reform Judaism, the Board of Trustees of the Hebrew Union College-Jewish Institute of Religion and is presently a member of the Rabbinic Cabinet of the United Jewish Appeal as well as the Rabbinic Cabinet of the Jewish National Fund.
For eight years Rabbi Sokobin and his wife directed the summer program in Israel for the National Federation of Temple Youth.
Married to the former Miriam Levy of Tel Aviv, Rabbi Sokobin is the father of two and has five grandchildren.