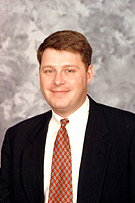 Thomas M. Wynne
Lecturer in Law
The Interlake Steamship Company
7300 Engle Road
Middleburg Heights, Ohio 44130
Phone: 440.260.6928
E-Mail: twynne@interlake-steamship.com
Tom Wynne is General Counsel to Mormac Marine Group, Inc. and related entities including: The Interlake Steamship Company, which operates a fleet of self-unloading bulk carriers on the Great Lakes; SeaStreak, LLC, which operates high speed passenger ferries between Monmouth County, New Jersey and Manhattan; and New England Fast Ferry Company, which operates high speed passenger ferries between New Bedford, Massachusetts and Martha's Vineyard. Previously, Mr. Wynne was a partner in the Cleveland, Ohio law firm of Ray, Robinson, Carle & Davies P.L.L., which along with its predecessor firms dating back to 1890 is the second oldest law firm in Cleveland and the oldest firm practicing maritime law in Cleveland. While at the firm, Mr. Wynne concentrated his practice in the areas of admiralty and maritime law, representing both local and international vessel owners and their respective insurers.
Mr. Wynne earned his undergraduate degree, with honors, in Marine Transportation Management/Business Administration from the State University of New York Maritime College (B.S. 1990), where he also earned minors in Marine Operations and International Business. As part of his undergraduate education, Mr. Wynne participated in three summer sea terms and passed a rigorous United States Coast Guard license examination, earning him a United States Coast Guard issued merchant mariner's license as Third Mate of Steam and Motor Vessels, Unlimited Gross Tonnage upon Open Oceans.
After graduation from Maritime College, Mr. Wynne utilized his Coast Guard license and sailed as second officer aboard the M/V Biehl Trader, a 210-foot escort vessel based in Valdez, Alaska, and as third officer aboard the M/V OMI Star, a 660-foot chemical tanker engaged in domestic trade, before starting law school.
Mr. Wynne received his law degree, magna cum laude, from the University of Toledo College of Law (J.D. 1994), where he was Order of the Coif, a Student Articles Editor of the University of Toledo Law Review, and recipient of the American Jurisprudence Award in Trial Practice.
Mr. Wynne clerked with his former firm between his second and third years of law school, went to work there as an associate after graduating from law school in 1994, and became a principal in the firm in January of 2000. He left the firm to accept his current position in January of 2008, and his maritime work continues to include the defense of shipboard personal injury claims, marine related property damage claims, and transactional work including the sale, purchase and charter of vessels.
Mr. Wynne is admitted to practice in the Ohio Supreme Court, the United States District Courts for the Northern District of Ohio, Eastern District of Michigan, Western District of Michigan and Northern District of Indiana, and the United States Courts of Appeals for the Sixth and Seventh Circuits, and is a member of the Association of Corporate Counsel, the Cleveland Bar Association and the Maritime Law Association of the United States, from which he has attained the status of Proctor in Admiralty.
Mr. Wynne teaches Admiralty Law, which is useful for any practice proximate to navigable waters, and which surveys admiralty jurisdiction, rights and liabilities of commercial and pleasure boat owners, rights of injured maritime workers and passengers, collision, salvage, maritime liens, cargo claims, and limitation of liability.