Philanthropist and Prominent Toledo Attorney Frank W. Cubbon, Jr. Dies at 92
January 3, 2019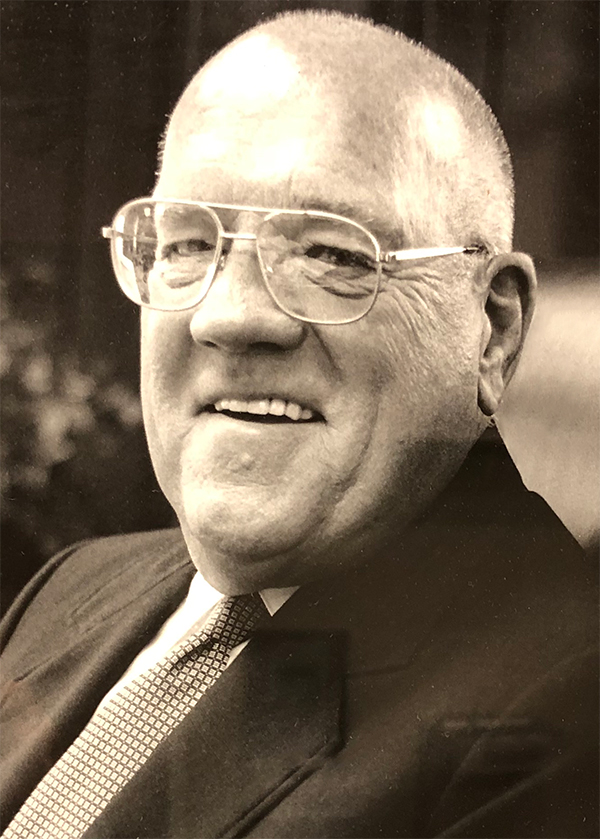 Toledo Law alumnus and long-time friend, Frank W. Cubbon, Jr. '53 passed away on December 25, 2018, at the age of 92.
Frank, together with his late wife Barbara "Babs," contributed significantly to The University of Toledo College of Law over the years, starting with the complete renovation of the Law Center's practice courtroom. The room was named in their honor as the Frank and Barbara Cubbon Courtroom. The couple was also recognized during the law school's 100th anniversary celebration. Frank received the Toledo Law Distinguished Alumni Award in 1997. Over 20 years later, his award plaque and photo are still on display in the LaValley Law Library.
"Frank Cubbon was a giant of the Toledo legal community, and one of our most distinguished alumni," says Toledo Law Dean D. Benjamin Barros. "He was also a kind and thoughtful person, and I enjoyed spending time with him. We are deeply grateful for the generous support that he and Babs gave to us, and we continue to honor their legacy at the College of Law."
Frank was born to Frank W. Cubbon, Sr. and Eunice Viola Baker Cubbon in Cleveland, OH. He was raised in Plummer, PA and attended Pennsylvania's Allegheny College, where he met his future wife, Barbara Davies. The couple were married on December 28, 1948. 
Frank moved back to Ohio with his family and earned his JD from The University of Toledo College of Law. He attended the night law school program, which gave him the flexibility to work days as an insurance adjuster.
Following graduation, Frank opened the law firm, Cubbon & Associates, in Toledo, OH. He was the first in Toledo to concentrate in the plaintiff's personal injury practice. The firm continues to this day as one of the city's most well-respected personal injury firms. In addition to serving as a prominent trial attorney, Frank enjoyed mentoring others and even spent a semester teaching trial practice at the College of Law. Frank retired from the legal profession in 2005, but continued to be active in the Toledo community. 
Frank will forever be part of the Toledo Law family. His memory lives on through his generosity and the Cubbon family, who are well known for producing generations of Toledo Law graduates. Frank's graduation in 1953 was to be followed by Stuart Cubbon '81, The Hon. Denise Navarre Cubbon '81, Kyle Cubbon '84, Spiros P. Cocoves '85, Thomas J. McArdle '87, Barbara Cubbon-Beale '88, and Jocelyn Cubbon DeMars '10. Read more about the Cubbon family's impact in the Fall 2010 Transcript alumni magazine article, "Passing the torch: Legal education at Toledo Law is a three-generation family affair for Toledo's Cubbon family."
Frank is survived by his sons Frank III, Stuart, and Thomas Cubbon; daughters Kay McArdle, Kyle Cubbon, Barbara Beale, and Amy Bliton; 18 grandchildren; and nine great-grandchildren.
A celebration of Frank's life will be held Saturday, January 5, 2019 at The Toledo Club (235 14th Street, Toledo, OH) from 1-3 pm with family reflections at 2:30 pm. 
Memorial contributions may be made to the Barbara D. Cubbon Endowed Business & Leadership Scholarship at Lourdes University, The University of Toledo College of Law, Citizens for Metroparks of Toledo, or to the charity of the donor's choice.