Civic Interests
ALLIANCE FRANÇAISE OF TOLEDO RECORDS, 1962-1999. [PDF]
Organization promoting French culture
Collection contains the organization's constitution and by-laws as well as administrative files, correspondence, printed materials and ephemera documenting the Alliance Française's dedication to promoting French culture and language in the Toledo area. MSS-143, 4.5 linear feet plus oversize material.
See also: entries under Education and Schools, Ethnic Culture, and Social Life and Customs
ASSOCIATION OF TWO TOLEDOS COLLECTION, 1674-1980. [PDF]
Organization created to promote cultural exchange between sister cities of Toledo, Ohio and Toledo, Spain, (1931-2002)
Collection includes scant proceedings (1974) and correspondence (1934-1944, scattered). Scrapbooks and scrapbook materials document early activities of the organization, first named Committee on Relations with Toledo, Spain.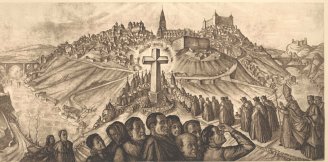 Scrapbooks incorporate photographs, newspaper clippings (in English and Spanish), and other materials on delegations sent to Spain to initiate cultural exchange (1934-1937) and miscellaneous Committee activities (1962-1971). The collection also includes maps (1976, 1930); certificates and awards (1934-1963); pamphlets, programs, and brochures (1930s); English-, Spanish-, and French-language periodicals; graphic arts; artifacts; and 54 books (1674-1977, primarily Spanish). MSS-071, 30 linear feet.
See also: entries under Ethnic Culture; Music, Art, Drama, and Theatre; Social Life and Customs; and Travel
WILLIAM M. BOOKER SCRAPBOOKS, 1907-1952. [PDF]
→ View Digital Collection
Civic leader, regional manager of Mutual Benefit Life Insurance Company (1874-1945)
Three volumes document Booker's civic and business endeavors from 1907 to 1945, including his involvement with the Catholic Church, especially Toledo's Queen of the Holy Rosary Cathedral and Sister Farley of St. Vincent's Hospital. MSS-070, 1 linear foot.
See also: entries under Philanthropy, Philosophy and Religion, and Social Welfare
BUSINESS AND PROFESSIONAL WOMEN/TOLEDO RECORDS, 1920-1997. [PDF]
→ View Digital Collection
Organization advocating for Professional Women
Collection contains pictures, newspaper clippings, memorabilia, reports, scrapbooks, and audio-visual materials documenting the activities of this politically active social service organization. A supporter of such issues as Pay Equity for Women as well as an Equal Rights Amendment to the Constitution, this organization has championed the causes of working women for most of the 20th century. MSS-137, 8.25 linear feet.
See also: entries under Business and Commerce and Women
WARD M. CANADAY COLLECTION, 1902-1991. [PDF] 
Chairman of the Board, Willys-Overland Motors, Inc. (1885-1976)
Collection centers on Canaday and the development of the Willys-Overland Jeep, as well as Canaday's connections with the University of Toledo and the American School of Classical Studies in Athens, Greece. Some biographical material relates to Ward's wife, Miriam Coffin Canaday; their daughter, Doreen Damaris Canaday Spitzer; and her husband, Lyman Spitzer, Jr. MSS-072, 1 linear foot.
See also: entry under Business and Commerce
DOWNTOWN TOLEDO ASSOCIATES RECORDS, 1955-1978. [PDF]
→ View Digital Collection
Organization representing downtown retailers (1955-1983)
Collection consists of correspondence, reports, studies, and newspaper clippings related to downtown revitalization. Subjects include parking, urban renewal, transportation, and other postwar ideas on urban planning. Much of the material was sponsored by the City of Toledo. MSS-027, 2 linear feet and 3 volumes.
See also: entries under Business and Commerce and Municipal Government
MIKE FERNER PAPERS, 1978-2010.  [PDF] 
Political activist, later Toledo Councilman, peace activist, and national president of Veterans for Peace, Inc
Collection consists of documents concerning Ferner's early activism, City Council campaigns from 1987 to 1991, office records from 1989 to 1993, and records of his mayoral run in 1993.  Materials documenting his activism in labor affairs and peace/anti-war campaigns, as well as his involvement with  Veterans for Peace, Inc., are also featured in this collection and include photographs and VHS video recordings. MSS-241, 7 linear feet.
See also: entries under Politics and Government and Municipal Government
LINDA FURNEY CITY COUNCIL FILES, 1984-1986.  [PDF] 
Toledo Councilwoman (1983-1986), later State of Ohio Senator (11th district, 1987-2002)
Collection consists mainly of correspondence, printed material, notes, and legal documents generated by Linda Furney, members of City Council, and the community. Topics include City Council, city services, community development, the National League of Cities, natural resources, planning, the Port Authority, public safety, public service, public utilities, and the Toledo Area Convention and Visitors' Bureau. MSS-150, 9 linear feet.
See also: entries under Municipal Government, Politics and Government, and Women
NOTE: This collection is housed off-campus. Therefore, Canaday Center staff will require a 48-hour advanced notice for its retrieval.
JOHN GRIGSBY PAPERS, 1892-2005. [PDF]
Editor at The Blade
Collection consists of correspondence including letters to Grigsby and other editors about upcoming feature stories, information on crime, typescripts, Howard Copland and the Area Cooperation Committee, and photographs of buildings, industry, public transportation, people, streets, trains, and boats. MSS-128, 3.75 linear feet.
KIWANIS CLUB OF DOWNTOWN TOLEDO RECORDS, 1916-2011. [PDF]
→ View Digital Collection
Fraternal and charitable organization (1916-Present)
Collection documents the activities of this businessmen's organization through meeting minutes, membership records, monthly reports, weekly bulletins, and newsletters. Subjects include fund-raising (especially the annual Kiwanis Peanut Sales and Pancake Days) and business promotion. Files on guest speakers at weekly Kiwanis meetings offer information on a wide variety of subjects. MSS-081, 11 linear feet.
See also: entries under Business and Commerce, Philanthropy, and Social Welfare
CALVIN M. LAKIN PAPERS, 1980s-1990s. [PDF]
Toledo Metropolitan Area Council of Governments Executive Director (1919-1997)
This collection is comprised of Mr. Lakin's professional papers and office files created during his tenure as Executive Director of the Toledo Metropolitan Area Council of Governments (TMACOG). A dedicated civil servant, Mr. Lakin led this non-profit organization of regional governments in its goal of providing technical services to its members. MSS-144, 6 linear feet.
See also: entry under Municipal Government
TED LIGIBEL PAPERS, 1906-1994. [PDF]
Historic Preservationist and teacher (b. 1950)
Papers include course materials on various classes taught by Ligibel, including Architectural Regionalism; Historic Preservation Planning; Historic Resources Survey; and Urban Visual History Planning. Also included are materials related to various committees on which he served, newspaper clippings, student papers, and subject files devoted to issues of particular interest to Ligibel. MSS-087, 6 linear feet.
See also: entries under Architecture and Education & Schools
BETTY MAUK PAPERS, 1969-1998. [PDF]
Community Activist, Toledo Ohio (1960's-Present)
Founder of Promenade Park in downtown Toledo, Mauk has championed a clean, safe, and revitalized downtown for over 30 years. Her papers consist of photographs, personal and business correspondence, printed materials, and ephemera related to various organizations she founded, causes she supported, and individuals with whom she corresponded. MSS-135, 2 linear feet.
See also: entry under Women
MONROE-CENTRAL BUSINESS AND PROFESSIONAL WOMEN'S CLUB, TOLEDO, OHIO, RECORDS, 1954-1993. [PDF] 
National civic organization providing fellowship and support for working women
Contains materials relating to local, regional, and national BPW clubs including by-laws and constitutions, correspondence, meeting minutes, newsletters, and other printed materials and scrapbooks. MSS-100, 2.7 linear feet.
See also: entries under Business and Commerce and Women
NEIGHBORHOOD IMPROVEMENT FOUNDATION OF TOLEDO SCRAPBOOKS, 1958-1971. [PDF]
Community operated organization devoted to the conservation and preservation of Toledo neighborhoods, established in 1952 and incorporated in 1957
Scrapbooks contain mission statements and other foundation papers, newspaper clippings, and other materials documenting the group's efforts at community beautification. The scrapbooks were used to recruit new members and entered into national city beautification contests. Among the issues covered by these scrapbooks are air and water pollution, traffic safety, fair housing, gun control, industrial development, and streets and expressway construction. MSS-073, 16 scrapbooks.
See also: entry under Social Welfare
GUSTAVUS OHLINGER PAPERS, 1821-1987. [PDF]
→ View Digital Collection
Lawyer, member of the Toledo United Nations Association (1877-1972)
Collection includes journals, correspondence, literary productions, scrapbooks, printed materials, and photographs related to Ohlinger's civic, professional, and personal life. Some correspondence documents his high school years in Chefoo, China. A journal kept by Ohlinger from 1902 to 1905 chronicles his law career in Shanghai and his participation in post-Russo-Japanese War negotiations. "Our Summer Odyssey, August 1 to September 1, 1954," a journal/photo album of a European vacation, further documents some of Ohlinger's travels. Also included in this collection are papers generated and collected by various family members. The most extensive group is the papers of Ohlinger's sister, Constance Ohlinger. MSS-013, 5.25 linear feet.
See also: entries under Politics and Government, Social Welfare, and Travel
QUOTA CLUB, 6th DISTRICT OHIO RECORDS, 1922-1997. [PDF]
→ View Digital Collection
Ohio section of a classified community service club of executive, professional, and business women
The bulk of this collection consists of fourteen scrapbooks that highlight Quota events and achievements. The rest of the collection contains printed materials, administrative materials, photographs, and other visual materials. MSS-122, 8 linear feet.
See also: entries under Disability History and Philanthropy
QUOTA INTERNATIONAL OF TOLEDO RECORDS, 1931-1994. [PDF]
→ View Digital Collection
Toledo Chapter of a classified community service club of executive, professional, and business women
This collection consists of a series of scrapbooks documenting the group from its earliest history to the recent past. Materials include correspondence, photographs, printed materials, and ephemera. MSS-129, 3 linear feet.
See also: entry under Philanthropy
BETTY A. REARDON PAPERS, 1960-2009. 
Acknowledged founder of peace education (b. 1929)
The Reardon papers include published and unpublished manuscripts, correspondence, curricula, policy documents, reports, presentations, projects, and notes. MSS-226, 9 linear feet. 
See also: entries under Education and Schools, Politics and Government, Social Welfare, and Women  
ELLA P. STEWART PAPERS, 1922-1987.  [PDF]
Pharmacist and civic leader of Toledo, Ohio (1893-1987)
This collection consists of scrapbooks and literary productions documenting Stewart's activities and honors. She was active in the Berea in Korea Foundation, the Pan-Pacific and South East Asia Women's Association, the Indiana Avenue Nursery, and the Delta Sigma Theta sorority. Subjects include child care, famous figures in African-American history, and women's social clubs. MSS-052, 2 linear feet.
See also: entries under African-Americans, Medicine & Health, Social Welfare, and Women
SUNSET HOUSE RECORDS, 1871-1988. [PDF] 
A home for elderly and retired women in Toledo, Ohio (1872-present)
Collection contains administrative records, financial records, ephemera, and memorabilia; including annual reports, treasurers reports, membership and admission committee reports, a visitor's register, board minutes, correspondence, cash books, financial ledgers, accountants reports, financial statements, scrapbooks, newspaper clippings, photographs, and secondary and primary source histories of the institution and residents, proclamations, and slides. MSS-125, 4.25 linear feet.
See also: entry under Social Welfare
TOLEDO ROTARY CLUB RECORDS, 1908-2011. [PDF]
→ View Digital Collection
Service organization of professional businessmen
This collection includes administrative and committee files, correspondence, membership records, scrapbooks, and project files of the Toledo Rotary Club, in addition to materials from Rotary International.  MSS-145, 25.5 linear feet.
See also: entries under Business and Commerce, Disability History, Philanthropy, and  Social Welfare
TOLEDO'S ATTIC ORAL HISTORY INTERVIEWS. [PDF]
Virtual museum for Toledo and Northwest Ohio
Collection contains transcripts of oral history interviews conducted with Doehler-Jarvis employees, Toledo mayors, and Toledo Scale employees. MSS-165, .5 linear foot.
TOLEDO SISTER CITIES INTERNATIONAL, 1993-2003. [PDF]
Organization created to unite existing sister city relationships and to promote the development of future affiliations
This collection covers the period when Sister Ann Francis Klimkowski served as president of the Toledo chapter of Sister Cities International (SCI).  Included are administrative documents as well as records regarding Sister Cities International and Sister Cities relationships, programs and events, conferences, speeches, press releases, periodicals, and audio-visual materials. MSS-203, 3 linear feet.
See also: entry under Ethnic Culture
JOHN W. YAGER ASSOCIATION OF TWO TOLEDOS, 1958-1971. [PDF] 
Former mayor of Toledo, chairman of the Committee on Relations with Toledo, Spain (predecessor of Association of Two Toledos), 1966-1971 (b.1920)
This collection documents the Committee on Relations with Toledo and the early years of the Association of Two Toledos and includes programs, publications, phonograph records of musical recordings, memorabilia, artifacts (Spanish coins, swords, armor, letter opener, and buttons), and scrapbooks. MSS-120, 3.5 linear feet plus swords and armor.
See also: entries under Music, Art, Drama, and Theatre and Travel
CARL AND JACQUELINE ZERNER AND FAMILY ASSOCIATION OF TWO TOLEDOS COLLECTION, 1981-1988. [PDF] 
Austrian immigrant to Toledo, Ohio, Attorney and past president of the Association of two Toledos, an organization created to promote cultural exchange between sister cities of Toledo, Ohio and Toledo, Spain (b.1913); Activist and English professor (1927-?)
Collection contains pamphlets, programs, magazines, books, mementos and artifacts (Spanish dagger, flags, tie, sculpture, and armor), and visual materials (postcards and photographs) all related to the Zerners' involvement in the Association of Two Toledos. MSS-119, 5 linear feet plus sculpture and armor.
See also: entries under Music, Art, Drama, and Theatre and Travel