Welcome
Student Resources
Contact Us
Main Campus
University Hall
Room: 4600
Phone: 419.530.2005
Fax: 419.530.4771
webmaster@utoledo.edu
The Department of Communication
Spring 2013
Department News
New Internships
Interested in internships for spring and summer semesters? Check our department pages in Facebook and Twitter for more info!
Faculty Awards
Congratulations to our department faculty, who are winners of  the 2012 Student Impact awards given to 25 university faculty in recognition of being student centered. 
Michael Bartell, instructor
Dr. Jacqueline Layng, professor
Dr. Brian Patrick, professor
UTNews reported on Nov. 5th that the faculty winners have been selected based on "personal nominations highlighting ways they have positively influenced students through enthusiasm, knowledge, dedication and creativity."
This award was instituted for the first time in 2011 by the student government. The winners of the first student impact awards from our department are Eleanor Dombrowski, instructor and Dr. Richard Knecht, professor. 
Past Events
15th Annual Banned Books Week Vigil at UT
Thursday, Oct. 18th: Speaker Series
Friday, Oct. 19th: An Evening With Mark Twain 
Click here for a list of our university community speakers on the 18th. Click on the thumbnails below for an enlarged view.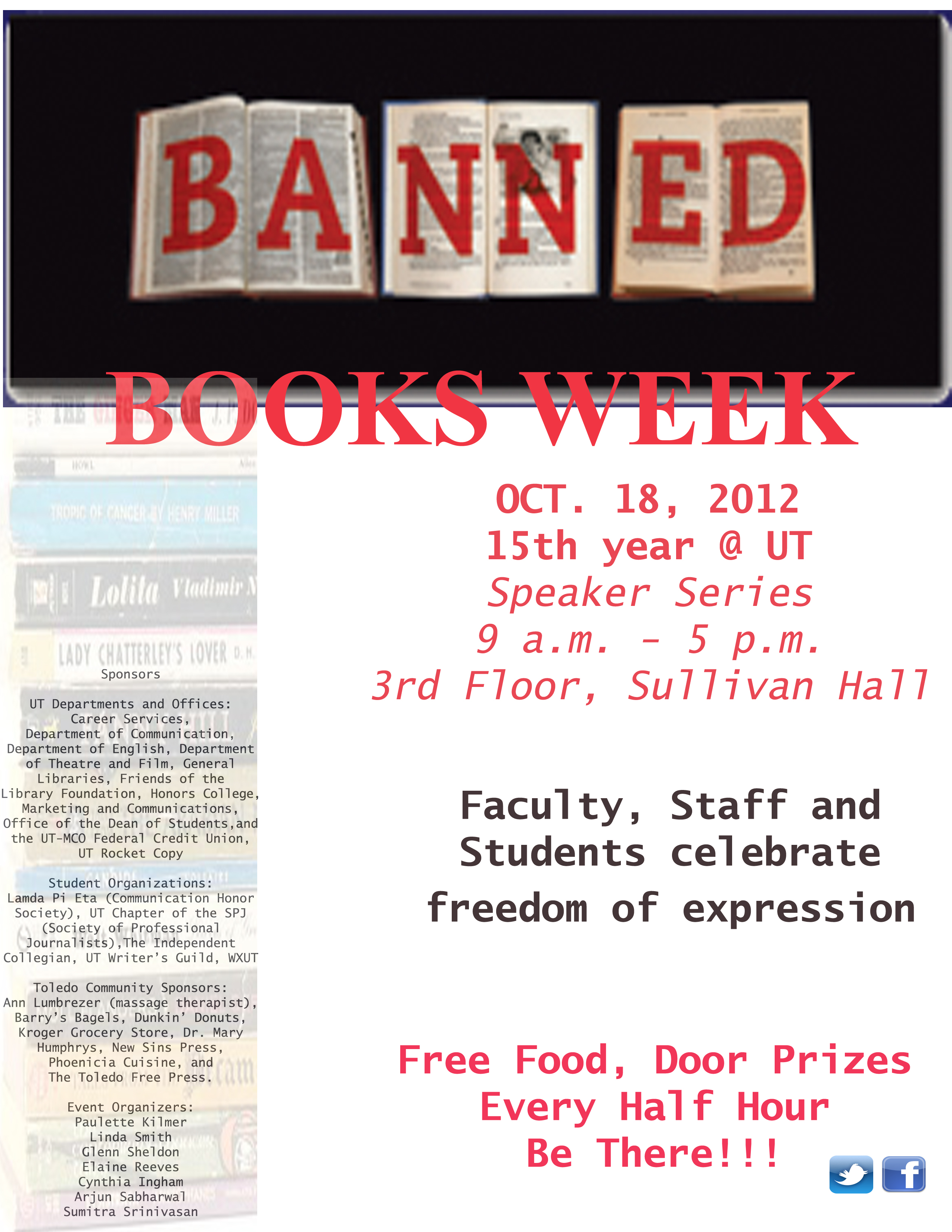 Find us on Facebook, Twitter and Pinterest
Search for our handle "utcommunication" on these social media platforms, or simply click on the buttons below! Follow our newsfeeds to receive department news, updates, scholarship/internship opportunities, etc. and to network!
Internship Opportunities for Students
If you hear about additional internship/job openings, please let us know by contacting Sumitra Srinivasan at sumitra.srinivasan@utoledo.edu or 419-530-4671.  We would also love to hear student success stories!   
Visiting The Department
The main office of the Department of Communication is currently located on the fourth floor of University Hall (UH4600) on the northwest side of the Bancroft Campus. Our television studio and production facilities are in Rocket Hall (RH on the map) on the southwest side of campus. See the map on UT's visitors page. By car: Enter the university from Bancroft Street at Campus Drive and park in Lot 13. Walk across the street and take the path between MacKinnon Hall (MK) and Tucker Hall (TH). University Hall (UH) is the building with the large tower. To contact us, e-mail the web master at sumitra.srinivasan@utoledo.edu and your message will be routed to the appropriate person. Or, call 419-530-2005 to make an appointment.