On Main Campus, you may choose from one of our all-you-care-to-eat dining halls, the relaxed atmospheres of our restaurants, or visit one of our retail dining or convenience store options. In addition, we have over 150 vending machines throughout Main Campus. With the wide variety of food options on campus you are sure to find the food that meets your cravings.                         

Want to know what's cookin'? Click on the image above to view campus dining menus

Click on the image above to view 
your campus dining map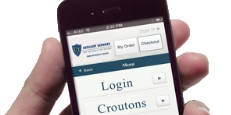 Mobile/Online Ordering Available
Convenient mobile and online ordering is now available for various dining facilities on campus. Click the image above to learn more
Meal Plans are NOW Available on Health Science Campus!
Health Science Campus also take your Dinning Dollar and Rocket Dollars!

*Friday hours may vary. Closed Memorial Day and July 4th
Residential Dining Halls

 
 

Retail Dining

Restaurants

Convenience Store

 Ottawa House East

Student Union South Dining  

 

 

 

                                                  

Chick fil A

Croutonz

Agave 

Magic Wok

Pizza Hut Express

Subway  

Starbucks

Steak 'n Shake

Java City (Rocket Hall)

Freshens Food Studio
(N. Engineering Building)

                                                                      

Phoenicia Cuisine (Student Union suite 3000)

Four Seasons Bistro
(Health Science Campus)

                                               

  Rocket Market
(Ottawa East) 




Bottle Rockets 
(First Floor Student Union)