INCOMING BPG/BRIM STUDENTS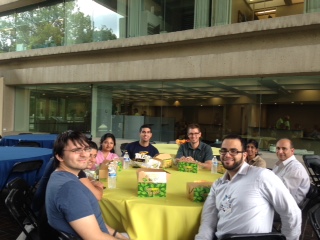 New Graduate Students attending
2015 Fall KickOff on the Health Science Campus 

WELCOME NEW BIOINFORMATICS/BRIM STUDENTS!
If you have been accepted for the Fall 2016 semester, congratulations. You should receive informative emails concerning dates, events, deadlines, and things to do for the upcoming Fall term and student welcome/Orientation. Please review all information, and contact us with any questions: BRIMEducation@UToledo.edu
Information on the Fall 2016 Kickoff on the Health Science Campus, and online Orientation can be found at the following link:  http://www.utoledo.edu/offices/provost/hsa/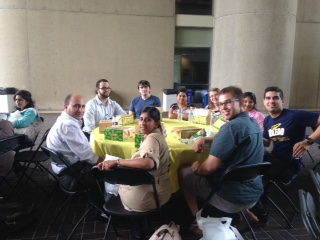 Click here for Graduate School ONLINE Orientation information
If you have questions or concerns at any time now or in the future, please contact Jo Anne Gray, joanne.gray@utoledo.edu, 419-383-6883.

Time out for lunch @ 2015 Fall KickOff 
STUDENT HEALTH INSURANCE REQUIRED
The University of Toledo requires that all students maintain health care coverage, to help ensure academic success and well being. Additionally, to be in compliance with the Affordable Care Act (ACA), all individuals are now required by law to have health insurance coverage.  
Given the federal requirement, the University has eliminated the mandatory charge for the cost of health insurance and is not putting this charge on student accounts starting this fall.  The University of Toledo still strongly recommends that students have health care coverage (and reminds students it is required by law). To assist you, the University offers a health care coverage plan with SEBT-Mutual Health Services.  Information on the UT Health Insurance Policy and various plans available in the State of Ohio, can be found at this link:  https://www.utoledo.edu/healthservices/student/health_insurance/

PROFESSIONAL DEVELOPMENT PROGRAMS

The College of Graduate Studies offers many Professional Development Programs for 2015-2016. These Career Development Programs include workshops in the following areas: Academic Planning, Thesis and Dissertation, Career Development and Graduate Writing.  To view detail please click here:  Professional Development Programs