Program Manual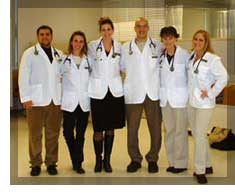 This prospectus is designed to provide the potential student and matriculated student with information about the Master of Science in Biomedical Sciences, Physician Assistant Program. For current students, it should be viewed as an adjunct to The University of Toledo's College of Graduate Studies Bulletin and the College of Graduate Studies Handbook, both of which contain specific information regarding the College of Graduate Studies and related policies. The information herein is subject to periodic revision and these changes will be relayed to current students in a timely manner. It is ultimately the student's responsibility to be aware of all degree requirements and to work closely with an advisor to ensure that these requirements are fulfilled.
Overview of the Profession and Program
Physician Assistants (PAs) are health professionals, prepared to practice medicine with physician supervision. Within the physician/PA relationship, PAs exercise autonomy in decision-making and provide a wide range of diagnostic and therapeutic services. The role of the PA includes provision of primary and specialty care in medical and surgical practices located in rural, urban or suburban areas. Physician assistant practice is patient care centered but may include education, research and administrative duties.
The University of Toledo (UT) Physician Assistant Program is a graduate entry-level professional course of study enabling individuals who hold baccalaureate degrees to become PAs. The program is designed to prepare graduates for primary care practice with emphasis placed on both service to medically under served populations and the team approach to the delivery of health care. The program integrates graduate level critical thinking and analysis, problem solving, scientific inquiry, self-directed learning and the effective use of modern technology for professional practice that includes elements of research, leadership, education and continued professionalization of the physician assistant occupation.
The purpose of the UT Physician Assistant Program is to graduate competent professionals who are well prepared for the demands of modern professional practice in a rapidly changing health-care environment. The curriculum goals were developed based upon the description of the occupation and standards for educational program contained in the "Standards and Guidelines for an Accredited Educational Program for the Physician Assistant," the Program's Mission Statement and the needs of the PA profession. In the PA Program curriculum, knowledge, skills and attitudes are considered to be critical elements of professional practice and are addressed in the program curricular goals delineated below. The graduate of the PA Program will demonstrate the following:
Entry-level proficiencies necessary for high quality, cost-effective practice as a primary care physician assistant in a dynamic health care delivery system.
An understanding of the principles of scientific inquiry and research design, as well as the ability to apply these principles, to read critically, and interpret the literature in order to and enhance the delivery of health care.
An ability to incorporate the basic principles of education and teaching-learning into programs which benefit the patient, the patient's family and the community.
Attitudes and skills which exemplify a commitment to personal growth and development and to the growth and development of the profession.
Attitudes and skills which demonstrate a sensitivity to cultural and individual differences.
An ability to assume a leadership role in professional activities and organizations which advance the physician assistant profession.
A health-care-team and community-oriented approach to the delivery of health care utilizing appropriate modern technology for the benefit of the patient, the patient's family and the community.
The mission of the UT Physician Assistant Program is to provide a comprehensive and student-centered academic and clinical education to develop competent, compassionate, and primary-care-oriented PAs who are capable of providing high-quality, cost-effective, patient-centered health care in diverse of settings.
The UT PA program is committed to the education of PAs who will:
practice competent and comprehensive medicine with the highest ethical and professional standards
serve where needed, particularly in rural and inner-city health professions shortage areas
demonstrate cultural responsiveness and sensitivity
commit to continued personal and professional growth through life-long learning
contribute to the profession through leadership, teaching, research, and publication
promote individual and community health and wellness
advocate for an interprofessional team approach to health care delivery
promote and uphold the physician assistant profession and its ideals.
The curriculum design is based upon the concepts of adult-centered learning and professional education which focus on mastery of knowledge, skills and attitudes required by the graduate to practice effectively as a physician assistant. The curriculum, offered in didactic and experiential components, is an approach which moves from basic to more advanced skills. The curriculum design assumes that students will develop the necessary skills to be self-directed learners and to apply effectively what they learn in the clinical setting.
The Physician Assistant Program is offered on a full-time basis only.  Length of the program is seven consecutive semesters (27 months). The credit load ranges from 7 to 15 hours per semester. Learners are expected to adjust their non-curricular demands in order to complete the degree requirements. As adult learners, it is expected that students will actively engage in independent study, inquiry and fieldwork outside the classroom to augment learning and to maximize effectiveness of classroom and laboratory contact time. Students will be expected to successfully complete and present a scholarly project (abstracts for previous scholarly projects are available for review), an Objective Structured Clinical Examination (OSCE), and a comprehensive written examination in order to graduate from the PA program.
Since the PA Program will use computer technology in the delivery of the curriculum, all PA students must be computer literate. The ability to use the computer for research and the exchange of campus e-mail will be expected.
It is not recommended that any learner attempt to attend the Physician Assistant Program while continuing full-time employment.
Students must not substitute for or function as instructional faculty, must not be required to work for the program or substitute for clinical or administrative staff during supervised clinical practical experiences.
Clinical Year
The Clinical Year consists of 4 didactic weeks and 40 weeks of required clinical rotations. The didactic time which occurs at the beginning of the spring semester of the second year is divided into two weeks of Research Practicum and two weeks of Introduction to Clinical Practice. Each student will then complete all of the following four week clinical rotations: Emergency Medicine, Family Medicine, Pediatrics, Internal Medicine, Surgery, GYN/Prenatal, Long Term Care and an Elective. The Elective rotation can be in the student's preferred specialty of medical practice. Following the clinical rotations, each student will complete an eight week intensive Preceptorship in Primary Care Medicine. Each student is responsible for his or her transportation to and from the clinical sites, which may be up to 70 miles away from campus.

back to top

 Admission Requirements
The Physician Assistant Program will admit students each Fall Semester (August of each year) only. The application cycle opens in May of the year prior to enrollment and closes October 1 of the year prior to enrollment.
Early submission of online CASPA and online UT Supplemental Application / PA Prerequisite Form is encouraged - however, we do not have rolling admissions. 
To be considered for the Physician Assistant Program, candidates must comply with all of the following:
1. Completion of all admission requirements to CASPA (CASPA link) by OCTOBER 1st. CASPA applications must include:
Completed and submitted application form
CASPA application fee paid
At least two letters (maximum three) of recommendation submitted 
Transcripts for all colleges/universities attended 
2. Applicants to the UT PA Program must be citizens of the United States or have permanent resident status (permanent residency "green" card).  If applying as a permanent resident, an applicant must be a permanent resident at the time of application and will be required to submit a photocopy of the front and back of their permanent resident card. 
Applicants who have completed any of their previous undergraduate or graduate training internationally must fulfill the requirements of the UT College of Graduate Studies for international students, which are available for viewing here. 
The UT PA Program requires applicants to provide foreign transcript evaluation from one of the accepted credential evaluation agencies: ECE or WES. The evaluation will be at the applicant's expense.
In addition to the requirement for regular admission, all students from non-English speaking countries must achieve satisfactory scores on the Test of English as a Foreign Language (TOEFL) (unless the international applicant has graduated from a US accredited college or university).
All international applicants must demonstrate that they have adequate financial resources for their graduate education before they can be admitted.
The TOEFL score requirements and a copy of the financial statement form are available for viewing here.                       
3. Completion of the UT Supplemental Application and UT PA Prerequisite Form by OCTOBER 1st. 
The UT PA Prerequisite Form is available as part of the UT College of Graduate Studies Supplemental Application that is available through CASPA. Once you complete the online CASPA application and designate your application to be sent to The University of Toledo PA Program, you will be provided with a link to an online Supplemental Application to The University of Toledo. When filling out the UT Supplemental Application, be sure to click on the link to complete the UT PA Prerequisite Form. Please note that The University of Toledo Supplemental Application includes a fee of $45.00. The UT Supplemental Application, accompanying UT PA Prerequisite Form and fee must be submitted by October 1.
4. Applicants must have earned at least a Bachelor level degree with a cumulative 3.00 grade point average to be competitive AND to qualify for financial aid. For those accepted into the UTPA program and entering in August, the Bachelor level degree must be completed by June 15th. A candidate with less than a 3.0 undergraduate GPA may be considered for admission with regular student status only if he/she has completed at least 10 semester hours of applicable coursework at the graduate level and has a minimum GPA of 3.0 in these courses.
Prerequisites

The following Minimum Prerequisites must be completed with a grade of "B-" or better: 
   1. Human Anatomy and Physiology: 6 semester credit hours
    > May be taken as Anatomy & Physiology I and Anatomy and Physiology II or as separate Human Anatomy and Human Physiology Courses
    >Taking a lab or labs with these courses is recommended
   2. Inorganic or General Chemistry with Lab: 3 semester credit hours
   3. Organic or Biological Chemistry with Lab: 3 semester credit hours
   4. Microbiology with Lab: 3 semester credit hours
   5. Psychology: 6 semester credit hours
    >Introductory Psychology and Lifespan Psychology are recommended.
    >Psychology courses must be taken through the Psychology Department
   6. College Algebra, Statistics or any Higher Mathematics: 3 semester credit hours
   7. Medical Terminology: 1 semester credit hour
    >Candidates may instead choose to take and pass a Medical Terminology test offered by the UT PA Program prior to   matriculation. The test is taken at UT in the PA department. Candidates who choose to take the proficiency test and who do not pass the test, will be required to participate in a self-study program and retest or satisfactorily complete a medical terminology course at an accredited college or university prior to enrollment in the UTPA program.
AP (Advanced Placement) or CLEP credits are not acceptable.
All prerequisite coursework identified above must be current within eight (8) years of admission to the program. For those who apply for entrance into the UT PA Program, all prerequisite coursework must have been completed eight years prior to enrollment in the fall of that particular year (with a one week extension for completion of the first summer semester for prerequisite courses). For example, a student admitted for the PA class starting in Fall 2016 must have completed all prerequisites between Fall 2008 and June 15, 2016.
All prerequisites must be completed with a grade of "B-" or higher. For courses where separate grades are assigned for lecture and laboratory sections, the candidate must receive a grade of "B-" or higher for BOTH the lecture and lab.
For applicants enrolled at institutions that use a QUARTER system, credit hours are converted such that five (5) quarter hours = three (3) semester hours.
For applicants enrolled at institutions that use a combined letter grading scale (such as "AB" or "BC"), the only accepted grades are "A", "AB", or "B". Receiving a grade of "BC" does not meet the minimum grade requirement.
For applicants enrolled at institutions that utilize a point system for course grades, a 3.0 or higher is acceptable. Any grade lower than 3.0 is not acceptable.
Preference will be given to applicants who at any time have earned a "B-" or higher in any of the following additional advanced healthcare and science-related undergraduate or graduate courses, including but not limited to: anatomy, physiology, chemistry, biochemistry, genetics, microbiology, immunology, physics, psychology, pathophysiology, pharmacology, endocrinology or mathematics.
Formal healthcare experience, shadowing of PAs or other healthcare providers, or patient contact hours are not required, but is a beneficial attribute.
Prior to matriculation, candidates must present evidence that they are currently trained in basic cardiopulmonary resuscitation (CPR) according to American Heart Association standards. This training must be maintained throughout the program of study.
The University of Toledo College of Medicine and Life Sciences value added groups (current Ohio residents, graduates of The University of Toledo, non-traditional, underrepresented in medicine and those who are veterans) are given some degree of preference.
The UT PA Program does not provide advanced placement or advanced standing for any students.
Candidates for interviews will be selected from those with completed applications (both CASPA and UT PA Supplemental Application and Prerequisite Form) who meet the minimum entrance requirements and have completed or have a plan to complete all prerequisites by June 15 of the enrollment year.  Students selected for interviews are typically notified in December. 
Interviews typically occur in January and February. Candidates are notified of acceptance in March.
The selection process is highly competitive and merely meeting minimum entrance requirements does not guarantee an interview or admission to the program.  Normally the UT PA class that enters in August began with over 1000 applicants and slightly over 260 interviews for 45 entering students. There are many factors involved in the selection process, including but not limited to cumulative undergraduate (or completed graduate) grade point average, cumulative science grade point average, personal experiences, writing sample, reference letters, familiarity with the PA profession and the University, oral communication skills, professionalism, problem solving and teamwork. 

Based upon a point scoring system with holistic consideration of each candidate, the Admissions Committee may recommend one of the following:
Acceptance: Candidates with the highest scores (based upon the candidate's completed CASPA application and interviews) will be recommended to the UT College of Graduate Studies for acceptance. The number of candidates recommended for acceptance will be determined annually by the PA Program class size. For the academic year starting in August, the program expects to accept 45 students. Following interviews, candidates are informed of acceptance in March. An applicant may be receive Conditional Status, as described below.
Alternate/Waiting List: Individuals who interviewed but did not receive an offer of a seat in the class will be placed on an alternates list until the class is filled.  Candidates not admitted from the alternate list must reapply if they wish to be considered for the following year.  Immediately following interviews, and the initial selection, candidates are placed on the alternate list and subsequently selected when a seat is declined.  This will occur beginning  in March and usually will end by the end of June. 
Non-Acceptance: Candidates not accepted will be notified via email. Candidates who are not accepted are informed at the end of the selection of candidates beginning July 1st.  Candidates wishing to be considered for the following year must reapply.
back to top

Admission Under "Conditional" Status
An applicant must complete the general admission requirements specified above. Circumstances which may result in a Conditional Status admission include:
>  An applicant with a Bachelor's degree in progress must be completed by June 15th. An official transcript with the degree posted must be received prior to matriculation into the program. 
>  An applicant with an undergraduate cumulative grade point average (GPA) less than 3.0 (GPA of 2.99 - 2.97) may be considered for admission under Conditional Status. Students must achieve a 3.0 in graduate study at UT by the completion of 15 semester hours or may be subject to dismissal. In the past, candidates with undergraduate GPAs less than 3.0 have not been competitive unless they have demonstrated academic achievement through the completion of a relevant graduate level degree program or completion of substantial upper level science courses with a B or better.
>An applicant who has any prerequisite courses to complete at the time of application may be admitted under Conditional Status, with a clear understanding that remaining prerequisites must be satisfactorily completed (grade of B- or higher) by June 15 for enrollment into the program. Official transcripts or other appropriate documentation will be required.
NOTE: Government subsidized financial aid is not available to students admitted under Conditional Status.

back to top
Technical Standards for Admission
Our objective is to increase the opportunities for persons with disabilities, while maintaining the expectation that all students achieve the goals of the Program. The technical standards for admission establish the expectations and abilities considered essential for students admitted to the Physician Assistant Program in order to achieve the level of competency required for graduation and ultimately practice as a physician assistant. All students admitted to the PA Program are expected to be able to demonstrate the following abilities:
must have the mental capacity to assimilate and learn a large amount of complex, technical and detailed information, to solve clinical problems, and synthesize and apply concepts and information from various disciplines in order to formulate diagnostic and therapeutic plans;
must have the ability to maintain composure and emotional stability during periods of high stress;
must have the ability to communicate effectively and sensitively with patients from different social and cultural backgrounds and develop effective professional rapport with patients and co-workers;
must have the ability to record examination and diagnostic results clearly, accurately and efficiently;
must have adequate sensory function to fulfill minimum competency objectives for palpation, percussion and auscultation necessary to perform a physical examination;
must possess sufficient postural control, neuromuscular control and eye-to-hand coordination to use standard medical/surgical instruments and possess sufficient control of the upper extremities to meet the physical requirements for training and for performing a safe physical examination;
are expected to learn and perform common diagnostic and therapeutic procedures (e.g., blood drawing, suturing) and interpret the results;
are expected to have a the degree of coordination of motor skills necessary to respond to emergency situations quickly and appropriately.
Candidates are urged to ask questions about the program's technical standards for clarification and to determine whether they can meet the requirements with or without reasonable accommodations. Questions may be directed to the Program Director or Office of Student Services. Revealing a disability is voluntary; however, such disclosure is necessary before any accommodations may be made in the learning environment or in the Program's procedures. Information about disabilities is handled in a confidential manner. Reasonable accommodations will be made to comply with the Americans with Disabilities Act. These require program and institutional approval. Requests for accommodations must be submitted in writing, allowing sufficient time prior to matriculation for action on these requests pursuant to Policy 01061, Nondiscrimination on the Basis of Disability.
Individuals selected for admission to the program must undergo a general physical examination and provide evidence of up-to-date immunization prior to the start of classes in the first year and again just prior to the beginning of clinical rotations in the second year. In addition, students are required to maintain health insurance and liability insurance coverage. Further information is contained in the College of Graduate Studies Handbook and will be reviewed in detail at orientation.
Note: Physician Assistant Program courses listed in the chart below may not be taken out of sequence for any reason and may require a passing grade of B or better for progression through the program.  All students must complete every course.  There is no advance standing or transfer credit to replace any of these courses. 
COURSE SEQUENCE

Semester
Title
Credits
Totals
1 FALL
 
   
   
 
Anatomy for Physician Assistants (ANAT-5000)
5
 
   
Physiology for Physician Assistants (PHSL-5050)
3
   
 
Introduction to the P.A. Profession (PHYA-5010)
1
 
 
Prin. of Interviewing & Medical History (PHYA-5100)
3
 
 
Health Care Teams & Systems (PHYA-5140)
2
 
   
 
   
14
      
2 SPRING
   
  
   
   
Pathophysiology I (PHYA-5400)
2
   
   
Diagnostic & Therapeutic Skills I (PHYA-5210)
2
   
 
Clinical Medicine I (PHYA-5310)
4
 
   
Pharmacology I (PHYA-5510)
2
   
   
Patient Evaluation (PHYA-5130)
3
   
   
Medical Ethics (PHYA-6050)
2
   
 
 
 
15
    
3 SUMMER
 
 
 
 
Pharmacology II (PHYA-5520)
2
 
 
Pathophysiology II (PHYA-5410)
2
 
 
Clinical Medicine II (PHYA-5340)
3
 
 
Diagnostic & Therapeutic Skills II (PHYA-5220)
1
 
 
Health Promotion & Disease Prevention (PHYA-6110)
1
 
 
Basic Genetics (PHYA-6010)
1
 
 
Introduction to Radiology (PHYA-6040)
1
 
 
  
 
 11
    
Semester
Title
Credits
Totals
4 FALL
 
 
 
 
Pharmacology III (PHYA-5530)
2
 
 
Clinical Medicine III (PHYA-5330)
6
 
 
Diagnostic & Therapeutic Skills III (PHYA-5230)
2
 
 
Pathophysiology III (PHYA5430)
2
 
 
Research & Statistics (PHYA-6130)
2
 
 
Behavioral Science (PHYA-6150)
2

 

 
 
 
16
    
5 SPRING
 
 
 
 
Introduction to Clinical Practice (PHYA 6500)
1
 
 
Research Practicum (PHYA-6600)
1
 
 
Scholarly Project I (PHYA-6610)
1
 
 
Clinical Practice (3 rotations)
6
 
 
 
 
9
    
6 SUMMER
 
 
 
 
Clinical Practice (3 rotations)
6
 
 
Scholarly Project II (PHYA-6620)
1
 
 
 
 
7
    
7 FALL
 
 
 
 
Scholarly Project III (PHYA-6630)
1
 
 
Clinical Practice (2 rotations)
4
 
 
Clinical Preceptorship (PHYA-6760)
4
 
 
 
         
9
 
TOTAL PROGRAM HOURS
 
81
Clinical Practice consists of a total eight (one-month) rotations, with one in each of the following specialties: emergency medicine, internal medicine, family medicine, long-term care, prenatal/gynecology, surgery, pediatrics, and an elective (which may be any specialty of medicine).
Program Administration and Support
Please contact the Department of Physician Assistant Studies with questions (419) 383 - 5408.
The Physician Assistant Program is fully accredited by the Accreditation Review Commission of Education of the Physician Assistant (ARC-PA). The next on-site re-accreditation visit will be June 19-20, 2017.  Only graduates of accredited PA programs are eligible to take the national certifying examination offered by the National Commission on Certification of Physician Assistants (NCCPA).  Most states require certification in order to practice.
The Accreditation Review Commission on Education for the Physician Assistant (ARC-PA) has granted Accreditation-Continued status to the University of Toledo Physician Assistant Program sponsored by University of Toledo. Accreditation-Continued is an accreditation status granted when a currently accredited program is in compliance with the ARC-PA Standards. 
Accreditation remains in effect until the program closes or withdraws from the accreditation process or until accreditation is withdrawn for failure to comply with the Standards. The approximate date for the next validation review of the program by the ARC-PA will be Month Year. The review date is contingent upon continued compliance with the Accreditation Standards and ARC-PA policy.
The Physician Assistant National Certification Examination (PANCE) is the national certifying examination offered by the National Commission on Certification of Physician Assistants (NCCPA). A passing score is necessary to practice in most states.

Aggregate scores on the PANCE for The University of Toledo (UT) vs. the National Average for the most recent five years are as follows: 
| | | | | | | | | | | |
| --- | --- | --- | --- | --- | --- | --- | --- | --- | --- | --- |
| Year: | 2006 |  2007 |  2008 | 2009  | 2010  | 2011 |  2012 | 2013 | 2014 | 2015 |
|  Test Takers at UT | 26 | 26 | 33 | 27 | 30 | 31 | 30 | 41 | 40 | 39 |
| 1st time Pass Rate |   |   |   |   |   |   |   |   |   |   |
|  UT PA Program | 96% | 96% | 100% | 100% | 96% | 100% | 100% | 95% | 85% | 92% |
|  National Average | 92% | 93% | 94% | 92% | 94% | 91% | 93% | 94% | 95% | 96% |
|  UT 1st time Failures | 1 | 1 | 0 | 0 | 1 | 0 | 0 | 1 | 5 | 3 |
Graduates of the UT PA Program have an average 1st time PANCE pass rate of 93% over the most recent five years.  Please see the five year NCCPA Official Aggregate listed on the PA Program webpage under the major listings.  All students who have graduated from the University of Toledo and have taken the PANCE, ultimately passed successfully - 100% board pass rate for all graduates from the PA Program.
The cost of attendance for the UT Physician Assistant Program changes slightly from year to year, as the tuition rate and other expenses for full time graduate students may change annually. 

The following is a brief listing of expected expenses provided by the UT Financial Aid Office.  The tuition rate for full-time graduate students (Ohio residents) in the UT PA Program for Fall and Spring Semester - 12-15 credit hours each is $6,582.00 per semester.  Summer Semester 9-11 credit hours is $4,937.00 per semester .  The total expenses for Fall semester (including tuition, general fees, estimated off campus room and board, books and school supplies, estimated personal expenses and transportation) was $18,455.  The tuition rate for full-time graduate students (out of state) in the UT PA Program for Spring semester was $11,750.00, with corresponding total expected expenses for Spring semester of $24,485.  For a UT PA student who entered the Program in August, and graduated in December, the total tuition only cost will be $43,339.  The tuition rate and other fees varies by number of credit hours and year in the Program. 
Financial aid for graduate students is available through numerous government loan programs (like Stafford student loans) and private sources.  In addition, PA students may qualify for a variety of part-time jobs at UT through the Federal Work-Study Program.  However, it is recommended that students do not work while in the PA Program, but if necessary any student should not work a considerable amount of time while in the PA Program. 
NOTE: Government subsidized financial aid is not available to students admitted under Conditional Status.
For specific questions concerning the cost of attendance and financial aid information, contact the UT Financial Aid Office : 419.383.4574 or 419.530.5812.
Non-Discrimination Policy
The University of Toledo confirms through this statement its commitment and dedicated efforts to provide equal opportunity in the educational programs of this institution.  Federal law prohibits discrimination because of race, color, religion, sex, age, national origin, handicap, or ancestry of any person.  Inquiries regarding compliance with the above may be directed to:
Office of Institutional Diversity
Office of Faculty and Student Diversity
Health Science Campus
3065 Arlington Avenue
Toledo, OH 43614-5807
Phone: 419.383.3438 
Information Session dates in 2014

Learn more about the Program's entrance requirements and the PA Profession by attending one of our information sessions held on the UT Health Science Campus.  If you are considering application to this or any PA Program, these sessions are for you!
Upcoming UT PA Information Sessions:
Monday, April 11, 2016 from 6:30p - 8:30 pm in Collier Room 1200
Wednesday, June 8, 2016 from 6:30p - 8:30pm in Collier Room 1200
Tuesday, July 12, 2016 from 6:30p - 8:30pm in Collier Room 1200
Saturday, September 3, 2016 - 9:30a - 11:30am in Collier Room 1200
Location: Health Science Campus - Collier Building - there will be posted signs in this building directing prospective applicants to the appropriate room.
There is no need to RSVP for these sessions.  We are delighted to have you attend and learn about the UT PA Program!
See the UT PA Information Session Agenda for details
Directions to UT Health Science Campus
Questions or Concerns:
Department of Physician Assistant Studies: 419.383.5408