Welcome
Council of Biomedical Graduate Students
More Information
Contact Us
Health Science Campus
Mulford Library
3000 Arlington Avenue
Toledo, OH 43614
Phone 419.383.4112
grdsch@utnet.utoledo.edu
Biomedical Research Summer Undergraduate Research Fellowship (SURF) on the Health Science Campus
For information on the Clinical Research SURF Program please click here


Class of 2013
This is your chance to experience a potential career in biomedical research. The fellowship includes 10 weeks of experimental study in a research laboratory. Weekly luncheons are provided with faculty and graduate student led discussions on relevant topics such as: "Tools for Succeeding in Graduate School," "Obesity: A Weapon for Mass Destruction," "Immunotherapy," and "Genomics and Proteomics in Biomedical Research." This will allow you to discover your research talents and provide experience for deciding on a scientific research career.
The due date for application, transcripts and 2 letters of recommendation is March 7, 2014.
Please have official transcripts and two letters of recommendation sent to :
Marianne Pohlman
University of Toledo HSC
3000 Arlington Ave. Mail Stop #1010
Toledo, Ohio 43614

For information on the Clinical Research SURF Program go to www.utoledo.edu/med/md/admissions/srp.html
Cancer Biology
 
 
 
 

Cancer Stem Cells
Cell Death (Apoptosis and Autophagy)
Cell Proliferation and Cell Cycle
Cell Signaling and Signal Transduction
Chemoprevention
Chromatin Structure and Epigenetic Mechanisms
DNA Damage, Mutation Hot Spots, and DNA Repair
Drug Delivery, Viral Vectors, and Gene Therapy
Genomics, Gene Activation, and Gene Regulation
Molecular Mechanisms of Hormone Action
Protein Trafficking
Role of Inherited Mutations in Cancer
Toxicology
Tumor Promotion
Yeast Biology 

 
 
 
 
Cardiovascular and Metabolic Diseases
 
 
 
 

Aerobic Running Capacity and Cardiac Performance
Cardiovascular Physiology and Protection
Cardiovascular Pharmacology
Integrated and Systems Pharmacology
Cell Growth
Development
Exercise Physiology
Genetics of Complex Cardiovascular Traits
Genomics and Proteomics
Ion Transporters
Metabolism: Biochemistry and Whole Animal Physiology
Nutrition
Protein Trafficking, Folding, and Assembly
Signaling
Transgenic and Knockout Mouse Technology 

 

 
 
 
Infection, Immunity and Transplantation
 
 
 
 

Antigen Presentation
Bioinformatics
Biology and Pathogenesis of Microbes
Cytokines
Gene Regulation
Host Response to Infection
Immune Regulation
Innate and Adaptive Immunity
Molecular Genetics
Signaling
Vaccine Development
Viral Evolution 
 
 
 
 
Neurosciences and Neurological Disorders
 
 
 
 

Cell Signaling and Secretion
Functional Confocal Microscopy
Ion Channel Regulation
Mechanisms of Neurological Disease
Molecular Development and Stem Cell Biology
Nervous System Plasticity
Neuropharmacology, Drug Abuse
Pain Mechanisms, Regeneration, and Repair
Somatosensory System Function
Transcriptional Regulation of Neural Genes
 
 
 
 
 
 
 
 
 
Comments From Past Participants
"This summer has changed my outlook for the future." "Working one-on-one with people in the lab has been a great experience."
"It's not like college lab courses where things are laid out for you in advance."
"This program gives me (students) a chance to test-drive a career in science, basic research and get paid for it."
"I've always wanted to get into research and by getting my foot in the door, I know exactly what I want to do from here on out."
"This program was a rich opportunity to conduct research in a field that interested me and be advised by leading scientists."
"It's incredible how much is going on at MUO in research."
"The fellowship allowed me to discover what research talents and skills I have, plus experience that will help decide on a lab career."
"Beyond the lab, I found the weekly seminar series to be extremely useful for providing insight into several career opportunities in science. This insight has solidified certain career goals and opened doors to new possibilities. I would recommend the program to students interested in challenging themselves mentally and embarking on a fulfilling experience at a premier institution."
Opportunities and Goals
The programs on the Health Science Campus provide opportunities for independent research in an environment that encourages friendly and productive interactions between the students and faculty supervisors. The programs are intended for students with genuine interest in pursuing experimental research careers in biological science.
Important Features
Hands-on research experience
Internationally recognized faculty
Access to state-of-the-art research equipment
Low student-to-faculty ratio which fosters close working relationships
Personal interaction with current graduate students and post docs
Modern campus in a safe and pleasant suburban community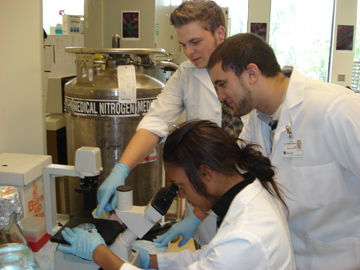 Summer Openings for 2014

A limited number of openings are now available for the summer of 2014 on a competitive basis. Each accepted student will receive $3,500 for a 10-week period of full-time research beginning June 2 – August 8, 2014. Applications are due by March 7, 2014, with all applicants being notified of their acceptance status no later than April 4, 2014. The program is open to U.S. domestic students only.
Information and Application
Information may be obtained from the office of the Summer Undergraduate Research Fellowship by e-mail at SURF@utoledo.edu, or by phone at 419.383.4181. Please specify the research program of interest on your application. 
Online applications can be submitted using the SURF Form