Summer Undergraduate Research Fellowship (SURF) on the Health Science Campus
Dear University of Toledo College of Medicine and Life Sciences (Summer Undergraduate Research Fellow SURF) applicants for summer 2016,
The University of Toledo has very recently taken decisive and substantial steps towards debt reduction as so many universities have had to do.
Unfortunately, the College of Medicine and Life Sciences SURF program was one of the programs that had to be canceled for summer 2016.
Please accept our apologies for not accepting any applicants for this summer. We sincerely hope you understand and will continue to consider us for your training for graduate careers in the future.
Warmest regards,
Kandace Williams, PhD
Associate Dean for COM&LS Graduate Programs

Class of 2015
In an effort to recruit top caliber students, the College of Medicine and Life Sciences offers the Summer Undergraduate Research Fellowship for both pre-medical and biomedical research to undergraduate students.  The purpose of the program is to introduce undergraduate students to scientific research as a means of encouraging them to consider a career in medicine and biomedical research.
Important Features
Hands-on research experience
Internationally recognized faculty
Access to state-of-the-art research equipment
Personal interaction with current graduate students 
Modern campus in a safe and pleasant suburban community
This fellowship includes 10 weeks of experimental study in a research laboratory or medical office/clinic.  You will attend weekly seminars with medical professionals to learn about their research and how they decided on a career in medicine and or biomedical research.  Each student will be given a research project and will present their findings at the end of the 10 weeks.
Twelve offers will be made, six students will be studying biomedical research and six will be studying clinical research.
This program is an important component of UT's diversity initiative and is open to all students. Underrepresented minority students, students from disadvantaged backgrounds, and women are strongly encouraged to apply. The University of Toledo believes that obtaining the benefits that flow from a diverse student body is a compelling interest for our institution. A diverse student body is important in promoting cross-cultural understanding, helps to break down stereotypes, promotes a richer classroom learning environment, and helps to develop a diverse, integrated student body that promotes leadership.
A limited number of openings are now available for the summer of 2016 on a competitive basis.  Each accepted student will receive $3,500 for a 10 week period of full-time research beginning May 23-July 29, 2016.  Applications are due by March 2, 2016. Applicants will be notified of their acceptance status no later than April 6, 2016.  Official transcripts and two recommendation letters should be sent by March 2, 2016 to:
Marianne Pohlman
University of Toledo HSC
3000 Arlington Ave. Mail Stop #1010
Toledo, Ohio 43614
 Application Requirements for admission include:
Applicants must be a citizen of the United States or have a permanent resident status (permanent residency "green" card). If applying as a permanent resident, an applicant must be a permanent resident at the time of application and will be required to submit a photocopy of the front and back of their permanent resident card.
Must be an undergraduate student during the 10 week period May 23-July 29, 2016.  Highest preference for students in Junior year and/or completion of at least one year of biology and chemistry courses with labs.
Two letters of recommendation
Official transcripts from all undergraduate schools.
Once accepted you will undergo
Upon arrival
$500 will need to be paid for University housing on the main campus during your 10 weeks if you do not have alternative local housing.
SURF student is responsible for their food
Transportation; buses travel to and from University of Toledo main campus and the Health Science campus.  If you have your own transportation free parking will be provided on both campuses (approx. 2 miles apart)
Upon arrival one week before start date of 10 week program to fulfill all pre-SURF Health Science Campus requirements
Pre-employment health screening, including drug testing and immunization screening
Human Resources paperwork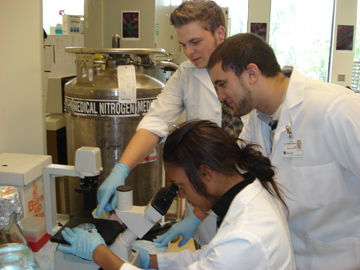 Application
Information may be obtained from the office of the Summer Undergraduate Research Fellowship by e-mail at SURF@utoledo.edu, or by phone at 419.383.4181.