/nsm/chemistry/
Chemistry Menu
/nsm/chemistry/
Resources
Contact Us
Main Campus
Bowman-Oddy Laboratories
Room: BO 2022
Mail Stop: 602
Phone: 419.530.2100
Fax: 419.530.4033
utchem@utoledo.edu
Faculty
Faculty
Wendell Griffith, Ph. D.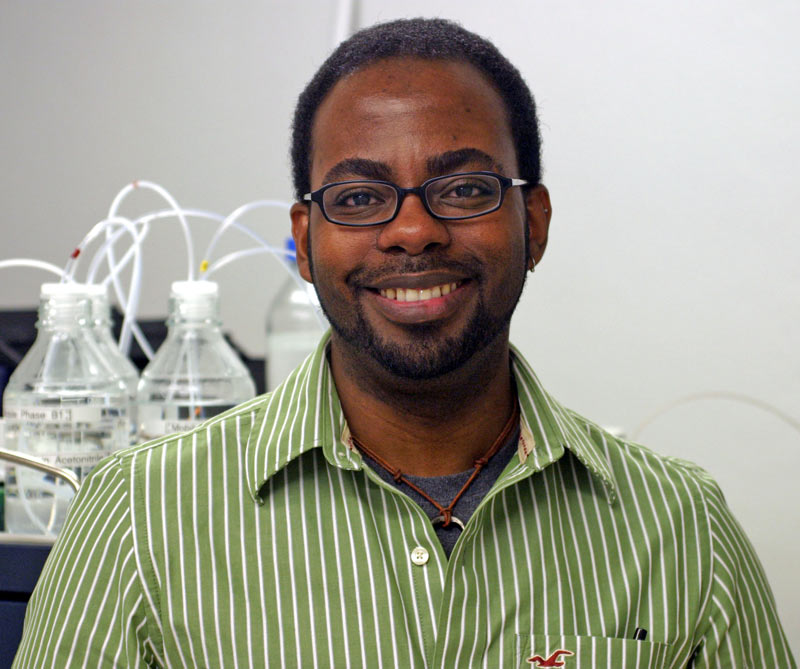 Assistant Professor
Email:Wendell.Griffith@utoledo.edu
BO 2098B
Phone: (419) 530-7964
Fax: (419) 530-4033  
Professional Background:

B.S. 1999: Grambling State Univ.
Ph.D. 2005: University of Massachusetts
Post-doc 2005-2007: Johns Hopkins University
Publications
My research group is very interested in applying mass spectrometry to understanding the structure/function relationships of proteins of clinical and biomedical interest as well as their complexes with other biomolecules. Our hope is to exploit the knowledge that we gain from these protein systems in order to improve the quality of human life.
Our research can be divided into 3 major subheadings:
1. Investigating the conformational dynamics of hemoglobin chains in order to stabilize the functional tetrameric molecule
2. Combining the powers of mass spectrometry and x-ray crystallography to investigate the structure of haptoglobin
3. Developing mass spectrometry-based analytical methods for characterizing (qualitative and quantitative analysis) posttranslational modifications to proteins and trying to understand how these modifications translate into alteration of the protein's function.
Instrumentation:
Synapt High Definition Mass Spectrometry System with nanoAcquity UPLC system
(Waters Corp:
Synapt HDMS Product Page
)