/nsm/lec/
Welcome to the LEC
/nsm/lec/research/
Research Labs & Areas
Great Lakes Genetics Lab
GLGL Graduate Students, Postdoctoral Scholars, and Technicians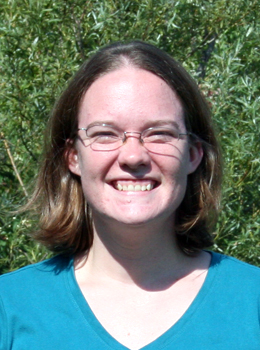 Dr. Amanda Haponski (Ph.D. June 2013, Ph.D. student in GLGL 2008-2013) 
Now: Post-doctoral Researcher
amanda.haponski@utoledo.edu
CV 2014

Research Interests:
My research interests include phylogeography, population genetics, systematics, ecology and natural history of marine and freshwater fishes.
Projects: 
I received my master's degree from the University of Toledo in December of 2007 and decided to continue on for my Ph.D. in Carol Stepien's lab that I recently completed in June 2013.  My research has utilized a combination of genetic markers and traditional morphological characters. My master's thesis focused on the Greenside Darter (Etheostoma blennioides Rafinesque 1819) and determined the taxonomic status of its subspecies.  I also conducted a study with a local high school teacher Mr. Tim Bollin, which examined the genetic variation of the Rainbow Darter Etheostoma caeruleum.  My Ph.D. entitled "Evolutionary, biogeographic, and population genetic patterns of walleye and other Sander: Relationships across continents, corridors, and spawning sites" focused on walleye (Sander vitreus), an important commercial fishery species. My dissertation research uniquely addressed relationships of walleye to other members of the genus Sander, the taxonomic status of the extinct blue pike, and contemporary vs. historic genetic patterns.  I also participated in the National Science Foundation's GK-12 program from 2008-2010 and was paired again with Mr. Tim Bollin from the Toledo Early College High School.  He and I co-instructed a Science Research course focused on water quality of the Toledo Area.  In this course students developed and carried out independent research projects and presented their results at local science fairs. I also was featured in the Siscowette, a publication focusing on female scientists in the Great Lakes. 
Carson Prichard
Ph.D. student (2012-present)
carson.prichard@rockets.utoledo.edu
CV 2013
Research Interests:
Great Lakes fisheries, population and conservation genetics, fish ecology
Projects:
I have had a lifelong passion for fish (see my articles published in UT News and The Blade on fishing in the Ottawa River), which has led me to pursue a career in fisheries research.  I received my B.S. in Biology at Grand Valley State University (2005-2009), and then completed my M.S. in the Department of Fisheries and Wildlife at Michigan State University (2010-2012) as a member of the Quantitative Fisheries Center.   My Ph.D. research with Dr. Stepien at the University of Toledo has two primary components: (1) I am investigating the population genetics of invasive silver and bighead carps across their invasive ranges in North America, and (2) I am developing a next-generation sequencing assay to identify and quantify relative abundances of any Great Lakes fish species, including high-risk potential invasive species, from a sample of water using environmental DNA (eDNA).  The latter is funded by a USEPA GLRI grant to Dr. Stepien and Dr. Von Sigler.  I also received a NOAA CILER scholarship award to fund my stipend for the eDNA work, as well as an IAGLR Scholarship award.  I already have presented my early results at the AFS 2013 conference in Little Rock Arkansas, at IAGLR 2013 conference in Purdue University IN, and at the 2013 International Conference on Aquatic Invasive Species in Niagara Falls.  I also have had a great time sampling for the Asian carps!   
Matthew Snyder
M.S. student (2013-present)
matthew.snyder@rockets.utoledo.edu
CV 2013
Research Interests: 
Ecology, marine biology, limnology, evolution, conservation genetics/genomics

Projects:
Love and appreciation for the natural environment has lead me to pursue a career as a biologist. I received my B.S. in Ecology from San Francisco State University. During my time as an undergraduate, I worked as a student researcher on population genetics and the spread of adaptive lateral plate loss and reduction in Central California populations of threespine stickleback. Generally, I am interested in the spatial and temporal scales of evolution, contemporary evolution, and conservation genetics. I have a goal of helping to fulfill the pressing need for the application of genetics to conservation and management of native and invasive species by conducting high quality research in my areas of interest. My research in Dr. Stepien's lab will help me realize this goal. This work involves quantification of round goby eDNA and population genetics of the invasive round goby in the Great Lakes across spatial and temporal scales.
Shane T. Yerga-Woolwine
DNA Research Technician (2012-present)
shane.woolwine@utoledo.edu
419.530.8370
CV 2013
I received my B.A. in Biology from Adrian College. After graduating, I worked at a research laboratory in Eugene, Oregon, and then I served as senior Lab Manager in the Department of Physiology and Pharmacology at the Medical University of Ohio (now the University of Toledo Medical Center). I joined the GLGL team in 2012 as a DNA Research Assistant.