/nsm/lec/
Welcome to the LEC
/nsm/lec/research/
Research Labs & Areas
Great Lakes Genetics Lab
GLGL Graduate Students, Postdoctoral Scholars, and Technicians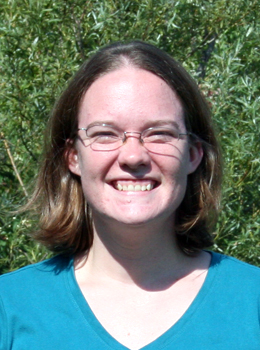 Dr. Amanda Haponski (Ph.D. June 2013, Ph.D. student in GLGL 2008-2013) 
Now: Post-doctoral Researcher
amanda.haponski@utoledo.edu
CV 2014

Research Interests:
Phylogeography, population genetics, systematics, ecology and natural history of marine and freshwater fishes
Projects: 
I received my master's degree from the University of Toledo in December of 2007 and decided to continue on for my Ph.D. in Carol Stepien's lab that I recently completed in June 2013.  My research has utilized a combination of genetic markers and traditional morphological characters. My master's thesis focused on the Greenside Darter (Etheostoma blennioides Rafinesque 1819) and determined the taxonomic status of its subspecies.  I also conducted a study with a local high school teacher Mr. Tim Bollin, which examined the genetic variation of the Rainbow Darter Etheostoma caeruleum.  My Ph.D. entitled "Evolutionary, biogeographic, and population genetic patterns of walleye and other Sander: Relationships across continents, corridors, and spawning sites" focused on walleye (Sander vitreus), an important commercial fishery species. My dissertation research uniquely addressed relationships of walleye to other members of the genus Sander, the taxonomic status of the extinct blue pike, and contemporary vs. historic genetic patterns.  I also participated in the National Science Foundation's GK-12 program from 2008-2010 and was paired again with Mr. Tim Bollin from the Toledo Early College High School.  He and I co-instructed a Science Research course focused on water quality of the Toledo Area.  In this course students developed and carried out independent research projects and presented their results at local science fairs. I also was featured in the Siscowette, a publication focusing on female scientists in the Great Lakes. 
Dr. Katy Klymus 
Post-doctoral Researcher (2014-present)
katy.klymus@utoledo.edu
Research Interests:
Evolutionary biology, animal behavior, phylogenetics, population/conservation genetics, environmental DNA
Projects: 
As a postdoctoral research fellow at the GLGL, I will be working with Dr. Carol Stepien's lab in the development of a DNA based assay for detection of invasive aquatic invertebrate species in the Great Lakes. We will use next-generation sequencing technology to test water samples (environmental DNA or eDNA samples) for the DNA of over 50 different invertebrate species. My previous postdoctoral work with Dr. Craig Paukert (University of Missouri) and Duane Chapman (CERC-USGS) involved using quantitative PCR to assess how informative eDNA sampling could be in monitoring efforts for invasive bigheaded carps in the Chicago Area Waterway System. My postdoctoral experience has led to my interest in the use of eDNA sampling for biodiversity monitoring and conservation applications. Prior to this work, I was mainly involved in theory driven research of how biodiversity arises. For my Ph.D. at the University of Missouri, I worked in Dr. Carl Gerhardt's lab and examined speciation within a cryptic species complex, the canyon treefrog, using phylogenetic, population genetic, and behavioral assays. My research has led to a better understanding of species delimitation in this system, provides supporting evidence for a new species designation, and emphasizes the importance of using multiple lines of evidence in species delimitation. Besides research I also enjoy teaching and community based science outreach. I have coordinated and directed several science outreach programs including local Bioblitz events (citizen science based biodiversity surveys) and K-12 science education outreach programs. In the future I hope to find a position that allows me to pursue my interests in conservation research, teaching, and science outreach.
Carson Prichard
Ph.D. student (2012-present)
carson.prichard@rockets.utoledo.edu
CV 2013
Research Interests:
Great Lakes fisheries, population and conservation genetics, fish ecology
Projects:
I have had a lifelong passion for fish (see my articles published in UT News and The Blade on fishing in the Ottawa River), which has led me to pursue a career in fisheries research.  I received my B.S. in Biology at Grand Valley State University (2005-2009), and then completed my M.S. in the Department of Fisheries and Wildlife at Michigan State University (2010-2012) as a member of the Quantitative Fisheries Center.   My Ph.D. research with Dr. Stepien at the University of Toledo has two primary components: (1) I am investigating the population genetics of invasive silver and bighead carps across their invasive ranges in North America, and (2) I am developing a next-generation sequencing assay to identify and quantify relative abundances of any Great Lakes fish species, including high-risk potential invasive species, from a sample of water using environmental DNA (eDNA).  The latter is funded by a USEPA GLRI grant to Dr. Stepien and Dr. Von Sigler.  I also received a NOAA CILER scholarship award to fund my stipend for the eDNA work, as well as an IAGLR Scholarship award.  I already have presented my early results at the AFS 2013 conference in Little Rock Arkansas, at IAGLR 2013 conference in Purdue University IN, and at the 2013 International Conference on Aquatic Invasive Species in Niagara Falls.  I also have had a great time sampling for the Asian carps!   
Nate Marshall
Ph.D. student (2014-present)
nathaniel.marshall@rockets.utoledo.edu
CV 2014
Research Interests:
Freshwater ecology, population and conservation genetics, freshwater mussel ecology and life-history
Projects:
My love for lakes and rivers has driven me towards a research career focused in freshwater ecology. I received my B.S. in Zoology from the Ohio State University (2006-2010), and then completed my master's degree at the University of Texas at Tyler (2012-2014) with a concentration in conservation genetics. I decided to come back to Ohio to work on a Ph.D. project with Dr. Carol Stepien at the University of Toledo. My Ph.D. project will first involve the use of environmental DNA (eDNA) from Lake Erie water samples to develop a next-generation sequencing assay capable of detecting and quantifying the relative abundances for Great Lakes invasive invertebrates, such as the zebra and quagga mussels. Such an assay will be critical for the prevention and eradication of these nuisance species. This project is funded by a USEPA GLRI grant awarded to Dr. Stepien. Secondly, population genetics will be used to assess the population status for unionid freshwater mussels of conservation concern. I have presented my master's work at such conferences as FMCS and AFS and will continue to pursue my passion for biology by attending and presenting at future conferences.
Megan Niner
Ph.D. student (2014-present)
megan.niner@rockets.utoledo.edu
CV 2014
Research Interests:
Ecology, population and conservation genetics, viruses, evolution, host-pathogen arms races
Projects:
From an early age I have been fascinated by the ways organisms in ecosystems interact. I began my pursuit of a career in biology with my bachelor's in zoology and a concentration in genetics from the Lyman Briggs College at Michigan State University (2008-2012). During my latter semesters I discovered my interest in genetics. Seeking some field work, I attended North Dakota State University and received my master's in zoology (2012-2014). During the long winters in Fargo, I found myself dabbling in genetics-related projects to pass the time between field seasons. This realization solidified my resolve to pursue research in both ecology and genetics. My Ph.D. research working with Dr. Stepien's lab will focus on the evolutionary patterns of Viral Hemorrhagic Septicemia virus (VHSv), namely substrain IVb, and its spread through the Laurentian Great Lakes. VHSv is found worldwide in marine and freshwater systems and infects over 80 species of fish, making it an issue of global concern. Using sequencing, we can examine which genes are changing and estimate how quickly such changes are occurring. Alterations in genes can tip the balance between virus infection and host response, resulting in future outbreaks and expansion into new locations.
Matthew Snyder
M.S. student (2013-present)
matthew.snyder6@rockets.utoledo.edu
CV 2013
Research Interests: 
Ecology, marine biology, limnology, evolution, conservation genetics/genomics, education and outreach

Projects:
Love and appreciation for the natural environment has lead me to pursue a career as a biologist. I received my B.S. in Ecology from San Francisco State University. During my time as an undergraduate, I worked as a student researcher on population genetics and the spread of adaptive lateral plate loss and reduction in Central California populations of threespine stickleback. Generally, I am interested in the spatial and temporal scales of evolution, contemporary evolution, and conservation genetics, but my goal is to produce high quality scientific research that informs conservation and management practices. In the Great Lakes Genetics Lab I am conducting a temporal invasion genetics study of the round goby in the Great Lakes and Gulf of Gdansk, Poland. Temporal patterns in populations structure will be examined across 22 years of invasion history. Invasion genetics studies have the potential to inform management practices and help environmental agencies develop a framework for predicting which introduced species will become successful invaders. Additionally, I am teaching assistant for the  University of Toledo NSF GK-12 program to improve science education in the city of Toledo.
Shane T. Yerga-Woolwine
DNA Research Technician (2012-present)
shane.woolwine@utoledo.edu
419.530.8370
CV 2013
I received my B.A. in Biology from Adrian College. After graduating, I worked at a research laboratory in Eugene, Oregon, and then I served as senior Lab Manager in the Department of Physiology and Pharmacology at the Medical University of Ohio (now the University of Toledo Medical Center). I joined the GLGL team in 2012 as a DNA Research Assistant.
Eva L. Kramer
DNA Research Technician (2014-present)
eva.kramer@utoledo.edu
419.530.8370
I joined the GLGL team in 2014 as a DNA Research Technician.  My role is to keep the lab running smoothly, support students, and conduct research.  In this role I am involved in many GLGL projects, including population genetics studies of walleye, yellow perch, and round goby; development of assays to detect invasive species; and study of Viral Hemorrhagic Septicemia virus. I received a bachelor's degree in engineering from the University of Michigan in 2012, where I studied environmental engineering and worked in several very different labs, including the University of Michigan Paleontology Laboratory, the Center for Information Technology Integration, and the Michigan Geomicrobiology Laboratory.  After graduating, I spent two years at the Cooperative Institute for Limnology and Ecosystems Research, located at NOAA's Great Lakes Environmental Research Laboratory, as part of a research team developing a near-shore bacterial water quality model.