/nsm/lec/
Welcome to the LEC
/nsm/lec/research/
Research Labs & Areas
Western Lake Erie
Limnology Laboratory
Graduate Students

Betsy Bodamer Scarboro

Graduate Student
betsy.bodamar@rockets.utoledo.edu
CV 2009
Myresearch interests in aquatic ecology cover a wide spectrum; however my primary interests lie in Great Lakes ecology, hypoxia, invasive species, and water quality.  I am currently a doctoral student working with Dr. Tom Bridgeman.  My dissertation research is examining how Lake Erie hypoxia (a.k.a. the "dead zone") affects benthic foraging fish.  Specifically, I am examining physiological and behavioral responses of yellow perch and Hexagenia mayflies to hypoxia. 
For my master's also done here at the DES-LEC, I examined the effects of wetlands on the downstream dispersal of zebra mussels. I received my BS in Biology at Allegheny College in Meadville, Pennsylvania. While there, I completed two phosphorus budgets on nearby natural lakes for the EPA and a local watershed organization. In addition, I completed a senior thesis, looking at veliger (zebra mussel larva) mortality and settlement patterns in a glacial lake.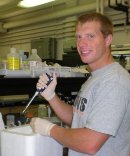 Justin Chaffin

Graduate Student
justin.chaffin@rockets.utoledo.edu
Myresearch interests are eco-physiology and ecology of the Great Lakes. My thesis research at the Lake Erie Center involves the ecology and physiology Microcystis blooms of western Lake Erie. I am studying the factors that cause the magnitude of these blooms to vary among years and how the cellular health and photosynthetic efficiency of Microcystis is affected by lake mixing and the Maumee River sediment plume. I received my M.S. from the University of Toledo in 2010 and am continuing on in the Ph.D. program. 
I received my BS in biology from Bowling Green State University in May 2007. As an undergrad, I participated in three REU programs. I studied zooplankton of western Lake Erie at the LEC, mayfly bioturbation at Ohio State's Stone Lab, and crayfish behavior at BGSU.
Sarah Panek
Graduate Student
419.530.8384
sarah.panek@rockets.utoledo.edu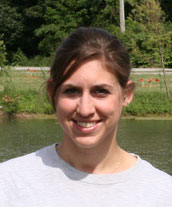 Rachel Kuhaneck
Graduate Student
rachel.kuhaneck@rockets.utoledo.edu
Project Title: Analyzing the Relationship between Lyngbya wollei and the benthic macroinvertebrate community in western Lake Erie   
Summary: For my thesis research, I will be focusing on the relationship between the cyanobacteria Lyngbya wollei and the benthic macroinvertebrate community.  I plan to study differences in invertebrate communities in Lyngbya vs non-Lyngbya habited areas.  Some possible aspects include abundance, predation, and food sources.