Future of Higher Education Forums
---
Forum overview
At the University of Toledo, being prepared for the future of higher education is key to our long-term success. By advancing and readying our faculty in research, teaching, service, and leadership we advance the mission of the university and ensure UToledo makes a difference in the lives of people and improves the human condition.  UT has a responsibility to facilitate this by encouraging relevant, accessible, and comprehensive professional development for all faculty around pertinent issues in higher education. The best resources we have, are our own faculty experts.
The Office of the Provost in collaboration with the Office of Diversity and Inclusion, and the University Teaching Center is pleased to announce the second year of Future of Higher Education Forums. This program seeks participation and expertise from UToledo faculty in providing a platform for conversation in various topical areas impacting faculty and student success.
All Sessions are the Third Friday of the Month from 10:30 a.m. - 12:00 p.m. in Carlson Library, Room 1005, Main Campus
9/20/19                              
Rapid Response Training: Being Prepared to Respond to Students in Crisis 
Presenters:
Katrina Nottke
Katrina Nottke is the Interim Director for Title IX and Compliance, a position she has held since November 2018.  Prior to that, Ms. Nottke held the position of Assistant Director, Title IX and Compliance for about 2 years.  Ms. Nottke has been employed at The University of Toledo since February 2012 and has held positions in Finance, Audit and Compliance, and Residence Life.  Ms. Nottke has 15+ years of experience in Internal Audit and Compliance functions, both in the private and public sectors.  Ms. Nottke has received a Bachelor's Degree in Business Management from the University of Findlay, as well as a Master's Degree in Business Administration, Organizational Leadership from the University of Findlay.
Lisa Pescara-Kovach, M.A., Ph.D.
Dr. Lisa Pescara-Kovach is an associate professor of educational psychology at The University of Toledo where she serves as the Director for the Center for Education in Targeted Violence and Suicide and Chair of The University of Toledo Mass Violence Collaborative. In addition, she is an advisory board member for the National Behavioral Intervention Team Association (NaBITA) and mass violence-related content creator for the ALICE Training Institute.
Within the community, she has served as the region's Crisis Intervention Team "Fundamentals of Mental Illness" trainer since 2014 and is the co-founder and lead member of the Northwestern Ohio Critical Incident Stress Management team that assists survivors of, and first responders to, critical incidents toward preventing stress- and trauma-related outcomes. She is also on the advisory board of the Lucas County Suicide Prevention Coalition.
She has created and teaches master and doctoral level seminars on: school violence: theories, causes, prevention, and intervention; threat assessment and case management of rampage shootings and suicides; applied child and adolescent development; prevention through recovery for K-12, campus, and workplace interpersonal and intrapersonal violence
Some of her recent publications include "The Contagion Effect as it Relates to Public Mass Shootings and Suicides" in the Journal of Behavioral Intervention Teams as well as a co-authored publication with Dr. Brian Van Brunt titled, "Debunking the Myths: Mental Illness and Mass Shootings" in Violence and Gender. Lisa's work was recently featured on Salon.com and TheHill.com on the topics of media contagion and female mass killers, respectively.
She was a featured speaker at the 2018 NaBITA annual conference, where she presented "Clearing Up the Confusion: Mental Health and Mass Shootings". She also conducted a presentation on the reality of female mass shooters. Other recent peer-reviewed conference presentations include, but are not limited to, terrorist recruitment of youth, a comprehensive approach to planning for a mass shooting, conducting a behavioral threat assessment, the myth of mental illness and mass shooters, bullying and its link to suicides and homicides, mental health and the student-athlete, recognizing at-risk students, de-escalation with mentally ill students and patients, and PTSD in emergency response personnel.
Danielle Rominski
Danielle M. Rominski is the Assistant Director of the Center for Student Advocacy and Wellness, a position she has held for the past year.  She received her Bachelor of Science in Communications and Video Production with a specialization in Journalism from Ohio University.  Ms. Rominski has worked in non-profits for more than 20 years; she spent 11 years working in the field of sexual violence in San Antonio and Galveston, Texas.  Ms. Rominski specializes in training professionals about working with victims of domestic violence and sexual assault and facilitating programming on campus.  Ms. Rominski is currently working on her Master of Clinical Mental Health Counseling.
Sammy J. Spann, Ph.D.
Sammy Spann has worked in higher education for over eighteen years. Currently, he is the Associate Vice President and Dean of Students at The University of Toledo.  He oversees the Office of Student Conduct, the University Counseling Center, Office of Student Advocacy and Office of Student Involvement and Leadership. He is also the Director of Camp Adventure™, a program integrating learning and service; students serve children of military families overseas. Dr. Spann works closely with several multicultural student organizations on campus as well as mentoring minority students. He holds a Ph.D. in Special Education/Curriculum and Instruction from the University of Toledo, an M. A. in Special Education, Severe Behaviors and Autism from the University of Northern Iowa, and a B. A. in Infant and Child Development from Fort Valley State University. Dr. Spann's publications appeared on Liberian Studies Journal and Focus on Autism and Other Developmental Disabilities. Dr. Spann has traveled to over 60 countries around the globe. Most recently, he was awarded a 2015-2016 Fulbright International Education Administrators grant to Japan.
LaTasha Sullivan
La Tasha Sullivan, Ph.D. is currently serving as Interim Associate Director at the UT Counseling Center promoting student wellness. Dr. Sullivan is a recent University of Toledo graduate who completed her doctoral degree in the Counselor Education and Supervision program. Dr. Sullivan has experience in providing mental health counseling and consultation in community and college environments. She is a licensed professional clinical counselor in the state of Ohio and enjoys working with individuals representing various diversity identities.
---
10/18/19       
Effective Mentorship for Peers and Students 
Margaret M. Hopkins, PH.D.
Dr. Margaret M. (Miggy) Hopkins is a Professor of Management in the College of Business and Innovation at the University of Toledo, teaching leadership and management at the Executive M.B.A., M.B.A., and upper-undergraduate levels.  Her research expertise is in the field of leadership, covering leadership development, gender and leadership, executive coaching, and emotional intelligence. 
She has received numerous awards for teaching and research including the University of Toledo Outstanding Teacher Award, the COBI Graduate Faculty Teaching Award, the COBI Outstanding Researcher Award, as well as several Best Paper international research awards.  Dr. Hopkins is a Board Certified Executive Coach working with senior leaders in the service, manufacturing, education, health care, government and non-profit sectors for over 20 years. 
Prior to joining academia, she held a number of managerial and leadership roles in the public sector including Chair of the Board of Education for the Cleveland, Ohio Municipal School District, Co-Director of the Mayor's Office of Competitiveness in Cleveland, Ohio, and Deputy Director of the Governor's Office for Northeast Ohio.  She earned her undergraduate degree from Boston College, and her masters' and doctoral degrees in Organizational Behavior from Case Western Reserve University.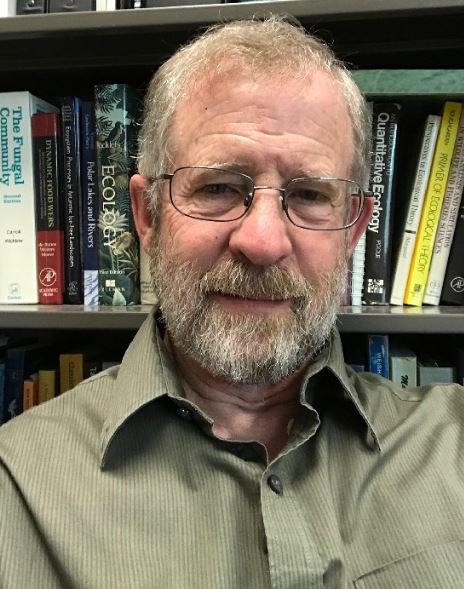 Daryl Moorehead, PH.D.
Daryl Moorehead is a Professor of Biology (Ecology) in the Department of Environmental Sciences at the University of Toledo.  He teaches ecology and environmental sciences ranging from introductory non-major classes through advanced graduate courses, in both traditional and distance-learning formats. His primary service commitment is as the graduate program director of his department and as a Provost Fellow, seeking to improve graduate student mentoring across the university.
He received a B.S. in Botany and Zoology from the Ohio State University in 1978, a M.S. in Biology from Texas A&M University in 1981, and PhD in Ecology from the University of Tennessee in 1985. Moorehead had postdoctoral positions with New Mexico State University and San Diego State University between 1985-1990 and was an Associate Professor of Biology at Texas Tech University (1990-1999) before moving to the University of Toledo in 1999.
---
11/15/19
Telling Your Story with Publication Metrics  
Wade M. Lee-Smith
Wade M. Lee-Smith is the Research Engagement Librarian and an Associate Professor in the University Libraries.  His research and teaching interests include the changing ways in which scholars can document and interpret the effect their research has on the scholarly publication ecosystem.  As a Science Librarian, he also has nearly 25 years of experience training researchers in the efficient and effective use of tools to perform literature-based research, especially in STEM fields. 
---
1/31/2019     
Creating and Supporting Community Engaged Learning
Community Engaged Learning is the practice of connecting student and faculty with activities that address community-identified needs in a mutually beneficial partnership that deepens students' academic and civic learning. Hear from faculty who are currently active in this practice and learn about how to get a course designated as service learning.
---
2/21/20
Gen Z Goes to College: Strategies for Teaching a New Generation 
Angela Paprocki, PHD Assistant Provost for Curriculum and Development
Dr. Paprocki has worked in higher education for over 15 years, starting as an adjunct faculty member at Michiana College in South Bend, IN where she went on to be Academic Dean and Chief Academic Officer. After relocating back to Northwest Ohio, she accepted a position with The University of Toledo in 2006. Since joining UToledo, she has held various leadership positions that span both Academic and Student Affairs. Her experience includes serving as Assistant Provost for Student Success where she provided the mission and vision for 14 academic support and student services offices while also serving as the institutions ADA Compliance Officer. Currently Dr. Paprocki serves as the Assistant Provost for Curriculum and Instruction with oversight of the University Teaching Center and responsibility for various state curricular initiatives. In this capacity, Paprocki works closely with faculty on course design assisting them with developing courses designed to meet the needs of today's learners. She is also responsible for curricular compliance with the Ohio Department of Higher Education. She has dedicated her career to leading strategic initiatives focused on inclusivity, transparency, and institutional effectiveness to improve student outcomes.
Paprocki has served on numerous institutional committees including chairing various search committees and has been instrumental in process improvement and policy development. She currently serves as an Executive Board Member of the American Council of Education Women's Network of Ohio. Paprocki holds a Ph.D. in Higher Education Administration (2015), a Master of Education (2001), and a Bachelor of Arts in Psychology (1993), all from The University of Toledo.
---
3/20/20
Developing Effective Growth Mindset 
Denise Bartell, Ph.D.
Denise Bartell serves as the Associate Vice Provost for Student Success at the University of Toledo, a student-centered, public metropolitan research university with nearly 20,000 students and 300 undergraduate and graduate programs, including Colleges of Medicine, Pharmacy, and Law. Founded in 1872, UToledo is committed to improving access and opportunity to a high-quality, affordable education that contributes to the well-being of our region and the world. In her position at UToledo, Dr. Bartell is the front-line leader of strategic initiatives across the university related to the retention and success of students from pre-college through degree completion, with a particular focus on improving equity of access and experience for students historically underserved by higher education.
Dr. Bartell's scholarly work focuses on taking a holistic, equity-minded, assets-focused approach to supporting student success. Her motivation for this work is a foundational belief in higher education as a public good to which all should have equal access, and a commitment to advance educational opportunities for all students, especially those for whom structural inequities have historically limited access to higher education. Dr. Bartell's most recent work explores a reconceptualization of traditional faculty development models to improve capacities to work with underserved populations by utilizing principles of high impact, applied learning and authentic engagement. In addition to publication and presentations at the state and national levels, she regularly leads workshops on developing high impact first year seminars and peer mentoring programs, infusing equity-minded professional development opportunities into student success programs, and high impact student success program development and assessment.
Previously, Dr. Bartell served as the founding Director of Student Success & Engagement at the University of Wisconsin Green Bay. While at Green Bay she worked to develop a First Year Seminar program that is a national best-practices model for improving engagement, retention and graduation. She procured over $600,000 in grant funding for projects to create emergency financial grants, early alert capacities, learning communities and other high impact practices, and peer mentor programs on campus. She also developed an assets-focused intensive first year learning experience for historically underserved and academically at-risk students, improving retention through year four by over 18% and four year graduation rates by 11% for the students it served.
Dr. Bartell earned a B.S. in Human Development & Family Studies from Cornell University, and an M.A. and Ph.D. in Human Development & Family Sciences from the University of Texas at Austin.
---
 4/17/20

Participatory Action Research and Community Engagement
Lynn Hamer
From 2007 through 2015, Dr. Hamer taught graduate students from across professional disciplines in the Qualitative I basic research course using a participatory action research (PAR) pedagogy. In order to understand and practice basic qualitative research data methods, including collection and analysis, students participated in a group PAR project, co-led by community members from the Kwanzaa Park/Junction neighborhood east of UToledo's Scott Park campus. Along with learning the qualitative methods, students learned how to engage with communities and gained community-based knowledge necessary for culturally relevant professional practices.
Dr. Hamer  will discuss the logistics of course development, the use of PAR not only as a research methodology but also as an engaged pedagogy, and the findings from her current work analyzing lessons learned over the course of the decade of collaboration.
---
If you need further information, please contact Dr. Amy Thompson, Interim Associate Vice Provost of Faculty Affairs at amy.thompson4@utoledo.edu.
---