Forms and Publications
/studentaffairs/
Resources
Contact Us
Main Campus
Office of Recreation
MS #208
2801 West Bancroft St. 
Toledo, OH 43606-3390
Phone: 419.530.3700
UTRecCenter@utoledo.edu
Climbing Wall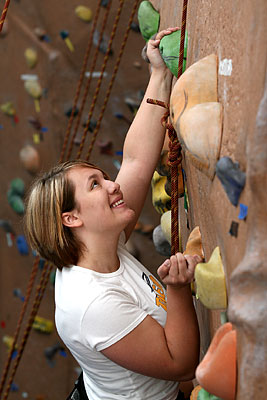 Climbing Wall
So you're interested in climbing, but you may find yourself asking...now what?  The climb wall is a great way to meet new people, have fun, get a good workout and learn something new and challenging!  So next time you're at the Rec, give it a try!

Hours of Operation
Monday - Thursday 5 p.m. - 9 p.m.
Friday - Sunday 1 p.m. - 5 p.m.
Belay Times
Monday 7 p.m. - 9 p.m.
Wednesday 7 p.m. - 9 p.m.
Friday 3 p.m. - 5 p.m.
The wall may be closed to recreation climbing during scheduled events or classes.
STARTING IN THE SPRING 2013
THE MILE HIGH CLUB


  CLICK HERE!


Using the Wall
Bouldering (moving horizontally across the wall) may be done at any time during open hours and does not require any gear or experience. It's also free!  For safety reasons, stay below the yellow designated line and wear only clean climbing or tennis shoes on the wall.  Users under 14 years of age must have a spotter for each person climbing.

Users who wish to top rope (vertical climb) must successfully complete a climb clinic and purchase a climb card.  When coming in to top rope, climbers must show the supervising staff member their valid climb card and a photo ID.  In order to top rope, two climbers must be present that have valid climb cards. Your must present the climb card to the staff member in the wall for documentation. Climbers may bring in their own shoes or harness, but must use the REC's ropes and belay devices.  Loose chalk is not permitted.  Chalk bags and climbing shoes are available for rent at the REC for $2 each.

Climb Clinics
Want to learn a new and extreme sport?  Want to meet cool new people? Want to see how strong you really are?  Looking for a way to spice up your work out?  Let's see if YOU are up for the challenge! Stop reading this and get to the wall as our trained staff takes you from the ground to the top as you "learn the ropes" in one climb clinic that will leave you with a new skill and wanting to learn more!

After the class, you have the option to buy a climb card, while will allow you to freely climb to the top whenever you want!  And of course - we'll start right from the basics, so NO EXPERIENCE is needed!  And best of all?  It's FREE!  (now what kind of college kid wouldn't want a deal like that?)
The clinic will teach you everything you need to know, including proper belay techniques, language and tying knots.  You must be able to demonstrate mastery of the skills at the clinic and take a short (and easy!) test.  Climb cards can be purchased after successfully completing a climb clinic.  Climb cards can be purchased in the main office for $35 a year or $10 for three months.

Climb Wall Memberships (must complete climb clinic)
$180 includes 1 year climb card and 40 SRC visits
$50 includes 3 month climb card and 10 SRC visits

Climb Review
If you have climbing experience and feel that you could demonstrate such procedures as tying knots, proper commands, belaying strokes, and use of equipment then you should take the climb review. This involves a 15 minute test of your skills. After successful demonstration of your knowledge and skill, you will have the opportunity  to purchase a climb card.  
**Climb Clinics cost $5 and you must sign up for them in the front office (which can be on the day of)**
Spring 2013 Basic Climb Clinic and Review Times:
| | |
| --- | --- |
| Saturday, January 12 | 2:00- 5:00 p.m. |
| Friday, January 25 | 2:00- 5:00 p.m. |
| Friday, February 8 | 2:00 - 5:00 p.m. |
| Saturday, February 23 | 2:00 - 5:00 p.m. |
|  Friday, March 8 |  2:00- 5:00 p.m. |
|  Sunday, April 7 |  2:00-5:00 p.m. |
|  Saturday, April 27 |  2:00-5:00 p.m |
Review times are posted at the CAVE and on the display case at the bottom of the stairs or call 419.530.5555 for more information.
Climbing Classes
The College of Health and Human Services offers climbing classes for academic credit for different levels of climbing.   For more information, see H&HS course descriptions.
Climb Cave Facts
The Climb cave is twenty-nine feet long the back wall, and twelve feet from the ovrehang to the glass

The wall has many different kinds of hand holds for all different climbing abilities

The routes are switched out every two weeks and no route will remain on the wall for more than one month.
Climb Cave Rules
Quick descents or swinging from the rope will not be permitted.
Users must be at least 6 years old to climb
Any child under the age of 14 must be accompanied and spotted by an adult.
You must be the age of 14 to participate in a climb clinic, to hold a climb card and to use the belay devices.
To top rope you must have two  people who have valid time cards
Anyone without a climb card is not permitted to climb above the yellow line
Proper belay techniques and commands must be used at all times
Climbers are required to use SRC ropes, carabiners, and belay devices
Climbers may use their own equipment such as: Harness, Chalk & Shoes
Shoes & a chalk bag may be rented for $2.00 each from the front office
Only one climber per rope
No one may climb under someone who is on a top rope route
Climbers are not permitted to wear loose jewelery, loose clothing or headphones while climbing
Any damaged or loose holds should be reported to the floor supervisor or climb wall staff immediately
Arepair notice should be filled out immediately and placed in the climb wall UGA's mailbox
Never grab  hold of a lead climbing anchor
Only climb wall staff members are permitted to set, alter or remove routes
Wall supervisors may not belay or serve as a spotter when on duty
Amaximum of 6 people is permitted on the wall at one time
No more than 16 individuals may be in the Climb Cave at one time
Any violation of these rules could result in the loss of the climb card or clim privelages.
Advanced Climb Clinics
Each patron that wishes to participate in the Advanced Climb Clinic must have a current climb card issued from the SRC. The climbing equipment that will be necessary for the Advanced Climb Clinic will be provided for the participants. The equipment that will be provided is Climbing Harness, Climbing Shoes, Chalk, and any other equipment that would be necessary to perform the Advanced climbing skills.
Due to the nature of rock climbing and its inherent risk factors, which may result in injuries. All participants that go over the bouldering line MUST  be on a top-rope belay at all times. Also all other rules of the SRC climb Cave will be enforced during the Advanced Climb Clinic.
 Advanced Climb Clinic Spring 2013:
| | |
| --- | --- |
| Saturday, January 12 | 2:00 - 5:00 p.m. |
| Sunday, February 17 | 2:00- 5:00 p.m. |
|  Friday, March 22 |  2:00-5:00 p.m. |
Are you interested in renting the climb wall specifically for your group? Want to take your birthday party to new heights? The Climb Wall is waiting for you! Please Contact Nancy Burhans: Nancy.burhans@utoledo.edu or 419-530-3705 for more rental information