/studentaffairs/reslife/
Welcome
/studentaffairs/
Resources
Welcome to The Crossings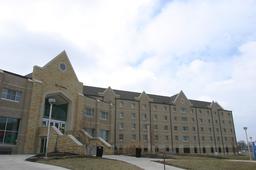 3045 Residence Dr. 
Toledo, OH 43606
Reception Desk: 419.530.1700
Layout and Furniture Dimensions
Virtual Tour: Bedroom (Requires Flash)
Virtual Tour: Suite (Requires Flash)
Virtual Tour: Recreation Room (Requires Flash)

Highlights
The Crossings is a suite-style living facility and is an upper-class residence hall. This building houses 626 students in 6-person suites with three double bedrooms. Each suite includes a furnished living room and private bathroom. The facility offers students snacks and beverages at the iCrave eatery. 
Location

The Crossings is conveniently located near Rocket Hall and the Transportation Center bus loop.
Fun Fact
The Crossings name was chosen because of the formation of the structure when viewed from the sky.
Video Tour


Room Features

4-person Suites

no

6-person Suites
yes

2-person Rooms

yes

Furnished Living Room
yes

In-Suite Bathroom

yes

Co-ed by Suite
yes

Air-Conditioning

yes

Alcohol- and Substance-Free Floors
yes

Computer Lab

yes

Elevators
yes

Dining Service (I-Crave Pizza)

yes

First-Year Focus
no

Cable Service

yes

Telephone and Voicemail Service
yes

Data Hook-Up (in room)

yes

24-Hour Info. Desk
yes

Floor Lounge

yes

Wheelchair Accessible Rooms
yes

Convenience Store

no

Laundry Facility
yes

Living Learning Community

no
Pricing
(Per Semester)
Double Room: $3,656
Single Room: $4,387
Hall Director
Mary Martinez
419.530.1345
mary.martinez@utoledo.edu
Grad. Asst. Hall Director
Megan Woodruff
419.530.1353
megan.woodruff@rockets.utoledo.edu