Welcome
/studentaffairs/
Resources
Get Connected
Fall 2014 Move In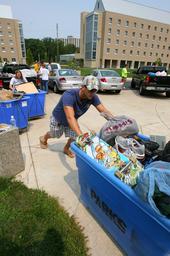 It's move-in time and we are so excited for you to join us on campus. Below you will find all of the pertinent information regarding move-in. As always, if you have any questions, please contact the Office of Residence Life at 419.530.2941 or at reslife@utoledo.edu.
Residence Hall Move-in Schedule
Residents may move into their assigned residence hall according to the schedule provided and posted by Office of Residence in May 2014. When you arrive, you will receive instructions on where to park and unload your belongings. Personal, two-wheel carts may be used while moving. We recommend bringing one to help ease your move-in experience.
Students may check in to their residence halls at any time on or after their assigned check in date. No permission is necessary.
Cancellation Information
If you do not plan to attend The University of Toledo or no longer need housing in the residence halls, please submit a request for cancellation in writing so the charges on your account can be adjusted. You can e-mail reslife@utoledo.edu, fax us at 419.530.2942, or mail to:
                                                       
The University of Toledo
Office of Residence Life
Mail Stop 519
2801 W. Bancroft Street
Toledo, OH 43606-3390

Please review the refund policy when canceling your housing contract.
Early Arrival
All students are expected to move into their residence hall on their assigned move in date. If you need to arrive early, you may do so after filling out the appropriate housing form.
A $25 per day early arrival fee will be charged to the account of students who move in before their assigned move-in date unless the student's sponsoring department covers the early arrival fee.
Floor Plans

View the layout of your residence room, including measurements, here.


Mailing information
Each residence hall has a unique mailing address and internal mailstop number. For a list of addresses and mail stops, please click here.
Furnishings & Lofts
The furnishings in the residence halls for each student are:
Twin bed and mattress (measures 36" by 80" and is considered and x-long)
Desk and chair
Chest of drawers (in some residence halls, two students share a chest of drawers)
Wardrobe or closed space
**All residence halls have furniture that can be lofted or bunked to provide additional space below the bed, except for MacKinnon Hall. Students in Parks Tower and McComas Village must rent a loft from the building for $50 per semester. If you are interested, please contact the Office of Residence Life at 419.530.2941. Limited quantities are available.    
Packing List 
Not sure what to bring with you to campus? Check out our suggested packing list.