Alan and Karen Barry donate $1 million to establish endowed professorship in accounting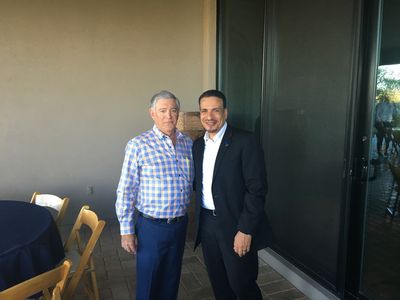 A $1 million gift has been donated by Alan H. Barry (Bus '66) and his wife, Karen A. Barry (UTCTC, '64) to establish an endowment that supports The Alan H. and Karen A. Barry Endowed Professorship in Accounting at The University of Toledo. The Barrys announced the gift at their home in Scottsdale, Ariz. on Friday, April 21, at an alumni event for the Phoenix Chapter of the Alumni Association. University of Toledo President Sharon L. Gaber attended the event in Scottsdale as the alumni chapter's invited speaker. 
"UT's College of Business and Innovation has benefited greatly from the generosity of Alan and Karen Barry through their many gifts, which have supported both the management and accounting departments," said Gaber. "Their donations have helped our business faculty prepare UT students to enter the accounting and management professions with all of the necessary critical-thinking skills and core business principles to succeed as leaders in today's competitive marketplace. 
"This newest gift from Alan and Karen Barry to endow a professorship adds another level of support, ensuring that our students are receiving the best possible education in accounting, and that our faculty have the resources they need to deliver an education of excellence," she said. "The University is deeply grateful for Alan and Karen Barry's generous gift and all that they do to support UT students."
The Alan H. and Karen A. Barry Endowed Professorship in Accounting will be used to recruit or retain a professor in the department of accounting; any costs related to the recruitment of a faculty member; bridge or pilot research projects; faculty and staff development costs; curriculum development; the development of a fellowship program; and specialized equipment needed for teaching. 
"We are ecstatic that Alan and Karen have made such a tremendously generous gift to establish the endowed professorship in accounting in the College of Business," said COBI Dean Gary Insch. "Their action will benefit countless students for years to come and further elevate COBI's reputation. Alan shows how much he truly cares about our students by frequently coming to campus when he is in town, and taking the time to meet and talk with COBI students, answering their real-life questions and being a true mentor to them. We cannot thank Alan and Karen enough for their kindness, generosity and support." 
Alan Barry, who is a certified public accountant and the retired president and chief operating officer of the Fortune 200 company Masco Corporation, said giving back to UT students is a pleasure for him and his wife, Karen. "The accounting background I got at the University was beneficial to me throughout my career. I've always been a supporter of the University, and once I was in a position to do so financially, I felt pretty good about giving back to the University that gave me the opportunity to succeed."
Barry joined Brass Craft Manufacturing Company in 1972 as controller and became president of that Masco division in 1988. In 1996, he became a group president of Masco, a manufacturer of home improvement and building products. He has broad business experience that includes finance, manufacturing, customer development, acquisitions and general operating management. 
He currently serves on the board of directors of the H. W. Kaufman Financial Group. He is a retired director of Arch Aluminum & Glass Co. Inc., Scotts Miracle Gro Company, Flint, Inc., and IPS Corporation. He also served as an executive board member of the Plumbing Manufacturing Institute from 1985 through 2000, and as chairman of the Institute in 1994. In addition, Barry served on the executive board of the associate member division of the American Supply Association during 1995 and 1996. 
The Barrys have a history of philanthropy at The University of Toledo. In 2014, the University named a new accounting lab in the College of Business and Innovation for Alan Barry. At the time the lab was established, it was the first one nationwide to have a certified management accountant (CMA) license, in which students could access for free the CMA review material from Wiley, a leading provider of educational programs for professionals and students who are preparing for the CMA exam.
The lab also serves as the location of the free income tax preparation assistance COBI provides annually to qualified, low- to moderate-income individuals and families in the Toledo area during the spring income tax filing season. 
"I am truly grateful for Karen and Alan Barry for their continuous support to the accounting students," noted Dr. Hassan HassabElnaby, Chair, UT COBI Department of Accounting. "It's only through people like Karen and Alan, that we are able to provide the high-quality education we offer at COBI-UT. It has been my privilege to see Alan as a guest speaker in the class rooms, meeting and advising accounting students, supporting their development through the state-of-the art Alan Barry Accounting Lab and the $1 million gift."
The Barrys also endowed the Alan and Karen Barry Scholarship Fund, which provides support for full-time UT business accounting students, based on both merit and needs. Alan Barry, a native of Toledo, is an active UT Alumni Association Phoenix Chapter member as well as being active in UT's Blue Key organization. He also serves on the UT Foundation Board of Trustees.
Alan Barry and his wife Karen's interest in supporting accounting students through financing scholarships, the accounting lab and the endowed professorship grew out of a nostalgic return to campus. "I was invited back to the University about 15 or so years ago. I hadn't been on the campus for a long time, and I guess I kind of fell in love with the place for the second time." Alan and Karen Barry have been supportive donors ever since. 
The department of accounting is accredited by the Association to Advance Collegiate Schools of Business, International (AASCB). This prestigious accreditation places the department among the top 2 percent of accounting departments worldwide.